Between 1960 and 1968, Elvis Presley starred in twenty-four feature films. Most of these productions were not great, made as they were to capitalise on Presley's enormous fame, rather than for artistic reasons. With such a hectic filming schedule, he had little time to record new music, and the lightweight movies had lessened his reputation as a superstar. In short, Elvis was in a slump.
All this was to change with the '68 Comeback Special. Recorded in June and released in December, it was Presley's first live performance in seven years. And it was electric.
The special appears designed to exhibit every facet of Presley's arsenal. There's the gospel number ('I'm Saved'), Elvis the Crooner ('Memories'), and the Rock n' Roll classics ('Hound Dog', 'Blue Suede Shoes'). Most entertaining perhaps, is the big theatrical medley towards the end of the show. Against the backdrop of some spectacularly extravagant staging, Presley flirts, quips and karate kicks his way through songs like 'Little Egypt', 'Guitar Man', and 'Let Yourself Go'.
For sheer musical prowess however, you can't beat the numbers where Elvis jams on the stage with his pals. Joined by two guitars, a bass, and a man playing the drums on an empty guitar case, it's during these segments that Presley seems the most comfortable. They're also the best showcases for his singing; as he makes his way through bluesy versions of 'Lawdy Miss Clawdy', 'That's All Right' and 'Tryin' To Get To You', his voice grows another growlier dimension. It's mesmeric to watch, and gorgeous to listen to.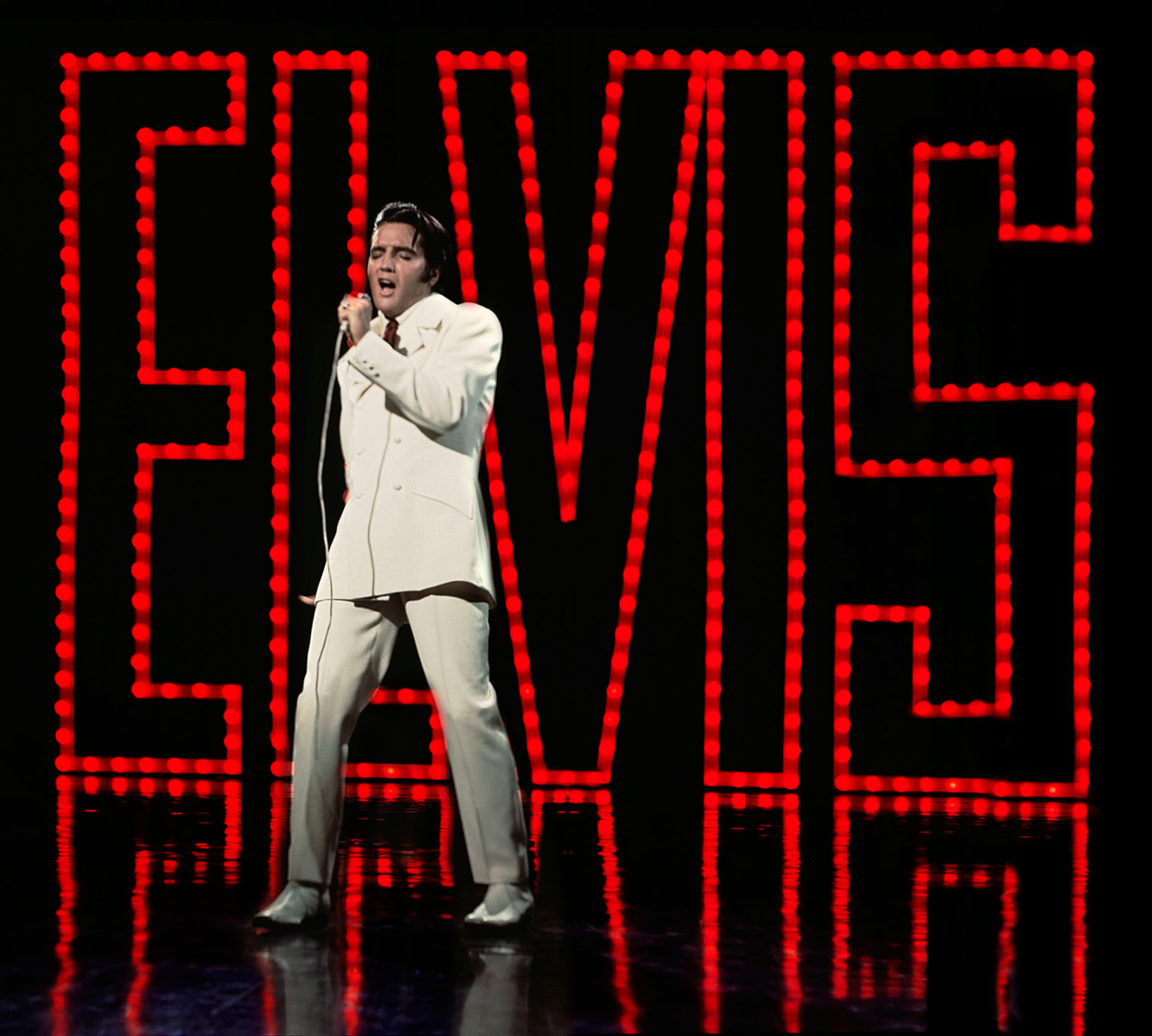 Speaking of gorgeous, the Elvis of the '68 Comeback Special is a sight to behold. For most of the show he is dressed in an all leather outfit, inspired by his love of Marlon Brando in The Wild One. He is dazzlingly, captivatingly, ethereally handsome; the smile he drops after saying how hot he is in that leather suit should have come with a warning label. One of the many pleasures about the special is seeing how besotted the (ninety percent female) audience are. The girl who lends him a handkerchief looks about ready to faint by the time Presley hands it back.
Accompanying the special for its fiftieth anniversary is an interview with Priscilla Presley and Steve Binder, the director. Though the conversation is a bit dry, it does give some useful contextualisation that helps you understand just how important the '68 Comeback Special was for Presley's career. It certainly is interesting to hear about the circumstances around the shooting, and how Colonel Tom Parker was fooled into believing that it was a Christmas show, not the career defining event it turned out to be.
Make sure you stay after the closing credits too – the fiftieth anniversary edition ends with ten minutes of bloopers that see Elvis out of breath, forget multiple lyrics, and get the giggles.
The Elvis '68 Comeback Special is an irresistible chance to see the most legendary of legends at his absolute best. Fifty years after the original broadcast, it hasn't lost an ounce of magic.
★★★★★
Elvis: 68′ Comeback Special will be in over 250 UK cinemas on 16 August. Tickets to your nearest screening can be found here.