Color Out Of Space DVD Review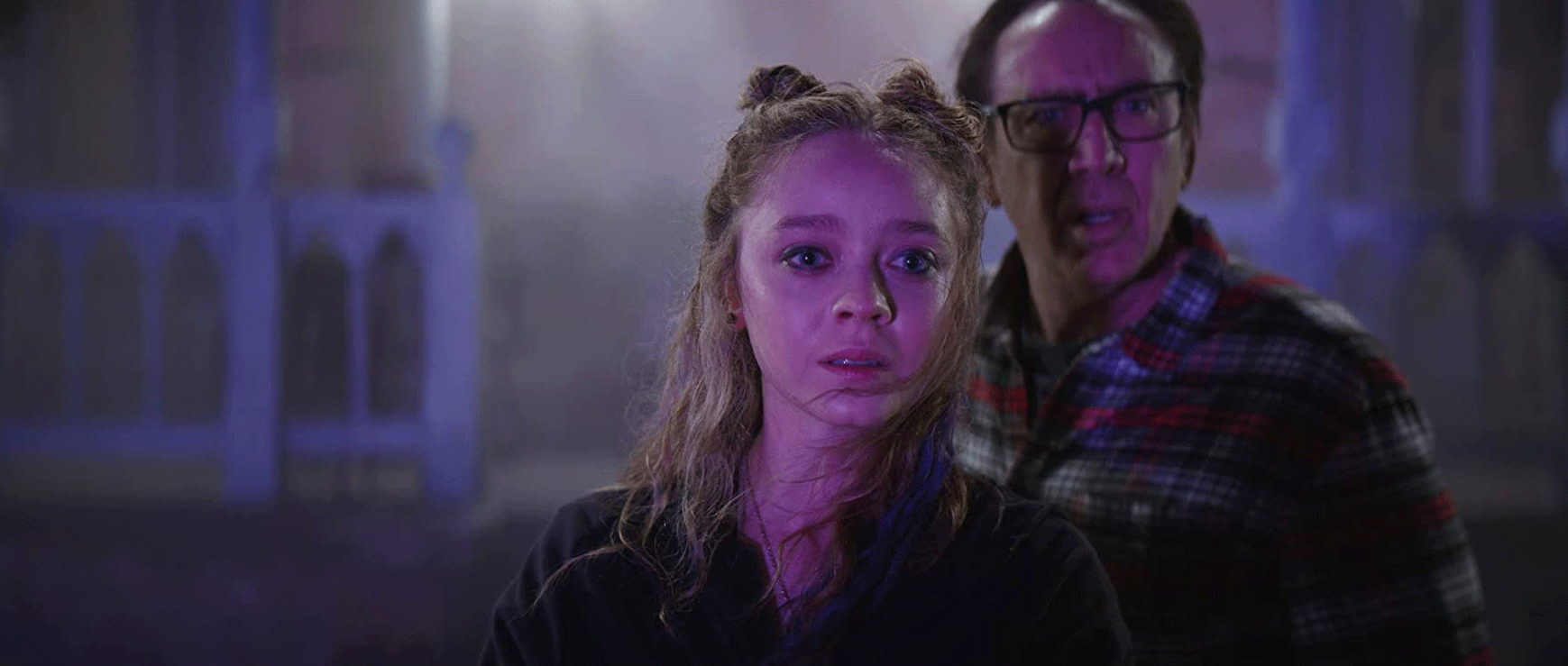 Based on a short story by H. P. Lovecraft, Colour Out Of Space is a surreal, sci-fi horror bursting with bright colours and trippy monstrosities. We follow a family – formerly city folk – now living in Nathan's (Nicolas Cage) ancestral country home. His financial advisor wife, Theresa (Joely Richardson), is recovering from breast surgery due to cancer and they have three children – Benny (Brendan Meyer), Jack (Julian Hilliard) and Lavinia (Madeleine Arthur).
When a meteor strikes near the house, it glows with an ethereal purple haze that seems to affect the family members in different ways. Youngest son, Jack, is mesmerised then terrified. Older son, Benny, suspects something weird and is maybe hypnotised by his computer screen, whilst Lavinia can hear a high pitched screech. The family investigate the rock and that's when havoc slowly starts to ensue.
The film's family set-up is strange. In one way they're shown to be a close family unit, making jokes with one another and having a little repartee, which is common between parents and teenagers – mainly in this case between Lavinia, Nathan and Theresa. But there isn't much in the way of chemistry to the relationships and they jump between caring or nonchalant, and that's before the alien meteor starts to make everyone slowly go mad.
The visuals in Color Out Of Space are great to look at. There's a cosmic energy to everything that comes into contact with the alien rock, as well as what emerges as a result of it. The practical effects for the monstrous creatures which appear as part of the surreal effects of the alien light are truly grotesque and have more of a ghastly visage thanks to not being digital creations.
But the visuals don't make up for a mostly nonsensical story and odd character choices. Cage's Nathan is sweet to his wife and stern with his children, but when he becomes infected with the alien energy, he turns into a Jack Nicholson caricature for seemingly no reason – and nobody in the family comments on it. Theresa has a storyline relating to her not being able to work with bad internet access, but would a financial analyst casually move to the middle of the woods and expect to have amazing broadband? It's also alluded to that she has trauma and issues around her cancer surgery, though it's never made clear what that was, or why or how serious it was. Benny spends all his time on his computer and at one point disappears for a while, then returns with a tale of getting lost in the forest where time seemed in flux. It seemed odd not to at least see him in the forest, to get a better sense of the effects of the alien energy.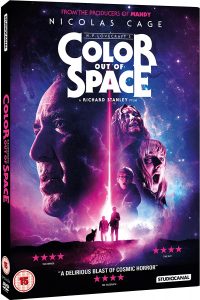 This lack of follow through is a continuing theme for the film. There are moments that are set up early on which never really go anywhere or have any consequence or meaning. For example, the family keep alpacas – for some reason Nathan thinks they are a good farm investment – and the family mostly ignore this. It's not even clear if the property they are living on has any farm land besides their front garden. Only in the latter half, of an almost two hour movie, does the strange pulp horror really kick into gear. It becomes a more enjoyable experience because it's no longer pretending to make sense.
Given that this is based on Lovecraft's The Colour Out Of Space, it's perhaps not surprising that the movie has a warped sensibility. If you like jump scares and are looking for a diluted The Shining meets Annihilation, then this might be the movie for you. Whilst it likely won't be to every contemporary horror fan's taste, Color Out Of Space is a watchable movie for those who enjoy old-school horror like Dawn of the Dead or The Blob, as well as those who enjoy gruesome and bloody sci-fi horrors with a twisted lens.
★★
Color Out Of Space is out on Blu-ray, DVD and Digital now