Book Review: White Rabbit, Red Wolf by Tom Pollock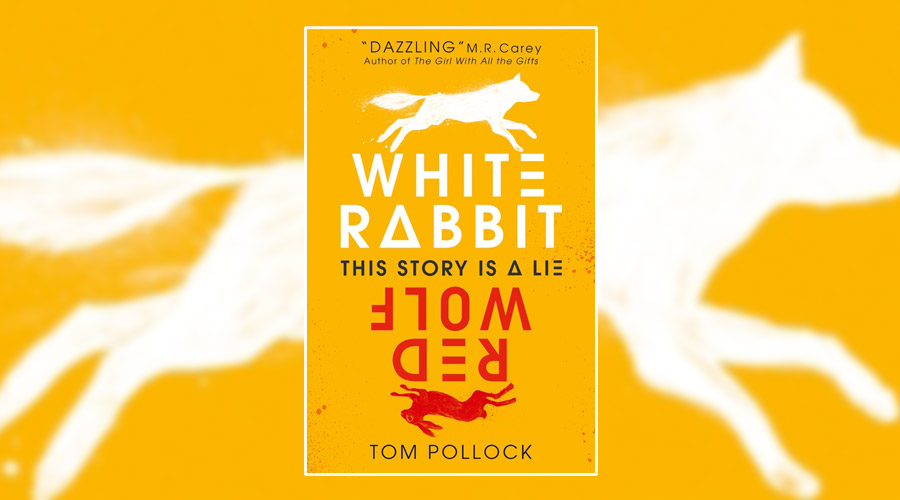 Seventeen-year-old Peter Blankman lives in a constant state of debilitating anxiety and fear. He's a loner at school, his best friend is his twin sister, Bel, and he's scared of pretty much everything. His only solace comes from his family and the logic he finds in mathematics. When he meets another prodigy in the form of OCD sufferer Ingrid, Peter finally feels like there's someone in the world – except his mum and sister – who understands and accepts him, disorders and all.
When Peter's mum is found stabbed on the day she's supposed to receive a prestigious science award, Peter's default reaction is, naturally, one of blind panic. But then he learns that Bel has gone missing and potentially dangerous people are searching for her, and Peter is soon thrown into a world of spies, secrets, codes, violence and murder. On the run and seeking answers, with no idea who to trust, Peter has to rely on his extraordinary mind to analyse the facts and threats surrounding him.
Tom Pollock's first book for young adults has so many layers, complexities and twists that it'll make your brain hurt just thinking about them all. What starts as an intriguing but fairly familiar story about a young man dealing with incapacitating panic attacks, soon evolves into a breathless and intricate thriller to rival The Bourne Identity. The difference is that White Rabbit, Red Wolf has a trio of extremely intelligent and unique teenagers at its core – so where Jason Bourne was a badass but unbelievable central character, Peter, Ingrid and Bel are much easier to identify with (it helps if you've got a mind for maths too…).
High-octane is a phrase thrown around a lot with thrillers but it couldn't be a more accurate way of describing this book, which barely lets the reader come up for air before throwing even more danger at Peter. The thematic elements of mathematics and covert organisations complement each other perfectly, but it's Pollock's personal experience with mental health that makes the story, and its protagonist, so gripping. Peter's life is a constant, overwhelming and exhausting battle against the fears, anxiety and paranoia conjured up in his mind. However, his ability to understand complicated probabilities and patterns is also an inherent superpower, making Peter the hero of his story, even if he doesn't realise it.
It's apparent early on that you can't trust everything that happens in this mind-bending book and that sense of disorientation and mystery continues right up until the end. It's unpredictable, fast-paced, and as clever as it is thrilling. You won't be able to put it down.
★★★★
White Rabbit, Red Wolf was published by Walker Books on 3 May 2018