Book Review: What Are Friends For? by Lizzie O'Hagan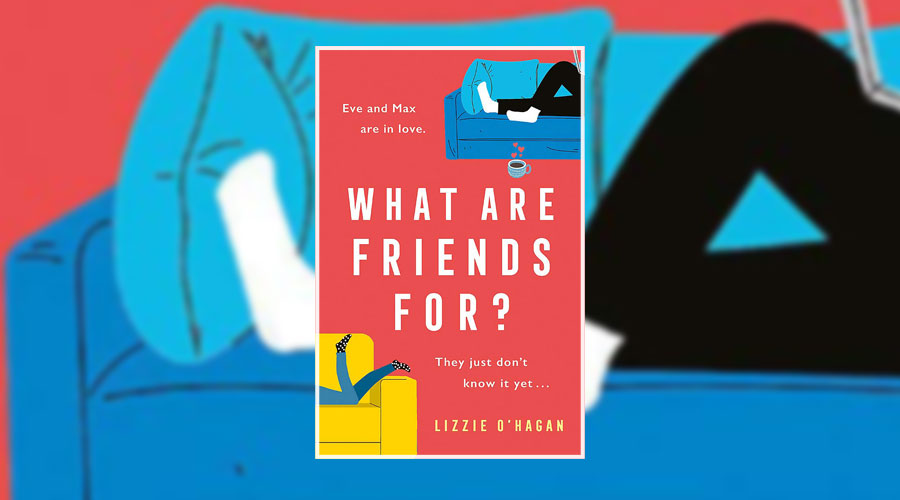 The modern-day take on the Cyrano de Bergerac story is having a bit of a moment right now, with Netflix leading the change in the form of original movies The Half of It and Sierra Burgess is a Loser. With the wealth of means of communication available these days and with so many different ways of meeting people – and all the potential there is for the crossed connections and mistaken identities that can follow – it's surprising that we haven't seen more of these Cyrano story beats make their way into the modern rom-com novel. Fortunately, that's something that Lizzie O'Hagan has come to change with her debut novel, What Are Friends For?, which quickly proves itself to be the epitome of a contemporary romance novel and offers up a modern love story with a lot of thoroughly relatable moments too.
What Are Friends For? follows the life, careers and dating exploits of Eve and Max and their respective best friends Becky and Tom – complete with all the online dating disasters, brush-offs and disappointments you'd expect of four twenty-somethings living in London. Eve doesn't have time for dating and focusing on furthering her career as a journalist is much more important to her than swiping through dating apps. But when her friend and flatmate Becky winds up having her heart broken one too many times, Eve can't help but agree to get involved and play Cupid on Becky's profile.
Max, meanwhile, doesn't put too much stock in the idea of online dating at all; instead, he's much happier to lose himself in books and dream of a more old-fashioned kind of romance – bonus points if it's written by Thomas Hardy. His best friend Tom is the complete opposite, however, and when Tom struggles to attract the kind of woman he could have a future with on his dating app, Max steps in to give the profile a bit of a makeover.
When Tom and Becky end up matching, it's only natural that Eve and Max are on hand to give their friends a nudge in the right getting-to-know-you direction. But the more that Eve and Max are both drafted in to text on behalf of their friends, the more they find themselves thinking that the person on the other end of the text message chain is their perfect match – and both Eve and Max are none the wiser that the person they're developing feelings for is not actually their best friend's date after all.
"I should have known that trying to write someone else's love story would get me tangled in the most powerful, painful love of them all."
The main takeaway from this novel is that What Are Friends For? is just a whole lot of fun – and, thankfully, the book knows it too. With readers aware that Eve and Max are messaging each other from the very beginning, the novel quickly adopts a knowingly conspiratorial air, dropping plenty of hints, nudges and allusions in each of these characters' dual narratives that prove exactly how perfect they are for each other while readers collect all the evidence for themselves with glee. It's a gimmick that is used just enough, providing a steer for the story without pulling it too far beyond the point of believability, particularly as Eve and Max's messages to each other never overwhelm the narrative either. Instead, they ebb and flow with Tom and Becky's own in-real-life relationship, and the novel just about gets away with continuing the crossed wires for as long as it does.
Having said that, though, this is a novel that also feels like its author is a bit too reliant on its premise and it doesn't always work in the book's favour. With O'Hagan so determined to build up the connection between Eve and Max via message (and through the guise of being Becky and Tom), the duo are never really given a chance to get to know each other as themselves beyond a conversation or two and it feels like a missed opportunity. Both Eve and Max put so much of themselves into the 'improved' profiles they make for their friends – and change their friends' personalities so completely – that bringing them together in person too often would undoubtedly have shattered the whole pretence almost immediately. However, I would have liked to have seen a bit more of an overlap in Eve and Max's online and offline connection, and see a relationship form on both fronts, in order to alleviate the frustration of the very quick conclusion that the novel later raced through.
Nevertheless, beyond these few little points of contention, What Are Friends For? is a quick and easy read with plenty to recommend it, and fans of Mhairi McFarlane and Jill Mansell will be more than happy to spend an evening or two lost in Max and Eve's story. Alongside the mistaken identity romance plot at its heart, this novel also weaves in a lot of other story elements, from loneliness and grief to navigating career crossroads, friendships and, of course, relationships while in your 20s. The extent to which you enjoy this novel will no doubt depend on how willing you are to give yourself over to the dating app conceit, but, when you are invested, What Are Friends For? is a light-hearted and feel-good read populated by warm and relatable characters who, ultimately, only have each other's best interests at heart.
★★★
What Are Friends For? was published by Headline on 17 September 2020