Book Review: Unleashed by Amy McCulloch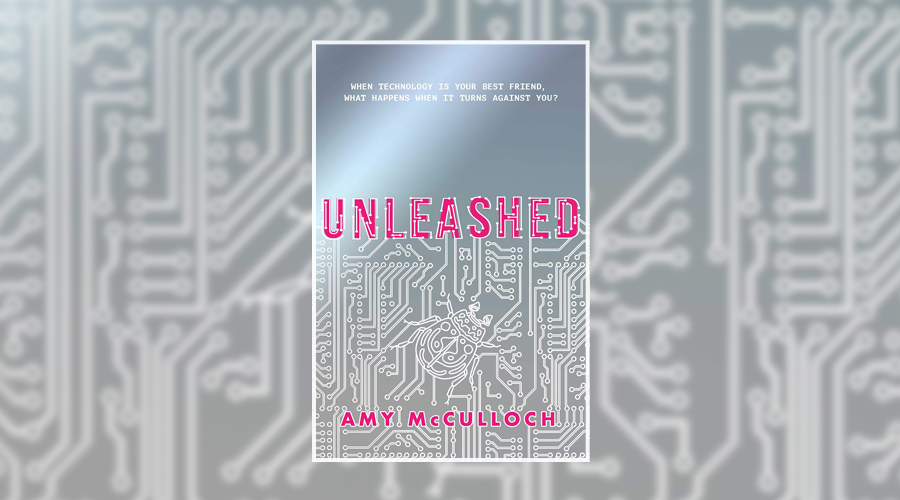 The second book in Canadian author Amy McCulloch's Jinxed duology reunites readers with super smart teenager Lucy Chu as she takes on the corruption at the heart of the company she once idolised. Set in a technologically advanced near-future where digital companions called bakus are an intrinsic part of daily life, Unleashed picks up soon after the first book in the series ended, with Lacey waking up from an inexplicable coma. She has no recollection of what happened to put her in the hospital but she knows that something bad is happening at Moncha, the corporation that invented the innovative robot pets.
If you've read book one, you'll already be familiar with Jinx, the mischievous cat baku with a mind of his own who helped Lacey get into elite tech academy Profectus. Having set Jinx free to run wild with the cats of the city, Lacey feels lost without her digital companion and she's left to deal with the fallout of her actions in Jinxed without his crafty help. Lacey's fears of a conspiracy are further cemented when she's thrown out of Profectus for no longer having a level 3 baku, cutting her off from her friends and restricting her access to Moncha.
With the help of her best friend, Zora, and her Profectus teammates Tobias, Ashley, Kai and River, the teenagers must utilise all their tech and companioneering skills to try and stop Moncha from carrying out their unlawful plans. It helps that Lacey and her friends are complete brain boxes, each with their own fortes and dexterities that make them a well-rounded team capable of taking on menacing adults and their equally intimidating bakus. The action takes them from the urban streets of Toronto to the snowy countryside as they try to stop a sinister update from being implemented.
What makes Unleashed such an exciting, absorbing sequel is how smart it is, combining high-stakes action with family drama and just the slightest hint of teen angst. Lacey's romance with Tobias rightfully takes a back seat, as she battles with the power-hungry company whilst trying to keep her loved ones safe. The innovative smart devices are a fascinating aspect of the story but Lacey is the real draw here. McCulloch fuels her lead character with a natural curiosity towards STEM subjects and a desire to invent and fix things, to make the world a better place. She's such a likeable protagonist and you want her to prevail.
Yet with Lacey's youthful curiosity comes a growing wariness of the dangers of technology and AI. McCulloch weaves our own increasing real world fears into the story, exploring how technology is negatively impacting our lives by stopping us thinking for ourselves. We blindly believe what corporations tell us, accepting terms and conditions without reading them, installing digital updates without a second thought. The onus isn't just on companies to be more transparent but on us to ask more questions. We should all be as inquisitive and questioning as Lacey.
Those might seem like heavy, thought-provoking themes for a YA book but McCulloch wraps it all in a fun, action-packed plot that never forgets its central characters are a bunch of teenagers. It doesn't just live up to the first book, it's even better – ending in a thrilling finale that ties everything up nicely yet still leaves you wishing this duology would turn into a trilogy.
★★★★★
Unleashed was published by Simon & Schuster Children's on 22 August 2019