Book Review: The Things We Thought We Knew by Mahsuda Snaith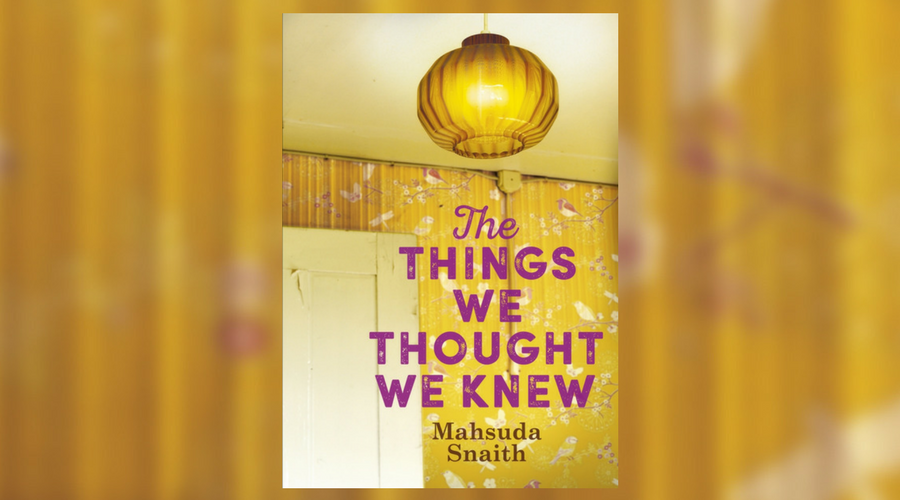 Stories of complex female friendships are nothing new in the publishing world, and neither are stories that tease out the revelation of a traumatic past event, but Mahsuda Snaith's debut The Things We Thought We Knew still manages to be a unique and poignant coming-of-age story that avoids the clichés and the pitfalls of these established narratives.
Covering both the unflinching reality of 18-year-old Ravine's life with chronic pain syndrome and the troubling events that led to the disappearance of her best friend Marianne ten years earlier, this novel follows Ravine as she reflects on her childhood and all the delirious highs and petty lows that went with it. Ravine has been confined to a bed since the day Marianne disappeared, and it's only in writing down their story and everything she remembers about their time together that Ravine can begin to confront her past and take the steps towards confronting her pain as well. What follows is a warm and affecting novel that's told with humour and a heavy dose of '90s nostalgia, painting a vibrant picture of Ravine's life and childhood as the story behind Marianne's disappearance becomes clear and the lasting consequences of it are still felt a decade later.
With a narrative that's hardly groundbreaking, The Things We Thought We Knew had to find another way of grabbing attention, and it does so with its main character. Ravine has been hiding from the world for the last ten years as she lives with her chronic pain, and by the time readers are introduced to her she's a flawed character hell-bent on self-protection and prone to selfish thoughts and actions, making her one of the most realistic characters I've ever read in fiction. It's easy to get frustrated with Ravine, just as it's easy to understand her own frustration, her fear and her instinct to keep people, like her mother, close at all costs.
"So now we are both left tangled in the web of my lies. Amma won't admit that she knows my secret and I won't admit that I know that she knows. […] I'm not ready to give in, not yet. Secrets are destructive things and now the pin has been pulled out of the grenade, all I can do is wait for the explosion."
Marianne, by contrast, is a character who's been painted in a very idealised light, brought to life by Ravine's memories and providing a stark contrast between a glorified, carefree youth and the claustrophobic life Ravine is living now. Their friendship at eight years old is all-encompassing, bonded by proximity, age and experience, and Ravine's reflections almost take on the form of a love letter to her once-best friend, washing childhood events with a rose-tinted hint of nostalgia and impending loss that only adds to the novel's powerful depiction of the everyday experience.
And if you can only say one thing about The Things We Thought We Knew, it's that it is a novel that is grounded by its achingly familiar portrayal of reality. Mahsuda Snaith doesn't shy away from dealing with the issues of pain, trauma and grief in this book, and they're all tied up in the accurately recreated world of a council estate in Leicester, complete with bold, eccentric and diverse characters. She also presents a fresh and multi-layered narrative in which Ravine's larger existence is told simply through the details of day-to-day life with her mother Rekha, known as Amma (the Bengali word for mother) in the book, and Snaith's easy ability to dip between the grand, open world of Ravine's youth and her bedroom's microcosm of life as a teenager is something to be commended.
Mahsuda Snaith's debut is a slow burn book, relishing in the ordinary and everyday even as it plots its overall mystery and the tragic fallout. The Things We Thought We Knew does at times feel like a story you have probably read before, but it still manages to pack in some surprises and twists you don't see coming. A lot of readers' enjoyment of this novel will depend on how they relate to Ravine, and if you're not gripped by the writing style 50 or so pages in, chances are you're not going to be, but if you stick with it this book is a poignant and worthwhile read, telling the story of a human experience with a bold and interesting new voice.
★★★★