Book Review: The Gift of Friends by Emma Hannigan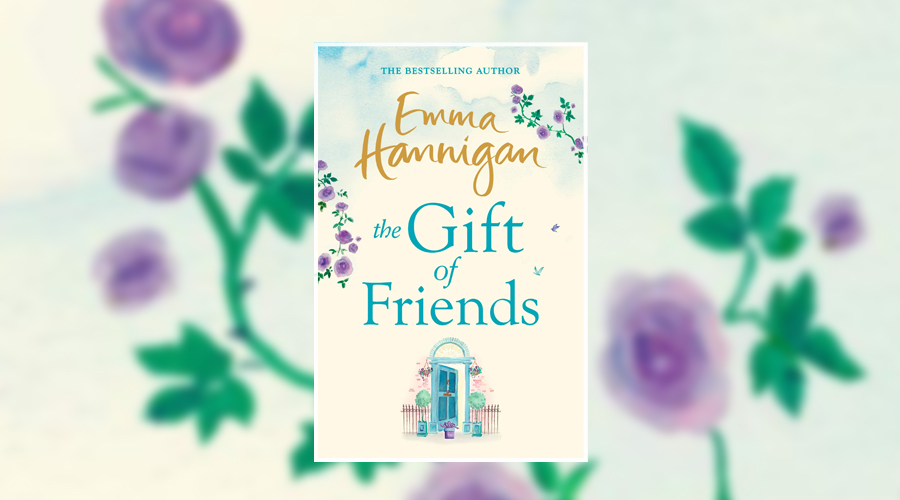 Emma Hannigan's The Gift of Friends is a surprisingly touching story of neighbours and friends, which takes you by surprise with quietly beautiful moments of kindness that remind you that we all have the capacity for great compassion. This isn't a brash, overly dramatic tale of suburban couples and families; rather it's an enjoyable exploration of what happens when you stop projecting a version of yourself for all the world to see and actually show your whole, true self to those closest to you. It's an easy read, a great summer book and one that will give you even more than you might expect.
Had I passed The Gift of Friends in a bookshop, I would probably have skipped past it. The cover, with its large, almost floral title and pale colours, are all trying to say something to the passing book shopper. It's styled to appeal to a certain audience, probably women, of parental age, perhaps also the retired. I think it might be a great book for those people but it isn't one exclusively for them. Judging a book by its cover in a way is both what we should never do, and exactly why books have covers that are designed. When we get too caught up in thinking we know what something is about then, in those fleeting moments, we've already decided we know what's inside. Everything we learn from then on confirms what we assumed. But more often than not that's a mistake. If we make these snap, subconscious decisions with books, it shouldn't be surprising that we do this with people too. The Gift of Friends relies on this assumption, much as we might like to believe it isn't true.
Hannigan introduces us to Nancy, Betsy, Pearl, Maia and Danielle – the newest resident of the much loved and sought after Kingfisher Road in Vayhill, Ireland. Eager to see who the new arrival is, Betsy, Pearl, Nancy and Maia are keen to welcome Danielle into the fold. Despite being friends for a number of years and seemingly very close, it quickly becomes apparent that these neighbours are not all that honest with one another. Fears, secrets and lonely worries affect each of these women, as well as their husbands, children and friends.
Focusing on each of the five main women, chapter by chapter, Hannigan explores a number of issues, from old age and children leaving the nest, to domestic violence and class differences. All of these issues are given their time and due, grounded in a realism that avoids becoming farcical or over the top. The novel can be read without fear of it becoming too dark to read, yet maintains a grittiness.
Each of these women face a different situation and have a unique history. The oldest, Nancy, is blunt to a fault but also unjudging and eternally helpful. Pearl is smart and eager, but has been broken down by a cruel husband. Maia is heading to a crossroads in life: with her children leaving, she wonders how she'll use her time. Betsy has a near perfect partner and always looks to fix problems in the most amicable way for everyone. Danielle is newly engaged and at 20-years-old is being thrust into the complicated world of the wealthy, causing her to doubt her own brilliance.
The Kingfisher Road residents think of themselves as a tight knit group, but only when circumstances start to force them to make tougher decisions does it become apparent that they've all been holding back.
The darker elements aren't all that frequent, and most of the novel is a study of people, how they see one another and the judgements they make. It's also about the longing for connection that we all have, however we choose it, whether it be to have close friends, to have a partner or children, or all of the above. Because of that, it's a story of hope. It's a call to readers to think about who they are pretending to be. In an age of Instagram, where the false self, the curated life, runs rampant, we're told to ask if the pretence is worth it, or if actually knowing someone and being able to be authentic is really more valuable.
It only takes a few chapters to be quickly drawn into the lives of Kingfisher Road. It might even take you by surprise, as it did me, when a few tears fall during a later poignant scene. The Gift of Friends is a heartwarming story and one that we can all appreciate if we give it our time.
★★★★★
The Gift of Friends was published by Headline Review on 30 May 2019
[toggler title="Content warning for this book" ]Mentions of rape, depictions of domestic violence, sex references[/toggler]