A little over a year ago, I reviewed S. J. Kincaid's The Diabolic, an adventurous YA sci-fi novel about love, loyalty, intergalactic beliefs and political allegiances. I hailed it as one of my favourite books of 2016, so it goes without saying that I was looking forward to the book's surprise sequel. The Empress absolutely lives up to the first book and, in many ways, surpasses it too, exploring in greater detail the themes, relationships and characters that made The Diabolic such a memorable read.
When The Diabolic ended, the smart and astute Tyrus Domitrian was on the throne with the book's humanoid protagonist, Nemesis, at his side. They might have fought for their unconventional relationship and come out the other side relatively unscathed, but the Empire was consequently thrown into chaos by their actions. If the first book taught us anything, it's that power is fleeting, and having it doesn't automatically mean you'll be able to hold on to it. It's this on-going power struggle across the different factions in the Galaxy that The Empress explores with exciting and excruciating results.
Tyrus' complete disregard for the rules, laws and beliefs imposed by his now-dead predecessors left plenty of people angry. The arrogant and proud ruling class have no intention of sitting by idly whilst their power is taken away by an Emperor who's still a teenager and his assassin-like Empress, who they don't even consider to be a person. With threats, blackmail and betrayal around every corner, Nemesis and Tyrus embark on a battle not just for the Empire but also for their love and their lives.
If it were just the throne that Tyrus risked losing the stakes wouldn't be nearly as high. Both Tyrus and Nemesis are mentally sharp and physically strong, and they're adept at hiding their weaknesses from their enemies, making them a formidable duo. However, where they come undone is their love and devotion for each other, which is the one thing the ruling class know they can exploit. And they do, many times, throughout the book.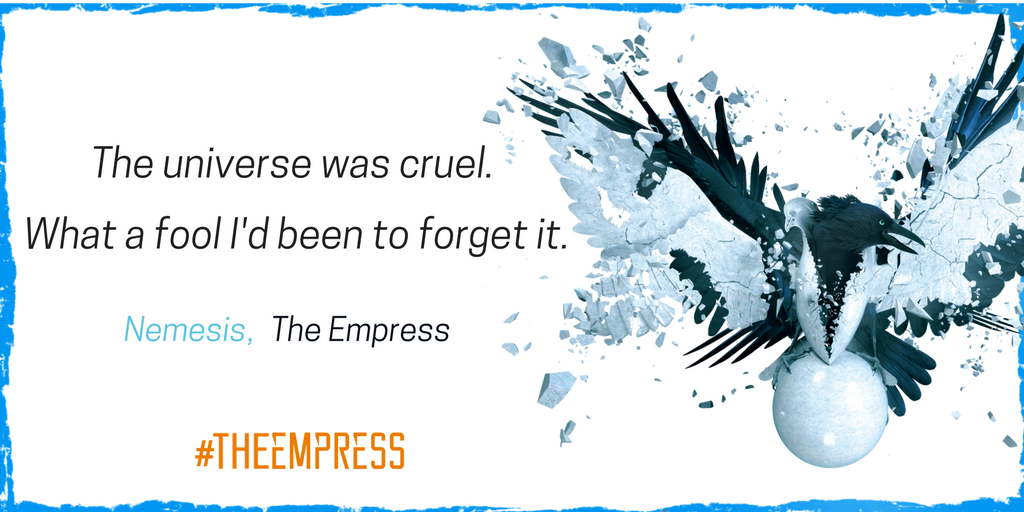 To say any more about the actual plot would inevitably spoil all the surprises S. J. Kincaid packs into The Empress. Themes and storylines she touched upon in The Diabolic – mythical religious figures, the cosmos, the Domitrian legacy, what it means to be human – are explored with greater depth and significance in this book, making it a richer, more thoughtful reading experience. Kincaid certainly expanded the galaxy with the sequel but it's her development of the characters, and how they're pushed together and pulled apart, that brings the emotion and pathos.
The story is filled with shocking plot twists, shifting allegiances and devastating consequences. I lost track of how many times my heart filled with happiness only for it to shatter the next moment. Kincaid doesn't allow us to get complacent with her characters; they're constantly evolving, which means it's near on impossible to anticipate what's going to happen at the end. Let's just say, it sets the scene for one hell of a finale.
In a letter to readers published on the Hashtag Reads tumblr, S. J. Kincaid revealed that she never intended to write a sequel to The Diabolic. She'd written a trilogy before and had envisioned her fourth book as a standalone. All I can say is I'm glad she felt compelled to explore the world of The Diabolic further. Now, someone hurry up and make this into a movie!
★★★★★
SaveSave