Book Review: The Dressmaker's Gift by Fiona Valpy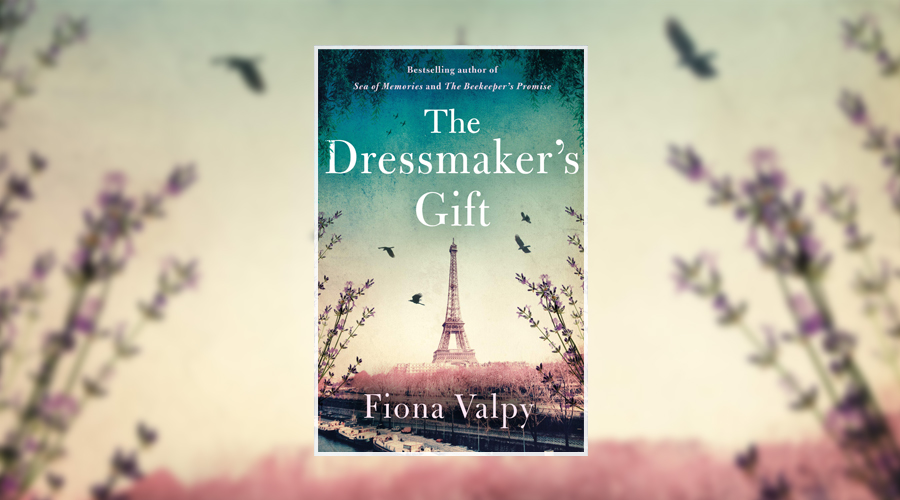 Despite its synopsis promising a complex, intergenerational tale of family secrets, wartime betrayals and a dark past to unravel, it becomes very clear early on that the Dressmaker's Gift by Fiona Valpy is actually more a story of two disparate parts. While the war-torn world of 1940s Occupied Paris is brought to life in spectacular fashion, with a strong sense of time and place and a gripping story with real stakes driving its narrative, the sections set in modern day Paris fail to match up, resulting in an unbalanced novel with a great premise that never quite manages to come together, despite how much it tries.
Beginning in Paris in 2017, The Dressmaker's Gift opens with the description of a beautiful dress from the 1940s, perfectly stitched together from fabric scraps to create a unique, imperfect whole. As an unnamed narrator admires the dress and acknowledges its history, we quickly move on to Harriet's story as she arrives in Paris hoping to find a connection to her past. As she begins her new job and moves into her new apartment, both of which happen to be in the building her grandmother Claire lived and worked in over 70 years earlier, Harriet learns of her grandmother's own story, unravelling a history that is more painful than she'd imagined.
As for what that history is, the reader sees it unfold in the novel's other timeline, following seamstress Claire and her two friends Mireille and Vivienne as they learn to live with their new normal after the Nazis invade Paris. But all three of the women are keeping secrets and it's not long before their hidden activities and subterfuge put them in grave danger, leaving them to face impossible choices in one of history's darkest moments – and the impact of their actions will be felt by their families for generations to come.
"As I trace those fine, fragile threads of fate back across the years, I am more and more astounded that I am here at all. Life can seem so very tenuous sometimes. But perhaps that fragility is why we treasure it so."
Given the two narrative threads, then, it's undoubtedly the lives of Claire, Mireille and Vivienne and their growing involvement in the French Resistance that proves the strongest. Inspired by the courageous, real-life stories of women in the Special Operations Executive and written with such care and attention to detail, the wartime experiences of these three women are as harrowing as they are admirable, and even though the very set-up of the novel detracts from some of the tension, the story never fails to grip you, and propels the reader onwards. 
By contrast, Harriet's own story is much clunkier, built on too many coincidences to be believable and is too on-the-nose to get any real enjoyment out of it. Harriet is quick to summarise her grandmother's experiences, pass instant judgement and overtly state her feelings about it all, drawing too many obvious links between their stories for the reader to enjoy the tale's unravelling. Even the narrative device rings false, with Harriet supposedly hearing the story of her grandmother (ie the historical chapters) via her colleague, who's hearing it from her grandmother, Mireille – a chain that's far too convoluted to give Harriet as much detail as readers get, not to mention the impossibility that Mireille appears to have known what Claire and Vivienne were thinking and feeling in moments she wasn't there.
Even so, there are elements of Harriet's story that prove interesting, not least in her struggle to come to terms with her mother's suicide and how that has shaped her own life and relationships, but it did also feel like Valpy never quite knew what to say about Harriet's own journey. There are some interesting parallels made between the trauma of living through World War 2 and the more contemporary experience of living in fear of terror attacks, but they're not fully explored enough to drive the point home. Instead, Harriet ends up learning about the relatively new idea of inherited trauma. While the author admits in her afterword this is a topic of debate, there's no such argument in the book, and instead it appears to be introduced here purely as a way to connect the two narrative strands together, and to forge a contrived connection between the two generations.
Despite its faults, The Dressmaker's Gift is by and large an interesting and highly enjoyable read, particularly in its historical chapters. While Harriet's modern day narrative lets the novel down slightly, it quickly becomes clear that this isn't really her story anyway, and the more time we spend with Claire, Mireille and Vivienne, the more we want to learn about them as their story covers all the years of Nazi-occupied Paris, from being seduced by German officers and fighting back with the Resistance, to interrogations from the Gestapo and the horrors of German occupation camps. Equal parts heartbreaking and life-affirming, The Dressmaker's Gift is sure to be welcomed by fans of historical fiction – and particularly so by those who read and enjoyed the author's previous work The Beekeeper's Promise too.
★★★
The Dressmaker's Gift is published by Lake Union Publishing on 1 October 2019