Book Review: The Deathless Girls by Kiran Millwood Hargrave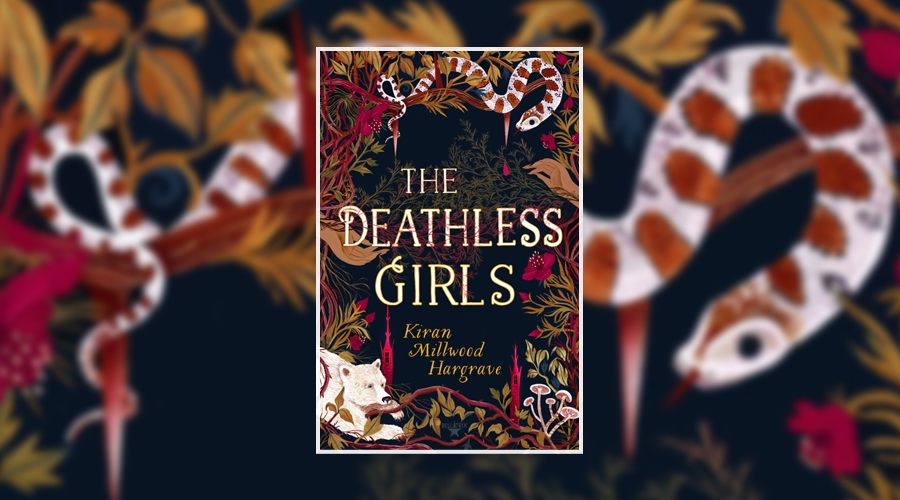 Kiran Millwood Hargrave's YA debut is the second installment in the Bellatrix feminist YA collection, which sees leading female voices shining a light on "the unknown, misunderstood and misrepresented". Telling the untold origin story of the brides of Dracula, The Deathless Girls feels like a modern gothic classic, complete with vampires, myths, folklore and a beautifully written F/F romance.
Love, sisterhood and the rift between Travellers and Settlers are at the centre of Millwood Hargrave's reimaging, which follows seventeen-year-old twin sisters Lil and Kizzy as they're thrown into a brutal world of desire, death and destiny. On the eve of their divining day, the sisters are captured and enslaved by the cruel Boyar Valcar, who destroys their travelling community, leaving only a few children and teenagers alive. Sold to the castle kitchen and forced to work as slaves, Lil and Kizzy are beaten and degraded, stripped of everything they've ever known. As the softer, more docile of the two, Lil does what she's told in order to stay alive. Whereas Kizzy practically vibrates with vengeance and fury, fuelled by a defiant hate for her captors, which doesn't go unnoticed.
Amidst the sufferings of servant life, Lil befriends fellow slave Mira and finds comfort in someone other than her twin. It's an awful reality but Mira gives Lil something to live and hope for. When the sisters hear of a mythical Dragon, a creature more monster than man who accepts young girls as sacrificial gifts, their already harsh existence takes another turn for the worse. In order to save themselves and each other, the sisters must adapt. For Kizzy that means accepting her fate, however damning it might be. For Lil it means learning to be as fierce and brave as her sister.
"They say the thirst of blood is like a madness – they must sate it. Even with their own kin."
Merging myth with fantasy, The Deathless Girls is unique in that it doesn't focus on the notorious blood-lusting vampire in Bram Stoker's original tale. Dracul does feature towards the latter half of the book, and he's a terrifying component in the creation of the dark sisters, but this isn't his story. It's a re-visioning of the women themselves – the Vixens, the Brides, the Sisters. This is the tale of how they came to be and what they loved, feared and lived for, even when they weren't, strictly speaking, alive. They are beautiful, sexual, charming and fearsome women, and Millwood Hargrave devotes her story entirely to those powerful qualities.
This is also a story imbued with Traveller culture and it draws on the darkness of their persecution, exploring the divides and prejudices that have existed throughout history. Lil and Kizzy love their culture and they mourn it like they would a family member when it's stolen from them. It allows readers to understand their journey for revenge and retribution, their desire to inflict pain on those who've wronged them. Despite being told from Lil's perspective, The Deathless Girls pulses with twofold energy from beginning to end. Lil is the heart of the story, unassuming and gentle, but it's her unbreakable bond with her sister that feeds her bravery as the story progresses. They're both incredibly engaging characters, as is Mira, who sparkles with her own fight and anger.
The Deathless Girls is an immersive and richly imagined YA novel, beautifully brought to life by Kiran Millwood Hargrave's exquisitely poetic writing. If there's anything negative to say about the book it's that it ends too soon, with a fleeting aftermath that offers up a potted version of the brides' undead existence. It doesn't feel like enough but as the saying goes: always leave them wanting more. The Deathless Girls does exactly that.
★★★★
The Deathless Girls was published by Orion Children's Books on 19 September 2019