Book Review: The Deep by Rivers Solomon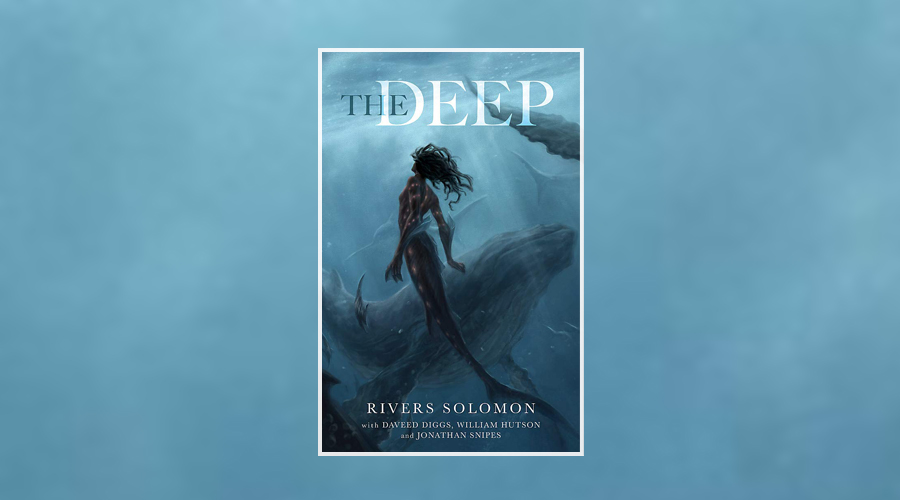 The feeling of sound. An echo of a dream, the confronting effect of a scream or comfort in a breath. Within the deep, dark ocean, vibrations and sound are physical and visual. Rivers Solomon's The Deep is a powerful narrative that takes the horrendous legacies of colonialism and racism and finds a fantastical twist that offers something new.
The mermaid-like babies of pregnant African slave women thrown overboard have survived and created a new society in the water. One of their descendants, Yetu, has been chosen to hold all the memories of her people, the wajinru. She is the latest Historian and keeper of the true origins of the wajinru. While everyone else lives blissfully unaware, she carries all the pain, torment and death within her, sharing it only once a year to remind her people of who they are, if only for a little while.
Solomon tells this story beautifully and with an encompassing, engrossing visual palette. Though there is little or no light in the deep, the feeling of motion and sound is given new resonance and you see as Yetu does, feeling with her scales and fins, learning to hear what is happening in her watery home.
Through Yetu's Rememberings, memories from all the wajinru past and present, we get to explore what the weight of a history means and how it lingers with those who are both so far from it and yet forever present in it. Solomon muses on what it means to try and be free of cultural and societal expectations, recognising that struggling against what is expected may be painful but being absent and disconnected can be so much worse.
There is an adventurousness to The Deep, from the dangerous encounters of the creatures which share the waters, to the invasive nature of humans and the brutality of bombs when viewed from below, through to the supernatural power of the wajinru to conjure storms, whirlpools and floods.
The Deep devours you, pulling you into the memories that Yetu relives and revisits, wrapping you in the inevitable experiences that cannot be stopped, in the same way that its main character is. You feel the trapped, powerless feelings that the Rememberings bring, and then in contrast, when Yetu is separate from her Historian role, you get the sense that her world is simpler, brighter, but also lacking in depth.
As a novella, The Deep is very easy to read. So easy in fact that you could enjoy it in a single sitting and almost certainly won't be disappointed you didn't savour it more. I strongly advocate parcelling it out for the fullest sense of satisfaction once it is complete. An exceptional read.
★★★★★
The Deep was published by Hodder on 30 January 2020