Book Review: Escape Routes by Naomi Ishiguro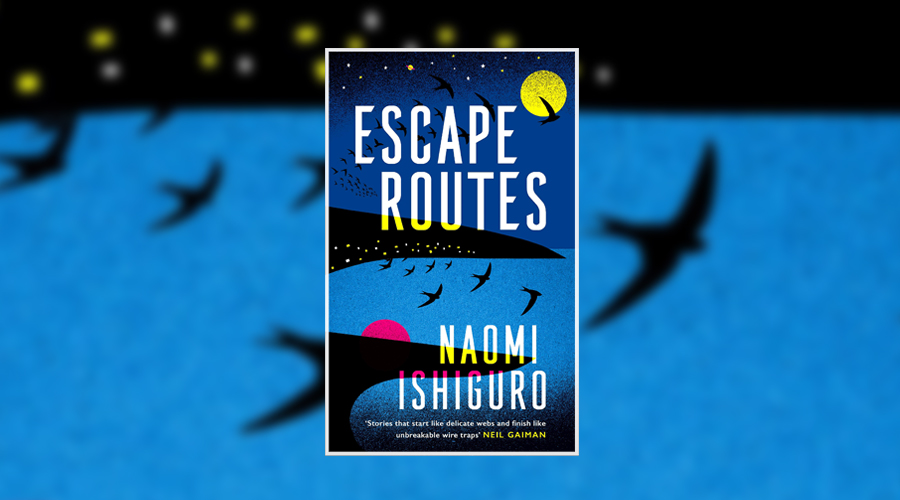 Escape Routes – the debut collection of Naomi Ishiguro – is a book of short stories that each combine the ordinary and the extraordinary. An enormous stuffed bear takes over the lives of a newlywed couple. A flock of birds helps a woman over her heartbreak in the most surprising way. A little boy and a jaded fortune-teller cross paths by the sea. An addiction to coffee gives a man superpowers… kind of. Everything is familiar, and yet nothing is quite what it seems.
Ishiguro writes beautifully. She has a real knack for stream of consciousness prose, following the flow of a person's thoughts in a natural, organic way. That helps you to get inside her character's heads, and empathise with them. It can lead you to some unexpected places – to say more would be to spoil the surprises – but they are always places worth travelling to.
And the scope of her imagination is awe-inspiring – in all of the stories, it seems as though anything could happen. What makes them special, however, is not just the width of Ishiguro's creativity, but its depth. Her eye for detail. Her creations are wild and vivid, yet they are also so minutely drawn – whether they be interspecies transformations, interdimensional portals, or elaborately constructed rat traps – that it's easy to imagine them right along with her. If there is one reason that Escape Routes works so well, it's the intricacy of Ishiguro's ideas.
Despite the fantastical nature of these stories, each of them is firmly grounded in reality. There is a strong sense of the fear and uncertainty of the present moment; the looming climate apocalypse (Ishiguro is a member of Writer's Rebel, the literary branch of Extinction Rebellion), and leaders who are woefully underprepared to meet the challenges it brings. Brexit. Trump. Trying to live a normal life as the world seems to be falling apart around us. Escape Routes is full of magic and wonder, but all the emotional power comes from how these tired, stressed, anxious characters could be people that you pass on the street. They could be us.
The only real issue I had with Escape Routes is that the weakest story – 'The Ratcatcher' – takes up the most space: the three parts combined are over a hundred pages, where just one of the other stories numbers over fifty. 'The Ratcatcher' isn't dull or poorly written – as with the rest of Ishiguro's work, the imagination and attention to detail is impressive – but it has far less of an emotional resonance than everything else in the collection. It feels thematically at odds, and not solely because it's the one tale that isn't set in the present day.
But that's a minor concern; in a less impressive book of short stories, 'The Ratcatcher' would be one of the highlights. The fact that it's the lowlight of Escape Routes is in itself a compliment.
Naomi Ishiguro's debut is a fantastic achievement. Let's hope it isn't too long before we get another glimpse into that magical brain of hers.
★★★★
Escape Routes is published by Tinder Press on 6 February 2020