Book Review: The Black Kids by Christina Hammonds Reed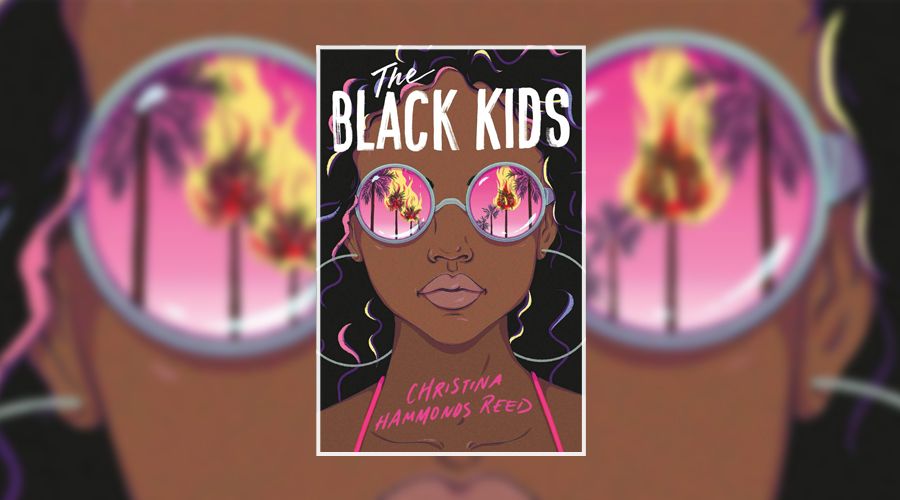 It's 1992 and Ashley Bennett lives a charmed life with her friends in Los Angeles. Nearing the end of their senior year, the girls split their time between school and the beach, enjoying being young, affluent and carefree. Yet everything begins to change for Ashley when a black man named Rodney King is beaten half to death by the LAPD and the white officers involved are acquitted. As impassioned protests turn into violent riots across LA, the city burns and so too does Ashley's conscience.
The more she hangs out with her rich, white friends, the more Ashley feels not only out of touch with herself as a person, but with her African American heritage too. Her privileged upbringing has cocooned her from the racial injustices that black people face but the riots send her safe world spinning. Suddenly Ashley is one of 'the black kids' and she's not sure how to process that. With her self-destructive sister at the very centre of the uprising, Ashley begins to realise her life can't continue on as normal.
"Sometimes it's hard being a girl, and it's hard being black. Being both is like carrying a double load, but you're not supposed to complain about it. There are so many things you have to remember about how to be."
Christina Hammonds Reed's debut YA novel is scarily relevant to our times. But describing The Black Kids as timely feels like a disservice to the subject matter at the heart of the book. Black Lives Matter isn't a movement that belongs to 2020, or 2000, or even 1992 when the book is set. The issues Christina Hammonds Reed explores – including the real-life brutality towards Rodney King – reverberate all the way through history but the way that she frames them – through the eyes of a wealthy, well-educated, advantaged black girl – allows readers to confront the idea of "us", "them" and "we" from a different perspective.
Coming mere months after the murder of George Floyd in America, there's an eerie prescience to The Black Kids that nobody could have anticipated. Yet Christina Hammonds Reed did, which is why this kind of book is so important – not just to the young adult market that it's aimed at but for adults too. We're more educated than we've ever been and yet the violence and suffering continues. With books like this, that champion empathy and understanding, and intelligently depict the experience of prejudice and double consciousness, there really is hope for change.
The Black Kids isn't just a pertinent story of identity, race and class. It's also a wonderfully empowering coming-of-age tale of family and girlhood, of growing out of toxic friendships and discovering new, healthier ones. Ashley might spend half the novel questioning who she is and how she should behave but that makes her easy to relate to. We're all a little unsure of ourselves, of how to make the right choices and who to give our love to. The important thing is which side of the fight you choose to be on. Following Ashley's journey as she tries to figure that out is heartening, enlightening and completely worth any reader's time.
★★★★
The Black Kids is published by Simon & Schuster Children's on 4 August 2020