Book Review: The Beekeeper of Aleppo by Christy Lefteri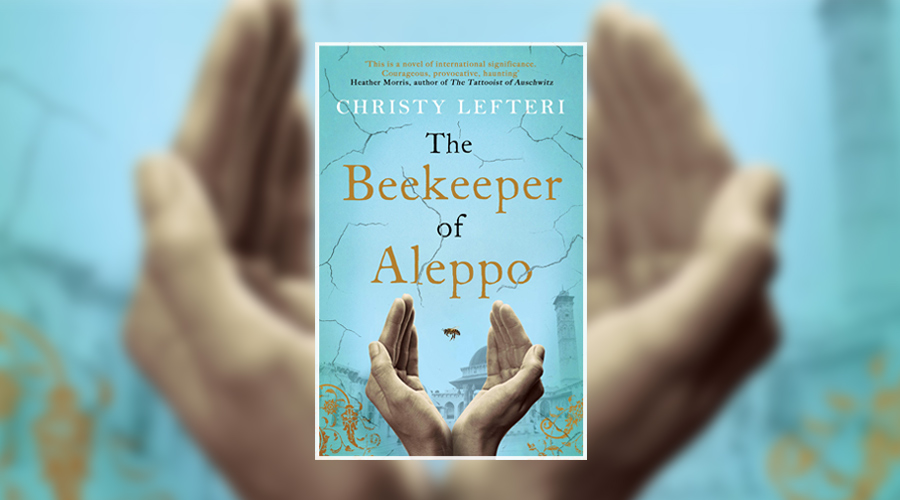 Inspired by Christy Lefteri's time working as a volunteer at a Unicef supported refugee camp in Athens, The Beekeeper of Aleppo is a poignant tale of love and courage amidst tragedy. It centres on beekeeper Nuri and his artist wife Afra, who flee Syria after all they care for – including Nuri's beloved apiary – is destroyed by war.
Not only are the couple mourning the loss of their home and livelihood, but Afra has also inexplicably gone blind. Whilst her loss of sight initially seems to be a tragic consequence of a bomb explosion, it's gradually unravelled to be more closely entwined to a devastating personal trauma – something that's compounded when they flee Syria and still can't find safety. Embarking on the couple's perilous journey through Turkey and Greece, we follow them towards an uncertain future in search of a better, kinder existence untouched by the horrors of war.
Moving between the couple's present in a lodging by the south coast of England and their passage across Europe as refugees, we witness the hardships that Nuri and Afra are faced with. Without her sight, Afra is entirely dependent on her husband; she needs him to help her dress, find her food, keep her from harm's way. But Nuri is grieving too. He finds it difficult to connect to his wife and every time he looks at her, he remembers everything and everyone they've lost. Though travelling together, Nuri and Afra face their grief alone. Nuri often disappears and wakes up in a random place, and Afra curls into herself as a result of her husband's detachment. The distance between them continues to grow as they get closer to reaching their intended destination of Britain but Lefteri astutely misdirects our understanding of their relationship, revealing in the final few chapters the real reason Nuri feels such guilt.
"'You were crying.' she said, 'I heard you crying.' And with both of her hands she wiped my face. She looked into my eyes, as if she could see me. In that moment I could see her too, the woman inside, the woman I'd lost."
Lefteri uses Nuri and Afra's journey to not only explore the couple's personal grief and loss, but to confront the wider hardships that threaten displaced people fleeing war-torn countries. They do not escape and instantly find a safe haven. It's a struggle and a fight; one that Nuri and Afra, both broken and traumatised, must keep fighting if they want to find their way to Nuri's cousin and business parter Mustafa, who fled Syria and started an apiary in Yorkshire to teach fellow refugees how to keep bees. Mustafa is the beacon of hope in the darkness. He's the future that keeps Nuri and Afra moving forward, away from the danger, to a place where they can find each other again.
The Beekeeper of Aleppo is an at times devastating and haunting novel that pulls readers into a conflict many of us have only ever witnessed in the media. Yet through Nuri and Mustafa's love of bees, and through Afra's talent for art, there's still beauty to be found in the story, as there's still beauty to be found in countries marred by war. Like Heather Morris' The Tattooist of Auschwitz, this is a book of darkness and light, of horrors and hope, and of the true power of the human spirit. An urgent and moving novel for our times.
★★★★★
The Beekeeper of Aleppo was published by Zaffre on 2 May 2019