Book Review: Talk Bookish To Me by Kate Bromley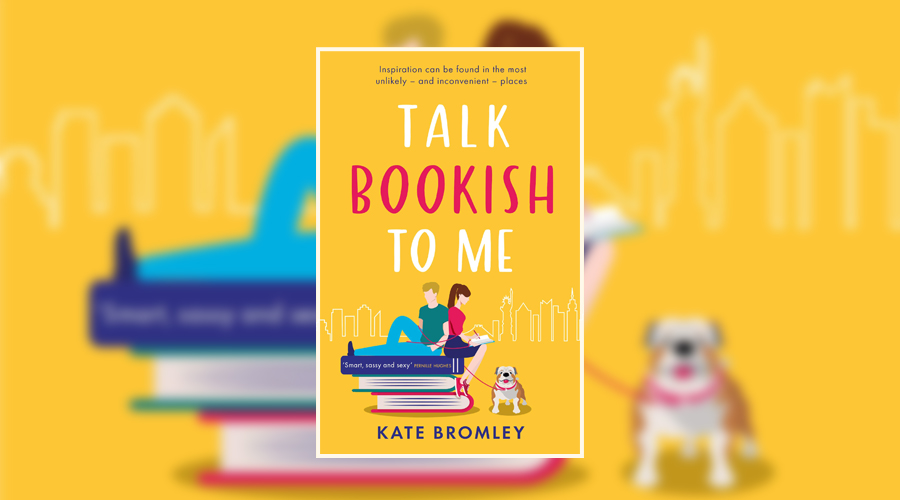 To sum it up in a few words, Kate Bromley's Talk Bookish to Me is a book lover's dream. From the best-selling author main character, who also happens to be an influential bookstagrammer, to its celebration of romance novels in all of their many forms and tropes, this is a novel that pays tribute to all things bookish in all of the best ways – and it does so while also delivering an emotional and funny second chance romance between two characters with a lot of chemistry and a whole lot more history to sort out between them.
Kara Sullivan has seven romance novels under her belt and a new deadline looming, but she can't think about that with her best friend's wedding in a week, never mind the fact that she hasn't written a single word yet. When her infuriating, handsome first love Ryan Thompson walks back into her life as a member of the wedding party, it's the last thing Kara needs, especially with the memory of their devastating break-up 10 years before still fresh in her memory. As wedding duties means that she and Ryan are forced together more often than not, however, Kara finds herself inspired to write her steamy historical romance, and the more intense their encounters are, the more Kara's creative juices start flowing.
But what starts as a plan to get her novel written once and for all quickly becomes something much more as Kara and Ryan spend more time together and begin to revisit their past relationship and consider where everything went wrong. With hurt and anger on both sides, and a lot of unresolved tension between them, Kara is left wondering whether she and Ryan will be able to overcome their past and write their own happy ending once and for all.
"There's no mistaking it now. I've linked him to this novel, and I won't be able to have one without the other. As if my writing process wasn't painful enough."
Kate Bromley's debut novel wastes no time in jumping straight into the plot and, as a main character, Kara is someone readers will warm to instantly, with her funny and relatable personality very clear to see from the very first page. There's no slow build-up here and within seven pages Kara and Ryan come face-to-face again for the first time in years. Readers are therefore completely caught up in trying to decipher their past missteps from the get-go as Kara and Ryan are brought together again and again, from re-meeting and initial catch-ups to spending more time together and airing out old grievances in the build-up to their friends' wedding day.
The dynamic between Kara and Ryan successfully captures attention very early on, and it's bolstered by the clear chemistry that still exists between the former couple too. Considering all the hurt between them, it's also one that crosses the line of believability quite often as the novel unfolds. While there was no doubting the feelings and emotions of both characters, the development of the relationship felt extremely rushed, especially when you remember that it mostly took place over the course of a week and they both had years of bad feelings towards the other person to overcome too. Forced proximity notwithstanding, one week feels like too little time for Kara and Ryan to have processed their break-up and the distance built up in the years since in order to have escalated their relationship in the way they did so in this novel. As a result, it felt like their connection to each other very rarely went beyond nostalgia and the physical, with a lot of focus on untangling the past rather than building a future together.
Even so, one of the greatest things about Talk Bookish To Me is that it's extremely self-aware, with lots of nods and attention given to romance lovers and the book community as a whole. It's very clear that Bromley knows who her readers will be and is writing this book with them in mind, to the point where she even has her main character break down the typical structure of a romance novel as she considers whether or not to pursue a relationship with Ryan again. There's a knowing element to the whole conversation, and it's quickly followed by another in which Kara also lists the many ways in which she gets her characters to fall in love in her novels too. It all feels as if Bromley is giving a knowing wink to her readers as she points to how Kara and Ryan's relationship is going to play out, bringing them in on the joke that, for the most part, we know how this story is going to go and we're going to enjoy every bit of it.
It is moments like that one that make this book a whole lot of fun to read, and with such likeable leads, a great cast of characters around them and an adorable bulldog to round off the novel too, there really is a whole lot to like. It's a quick read, but it's also one that benefits from not exactly taking the traditional road to the happy-ever-after readers will be anticipating, and while the final quarter of the book does get a bit choppy as it deals with the consequences of the inevitable fallout, it's also probably one of the more realistic approaches to a romance novel's resolution that I've read in recent years.
Unsurprisingly then, Talk Bookish to Me is a sweet, sexy and emotional romance novel that's very much built with romance readers in mind, and it makes the read that much more enjoyable. It's funny, quick-paced and has the added bonus of a few historical romance scenes as readers get to chart the highs and lows of Kara and Ryan's own relationship through Kara's writing of the tumultuous relationship between Charlotte Destonbury and Robert Westmond. But above all else, this is one book that more than lives up to the recommendation that it's a book for book lovers – and particularly for those who love romance too.
★★★★
Talk Bookish To Me is published by Zaffre on 27 May 2021