Book Review: Serious Moonlight by Jenn Bennett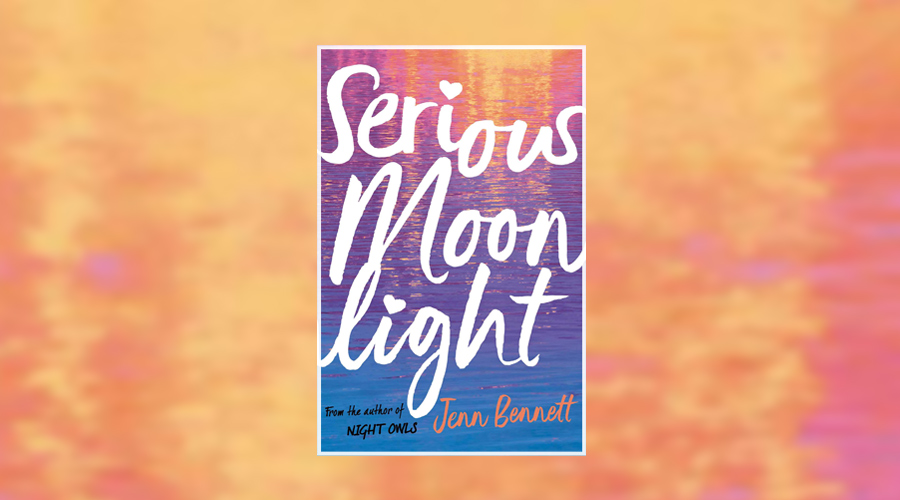 Serious Moonlight marks Jenn Bennett's fourth contemporary YA romance novel and, at this point, each new release is very much like catching up with an old friend. After reading and falling in love with Alex, Approximately two years ago, Bennett became an author I always look out for and, as ever, this latest novel is a heart-warming combination of romantic passion and complicated realities, driven once again by a flawed yet relatable lead, a charming love interest and a colourful cast of supporting characters.
Raised on a steady diet of detective fiction, both on TV and in books, there's nothing 18-year-old Birdie Lindberg loves more than a good old-fashioned mystery to solve. As she starts her new job working the graveyard shift at an iconic Seattle hotel, her excitement is dampened only by the revelation that Daniel, a boy she shared an awkward encounter with a month earlier, works there too. Despite the initial awkwardness, embarrassment and miscommunication, Daniel and Birdie ultimately decide to team up to solve a real-life mystery in the hotel. With intrigue in the air and a mystery to solve, introverted Birdie begins to come out of her shell as she and Daniel set out to uncover the identity of a famous reclusive writer who they think has been visiting the hotel – and it's not long before Birdie is puzzling over her confusing feelings for Daniel too.
"My inner Nancy Drew did cartwheels while Daniel gave me a secret, triumphant look. Maybe this whole partnering-up idea was a good idea after all."
Despite the focus on the mystery element in the premise, it's fair to say that this only serves as a framing element for the story at the novel's heart: the relationship between Birdie and Daniel. As far as lead characters go, Birdie is a compelling one: likeable, realistically portrayed and with plenty of complex emotions running through her head and underlining all of her actions. After losing both her mum and her grandmother, Birdie is struggling to let anyone get close to her, overwhelmed as she is by the idea that half of the people she loves end up leaving her, and that inevitably has ramifications on her growing relationship with Daniel. For his part, Daniel also clearly stands out as a fully-realised character, with his goofy and affable personality masking his own struggles – which, when revealed, only leave Birdie with yet more food for thought about their potential future together.
Once again, Bennett is committed to ensuring this teen relationship is portrayed in a true to life manner but, strangely for romantic fiction, Birdie and Daniel's first meeting and connection isn't something the readers get to see. It's an interesting way to tell that story, with the first half of the novel depicting the fallout from that initial first encounter as Birdie and Daniel second guess what went wrong, how the other is feeling and how they should express their own wants and thoughts moving forwards. All of this makes for a mature and realistic romance story that avoids the typical YA tropes of insta-love and gives readers a different way of engaging with the protagonists' connection, but it's not without its downsides. As it is, we get all the information about the unseen encounter in the first chapter, and while the discussion is heartening and positive, it may have been better to include it in a different way instead – if the intention was to get the facts out there quickly, it could have worked better as a prologue, rather than a first chapter info-dump.
And that also provides one of the major disappointments in the novel; for all Birdie's character is set up as a mystery-lover, a lot of those detective elements that drive the early part of the narrative fall apart very quickly to give way to exploring the details of Birdie and Daniel's relationship. Birdie's love of detectives manifests early and in great ways in this novel as she builds case notes about the people in her life, tasking herself with getting to the bottom of any questions she has about them. But although Birdie and Daniel begin to get to know each other as amateur sleuths staking out hotel rooms, hunting for clues and putting together the pieces of a compelling mystery, that investigation is ultimately side-lined until the plot needs to kick in again, eventually building up to a predictable and rushed conclusion that becomes more about throwing a complication into Birdie and Daniel's relationship than the actual solve.
However, despite having a few little niggles about this novel, there is a lot to love about Serious Moonlight, and there's definitely a lot to recommend it as a must-have for fans of the genre. Bennett always delivers a feel-good romance novel with depth, promoting sex positivity and shining a light on everyday characters that many readers will identify with as she does so – and this book is no different. While Serious Moonlight doesn't quite hit the same high notes that previous novels have done, it remains a well-written, completely engaging and a wonderfully unique addition to every YA romance lovers' book shelf.
★★★★
Serious Moonlight was published by Simon & Schuster Children's on 16 May 2019