Theatre Review: Operation Mincemeat at the New Diorama Theatre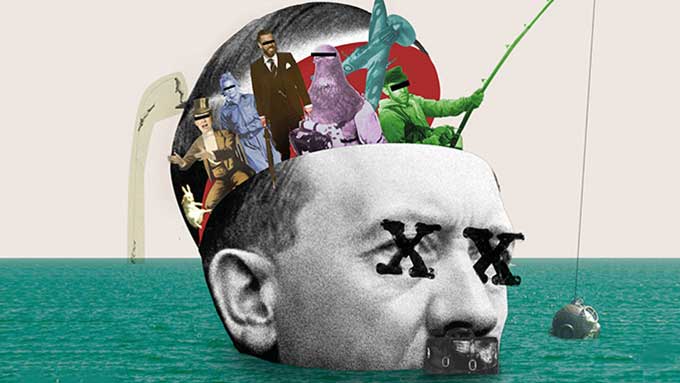 SpitLip present an action packed World War II musical as a group of public school chaps plot the downfall of Hitler using deception and science. They are a world away from the actual fighting and use toe tapping song and dance numbers and a dash of humour to give an unusual history lesson some modern panache. The result proves to be a potent collaboration between comedy theatre company Kill the Beast and glam-punk composer Felix Hagan.
They tell the true story of a 1943 Allied plot to trick the Axis powers into moving troops from Sicily to Sardinia. The heroes who have hatched the hair brained scheme are anxious ideas man Charles Cholmondeley (David Cumming) and vigorously over confident Ewen Montagu (Natasha Hodgson). They must convince Colonel John Bevan (Zoe Roberts) to back the plan and then rely on forlorn secretary Hester (Jak Malone) and ambitious clerk Jean (Rory Furey-King) to fill in the details.
In the intimate New Diorama Theatre each line rings out, even as the songs occasionally slip towards rap. The set is wonderfully dressed with hanging telephones and the lightning goes into hyperdrive at the beginning of the second act when the whole cast become Nazi soldiers for a barmy Europop banger. Among the other tracks are lively odes to the art of the double cross, feminism in wartime and how the posh are born to lead.
The five actors all rotate away from their main characters to fill the story with a variety of voices, from groups of sailors and cockneys to infamous pathologists and coroners. Ian Fleming even pops up at the start to drop hints about his novel gentleman spy. Jolly japes are to be had with the shifting between accents and genders; sometimes changes happen at the drop of a hat as scenes of glamour and guile cut together with animated dance routines. There's a hint of romance and whiff of the danger to soldiers in the field as these war games play out in the corridors of power. With plenty to pack in, the plot moves at a cracking pace helped along by sharp one-liners, descriptive lyrics and modern references. Here is a lively millennial take on a twisty tale of WWII daring do.
★★★★
Operation Mincemeat is on at the New Diorama Theatre until 15 June 2019