Tōth – Practice Magic and Seek Professional Help When Necessary Review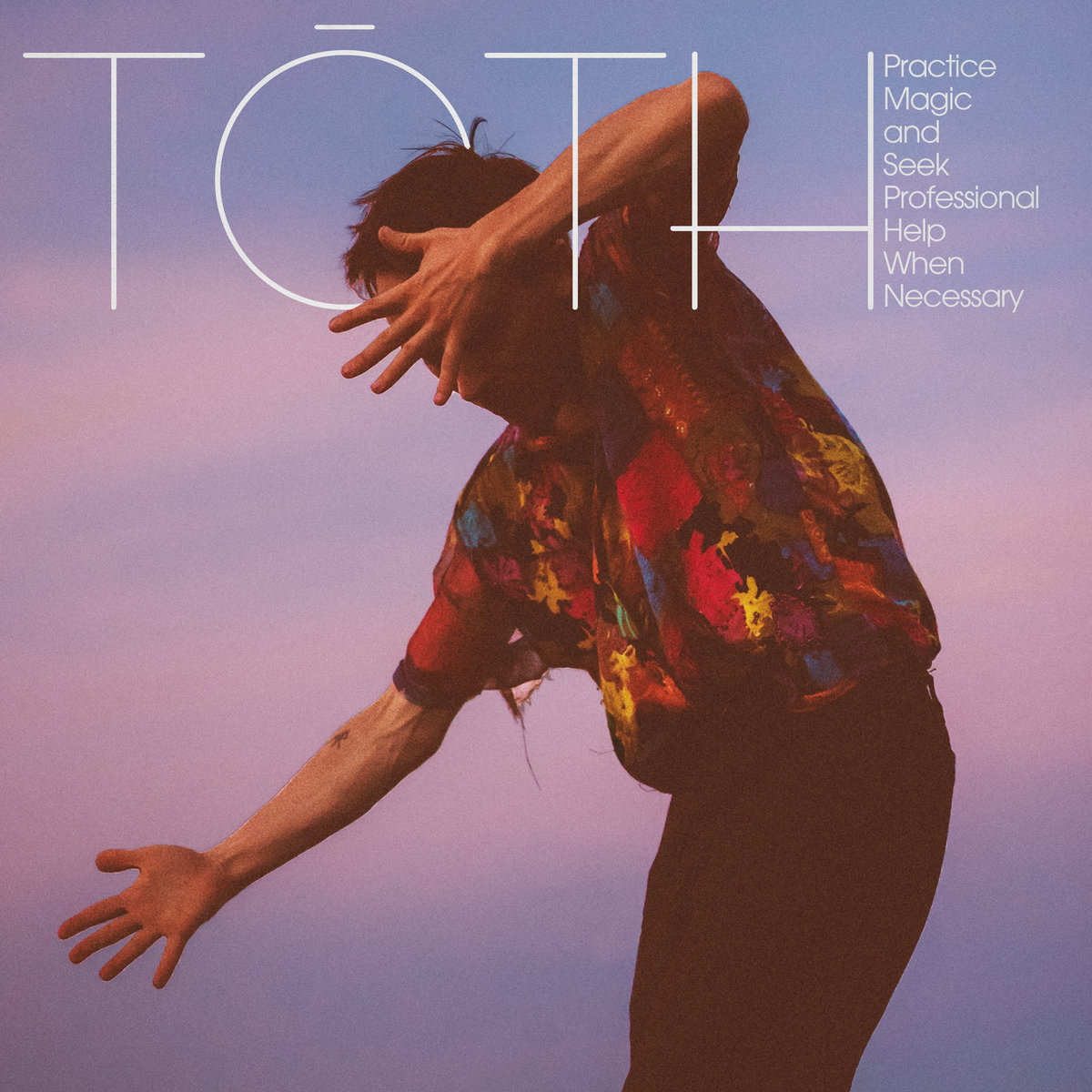 Tōth's debut LP, 'Practice Magic and Seek Professional Help When Necessary'  is a funny beast. When the sound first sails out of the speakers, it's hard not to feel as though some sort of joke is being played. The voice is a restricted nasal falsetto, like your Dad doing an impression of Bon Iver. The acoustics twitter, the drum machine has a skip in its step and for a moment there's a puzzling sense of folk-by-numbers.
But with each passing second, that feeling fades. The sound broadens and deepens, swirling multi-tracked vocals flood the speakers and synthesiser clouds roll in. The hitch-step drums begin to make sense and the quality of the melodies starts to shine through. It might be weird, but it's kinda mesmerising too – mastermind Alex Toth clearly has a way with a tune and a knack for production. It's music to bliss out to, music to soundtrack the rain falling down your window panes, music for the feeling you get when your back is starting to meld with the sofa, you've been there so long.
Fittingly enough, given its inception. The eponymous Toth was looning about onstage with punk outfit Alexander F and kicked out the jams so hard that he broke his foot. Convalescing in his New York apartment, he executed a musical volte-face so intense it's a wonder his neck didn't snap into the bargain, coming up with the dreamy whisps of 'Practice Magic'.
Fair play to the man – it's a sweet deep cut of an album, the sort of thing you dig out of a box in Camden and get bowled over by, the kind of sound that turns people into evangelists. Open the sleeve and you get a heady waft of true-indie cool, but spend an hour or so bathing in the fug and you'll notice the pop classicism come floating to the surface. There are hints of Beatle smirking in the reeds on 'Copilot', dusty motes of Fleet Foxes on 'Funny Business' and even a little Lou Reed in 'No Reason', falsetto notwithstanding. Everywhere you turn there are memorable hooks and lemony little riffs that lodge in the brain. It's a slow-burn beauty.
The pacing is a tad off – the potential hits are frontloaded, leaving the would-be Side Two to plod along a little, bereft of any obvious attention-grabbers. It's fair to say, though, that if you make it that far in the Spotify era, you're probably not in it for the playlist opportunities. If that's the case then good on you, because 'Practice Magic' is a shining example of the quality that made the LP so great when it first came to maturity all those decades ago: the power of the vibe, man. It doesn't need every song to perform independently like a mini-opera, stating its own identity with a forever-gold chorus. It works as a single 38-minute artwork. Music to soak in.
'Practice Magic' weaves a spell all its own, letting you swim in its bleary, slightly queasy tones without guilt. If you like getting wistful, getting lonely, getting mopey – or if you like pretending to be those things – get plugged into Tōth.
★★★★