Book Review: Reputation by Lex Croucher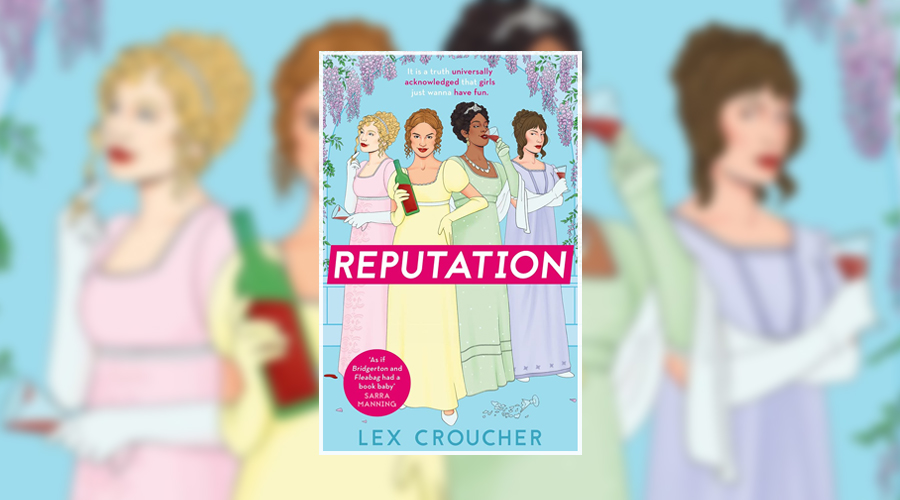 It feels strange to use the words Gossip Girl and Jane Austen in the same sentence when describing a book. The two are so wildly different. And yet, Lex Croucher's Reputation is a pitch-perfect blend of the two; a Regency-era rom-com romp that combines a Pride and Prejudice style love story with the high society struggles of a middle class girl trying desperately to fit into a moneyed world that threatens to ruin her if she doesn't play by its rules.
Georgiana Ellers is our Jenny Humphrey-esque newcomer, who, having arrived in a new town to live with her dreary aunt and uncle after being abandoned by her parents, sets her sights on the glamour and frivolity of society life. At an exceedingly dull party one evening, Georgiana meets the enigmatic and outspoken Frances Campbell, a wealthy socialite and key member of the 'in-crowd' who unexpectedly invites Georgiana into the fold. Through Frances, Georgiana is introduced to a debauched world of wild parties, endless drinking, reckless kissing and the kind of devil-may-care attitudes that only the wealthy can possess.
The more Georgiana drinks, plays and parties with her new friends, the more she finds herself changing to fit in with the image of what she thinks they want her to be, and the more she begins to question what it's all about. Is being popular with the in-crowd more important than retaining the trust and respect of the people who truly care about her? Is keeping up with their wild and careless lifestyle really worth losing her sense of self in the process? Georgiana slowly begins to realise that high society isn't all it's cracked up to be, and the people she so desperately wants to be like, might just be the ones to pity after all.
When starting Reputation, there's one thing that jumps out immediately and that's how extraordinarily witty it is. Lex Croucher's wonderfully wry humour is peppered across every page and it's such a delightful balm to the buttoned-up stiffness of the era. Georgiana doesn't care for the dull existence she's supposed to accept as her lot in life and she yearns for more – for excitement and lively conversation and spirited company (and, yes, plenty of spirits of a different nature too). She's so thrilled to be invited into Frances' world, that she doesn't worry about who or what might get damaged in the process, even if it is her own easily tainted reputation. Frances and her friends can act irresponsibly and hurt each other and fall spectacularly from grace because they have the money and titles to magic it all away. Georgiana isn't so lucky.
"Here – now – you have truly stumbled into the lion's den. The potential for unhappiness here is vast. Nobody here will be shamed or cast out for the many sins I'm sure they'll commit before Monday. There is almost nothing we can do that will not be excused because of our wealth, our standing. Our parentage. Can you say the same?"
As an outsider from the off, Georgiana begins the story as a sharp, observant and intelligent young woman, but she's also incredibly naïve and as the book progresses, she isn't always a likeable protagonist. In her pursuit to be part of the in-crowd, she does and says some unforgivable things to people who really don't deserve it. Though at least readers can take consolation from the fact that the more Georgiana integrates herself with Frances and her friends, the more she dislikes herself too. It's this self-aware and critical quality that allows readers to always circle back to rooting for this particular Regency heroine.
Whilst casting an entertaining and satirical eye over the expectations and attitudes of the time, Reputation also deals with themes of feminism, consent, sexuality and identity through a much more modern lens. Croucher explores status, friendship, love and family with a warmth and humour that keeps the story lively and light-hearted without ever losing the important undercurrent that highlights the plight of women living in a man's world.
Of course, any book that's compared to Jane Austen needs a hearty dose of romance and Croucher has written such an exquisitely sweet and charming will-they-won't-they pairing between Georgiana and Thomas Hawksley – who seems to turn up when she's fairly inebriated and bound to say or do something inappropriate. If you love Mr. Darcy, you're bound to welcome this broody but sensitive (and impossibly wealthy) gent into your heart with very little effort. If life were fair, there'd be many more Mr Hawksley's in the world! Alas…
Fun and sharply intelligent, with dialogue that sparkles from beginning to end, Reputation is pure joy in book form. Like all the best novels, it's deserves a sequel or a screen adaptation. I'm hoping for both!
★★★★★
Reputation is published by Zaffre on 8 July 2021