Book Review: Precious You by Helen Monks Takhar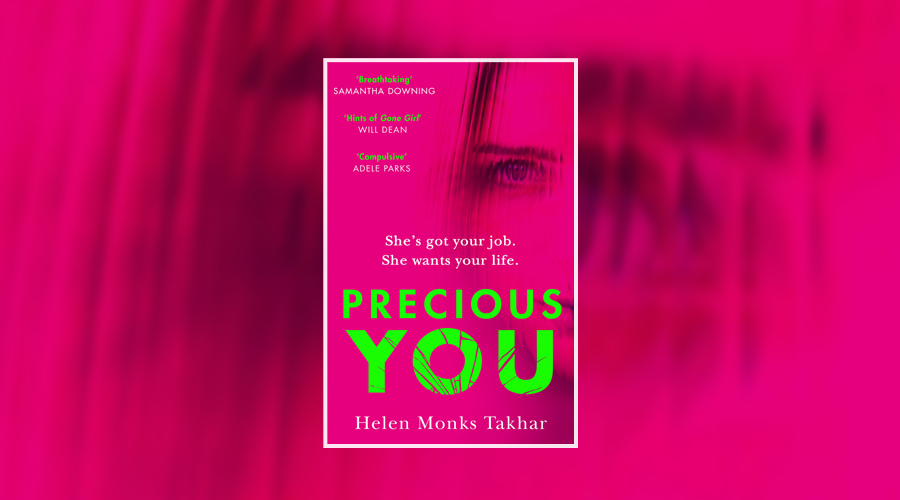 Helen Monks Takhar's Precious You begins with a woman driving through the streets of London, following a female cyclist through traffic and aiming her car dangerously close. The woman driving is Katherine Ross, a magazine editor-in-chief and career woman in her early forties. The person she's pursuing is Lily Lunt, the young, ambitious intern who wrecks Katherine's life and enjoys every deceitful and cruel moment of it. But what brought these two women – who might have been friends and allies in another life – to this tense moment in time, and what drove them to want to destroy each other?
Rewinding six weeks earlier, Katherine and Lily 'accidentally' meet when they share a taxi on their way to work. It's Lily's first day interning at Leadership magazine and she's the kind of shiny, entitled and ultra-confident millennial that Katherine has a predisposed aversion to. Katherine worked hard to get to where she is and she resents the so-called 'snowflake' generation and how they're changing the workplace. Yet even as Lily slyly undermines and outmanoeuvres her, Katherine is inexplicably drawn to this younger, prettier and savvier version of herself.
The prologue tells us where all this resentment, ambition and envy will lead, and the destination isn't pretty. Watching Katherine spiral further and further as a result of Lily's underhanded manipulation is like sitting on a train that's going faster and faster as it races towards a bend and knowing there's no way it's going to remain on the track. There's never any doubt that Lily's goal is to make Katherine suffer – her contemptuous private diary entries attest to that – but the why is a mystery. Did Katherine personally wrong Lily? Or does KR (as Lily calls her) simply represent the entire anti-millennial generation who make it difficult for young people to catch a break?
"It all began when I met you, Lily. Beautiful, dangerous, precious you."
Precious You is a power play in its purest form. The whole novel is a toxic she-said-she-said rivalry, a game of Katherine against Lily against Katherine that's magnified by their age difference and how unfairly they both feel they've been treated. They're completely fixated on each other, their relationship veering between hate and adoration and dangerous infatuation. Anyone that gets in their way becomes collateral damage, whether it's family or friends or colleagues, and it feels like only a matter of time before they mutually self-destruct.
There's something uncomfortably fascinating about the relationship between Katherine and Lily, and how they simultaneously want to ruin and befriend each other. Yet fascinating doesn't equal likeable and it's impossible to ignore just how horrible these women are. I'm all for unscrupulous and duplicitous characters but I've been wracking my brain for even the tiniest morsel of a redeeming quality in either character and coming up short. We're not lacking for women-destroying-women novels and in the current climate, it's an increasingly exhausting, unpleasant theme.
Even with its complete lack of redeemable characters, Helen Monks Takhar's debut thriller still manages to be sharp and perceptive, delving into generational divides and exploring how childhood trauma can continue to affect people into adulthood. From the unrepentant characters to the underlying mystery to the constant mind games that make up the plot, this feels a lot like a female version of Caroline Kepnes' You, complete with the creepily obsessive and over-familiar narration. If you can get past just how unlikeable the characters are, you'll find plenty to keep you glued to the pages here.
★★★
Precious You is published by HQ on 11 June 2020