Book Review: My Italian Bulldozer by Alexander McCall Smith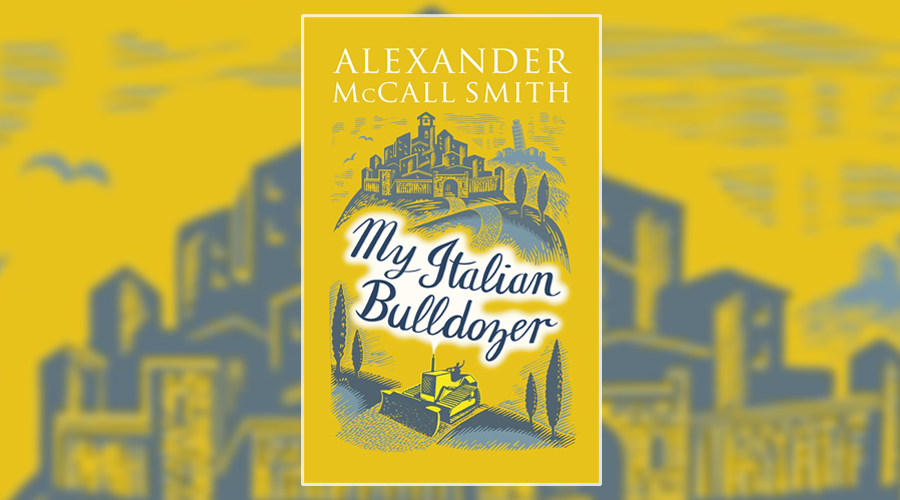 Alexander McCall Smith's latest novel is a move away from the popular bestselling The No. 1 Ladies' Detective Agency series and the Isabel Dalhousie / The Sunday Philosophy Club novels I've always been such a fan of. Having only read one of his stand-alone books – the delightful Trains and Lovers – I was keen to read My Italian Bulldozer.
As the title suggests, the story involves a bulldozer and is set in the atmospheric Italian countryside of Tuscany. It centres on Paul, a successful food and wine writer who has been sought after for television appearances due to his popular books, as well as his appealing manner.
Unfortunately for Paul, his professional success has come at a personal price, and whilst he's been carving a career for himself, he's neglected his long-term relationship. Unceremoniously dumped by the love of his life, Becky, in favour of a more attentive model (in the form of a strapping personal trainer), Paul finds himself 'sitting' on his latest book about Tuscan food and wine with unfamiliar writer's block.
Whilst he agonizes over what went wrong with Becky, Paul wonders how on earth he will manage to finish his current book, which is already past the deadline. Paul's editor, Gloria, a close friend and confident, takes charge of the situation and galvanizes Paul with decisive action. Working on the premise that he needs a complete change of scenery to snap him out of this frame of mind, and be in a more stimulating environment where he can do some on-the-ground research, she suggests a reviving trip to Italy. So she sends him off to a place he's familiar with, Montalcino, an idyllic small town set on a dreamy hilltop.
On arrival, Paul inadvertently finds himself trapped in an unfortunate incident involving a car rental agreement. The upshot of the dilemma is Paul's voluntary rental of a bulldozer, which he drives through the Tuscan countryside to reach his destination.
What follows is a humorous and uplifting story that unfolds with the all the usual charm I've come to expect from McCall Smith. The lovely descriptions of the Tuscan landscape, local history, people and their generous nature all blended perfectly with the romance.
This is a charming novel that made me feel very relaxed, and as with his other books, I once again felt McCall Smith's clever ability to induce a feeling of being right in the centre of the book's setting. My Italian Bulldozer is the perfect read for the depths of winter when we all need some gentle escapism.
★★★★
My Italian Bulldozer was published by Abacus on 2 November 2017