Book Review: Loveless by Alice Oseman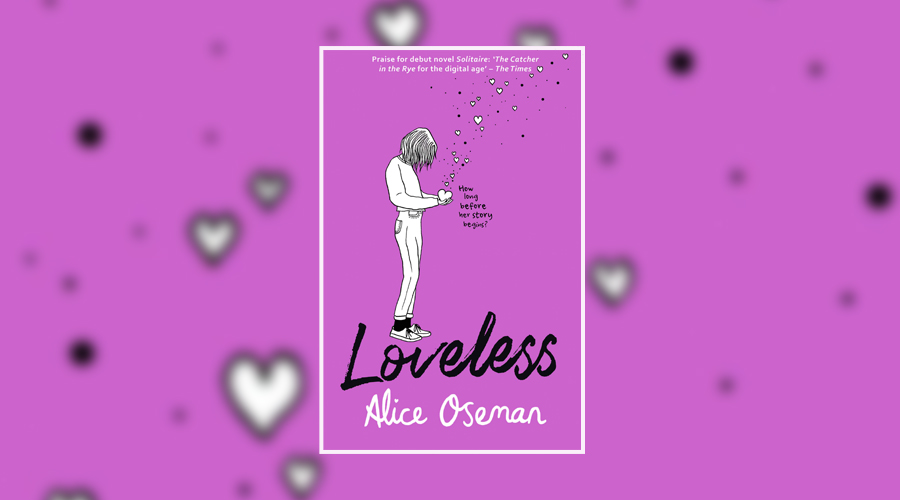 Alice Oseman has her fingers in many creative pies – graphic novelist, author, screenwriter – but this hasn't stopped her becoming one of the most recognised names in British Young Adult fiction, particularly those exploring subjects of mental health and the struggles of the LGBT community as it pertains to adolescence. Even for readers no longer in their teens, Oseman's work feels like retrospective hand-holding. A guide for the teenager you were in your memories, and continue to carry with you.
In Loveless, protagonist Georgia Warr has never kissed anyone. She's never really liked anyone either – not for real, anyway – but her two best friends Jason and Pip have kept her going through secondary school. That, and her avid consumption of love stories, particularly fanfiction, leading to her hopeless romantic ways. As she's about to start her life at Durham University, lucky enough to have her two friends along with her, there is one concern on her mind: not just that she's never been kissed, but that she's never seemed to have had legitimate feelings for anyone, of any gender. Fortunately, her randomly assigned roommate Rooney – outgoing, confident, and experienced – seems the polar opposite of Georgia in virtually every way, and more than willing to help her on her quest.
Oseman takes us through both the major and minor moments of Georgia's first year of university, the story packed with details of instances of importance like Georgia's first night clubbing, to quiet conversations that happen just in Georgia and Rooney's shared bedroom, or tucked away in a Pride Soc event, or in the car after getting McDonald's. It's very movingly and skillfully done, and leaves you feeling intimate with those characters in a way that you would if you spent an academic year with them. The attention-to-detail is more than just engaging and well-written, it's a realistic portrayal of the inner and outer lives of young adults. It all comes back to the clear, boundless empathy Oseman has for teenagers.
By her nature, Georgia is not only shy, but introspective. As a result, her narrative voice  is both insightful, but also limited. A part of this is Oseman's writing style. It's unpretentious, but not patronising for a teen audience; simple, but effective. The perfect tone for an uncertain but observant teen. It all works in favour of the character. Georgia herself is a book and story lover – she places expectations on people, events, and the ways in which they "should" go, and most of all on herself and the narrative she feels she should be living as a young person. She knows herself incredibly well, but doesn't shy away from putting herself out there and leaving her comfort zone in search of what she thinks someone her age "should" be doing.
Much as she is consistently reflective, internal and thoughtful, Georgia's rigid notions are what get in her way, and are ultimately what she has to overcome. People don't fit neatly into the structure of a film or novel, and that extends to Georgia as much as it does the other characters. The key lesson she learns, and what Oseman consequently imparts to young readers, is what exactly she should be pursuing – which is what actually makes her happy as opposed to what she understands makes other teenagers happy, from the media she loves. More than the classic emphasis on learning to love yourself, found in media aimed at teenagers throughout all of time, it's very clear that the way that happens is through and with other people – both the ones you already knew, like Jason and Pip for Georgia, and the new ones that come into your life, like Rooney does.
One might call Loveless an unconventional YA novel, as it places a helpless romantic teen at the centre of the story, but instead of a boy (or a girl, or non-binary person), what she finds is what she wants is what she's had all along. It's a girl-meets-girl, with the girl being herself, and then girl-re-meets-best-friends, girl-meets-new-friends, girl-re-meets-cousin, you name it. Despite no central romance and its title, Oseman steadfastly imbues Loveless with anything but a lack of love.
★★★★
Loveless was published by HarperCollins Children's Books on 9 July 2020