6 feel-good books guaranteed to put a smile on your face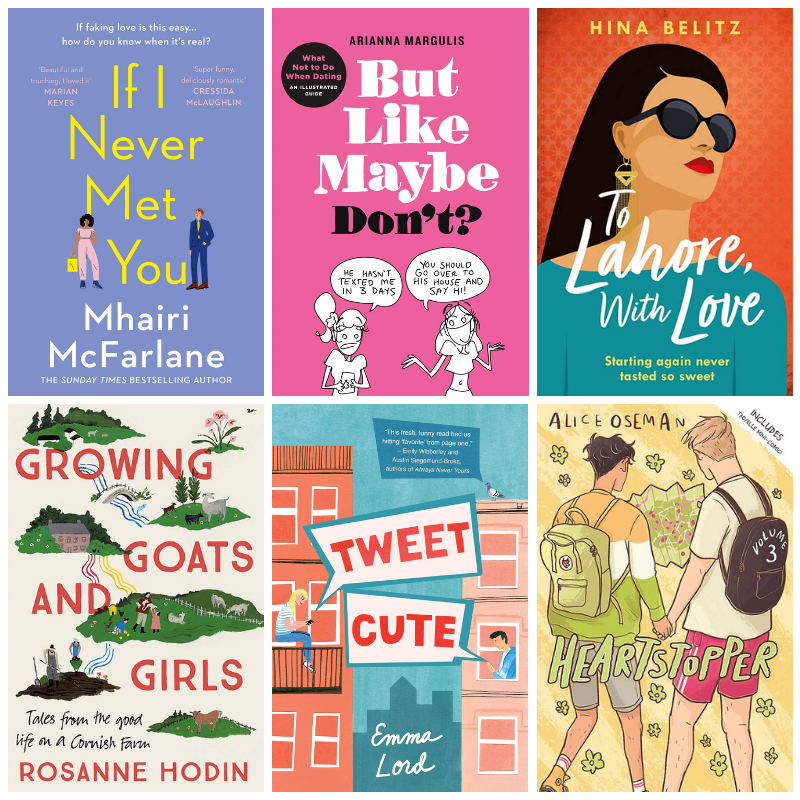 Here at Culturefly we love a feel-good book – stories that make you smile and laugh, that make your heart feel a little lighter by the end. If you're seeking some uplifting reads, here are some of our recent favourites.
Growing Goats and Girls by Rosanne Hodin (Coronet)
If lockdown has taught me anything it's a greater appreciation for the simple things in life: nature, fresh produce, the changing seasons, tending to a garden, comforting family values. Rosanne Hodin's heart-warming memoir encapsulates all these things as it charts her escape from bustling London to rural Cornwall with her husband. The couple embrace the "good life" in their tumbled-down farmhouse – a "proper forever home" to grow their flowers and trees, to rear their goats, chickens, cows and bees, to raise their children.
It's an uplifting, funny and joyous celebration of not just living self-sufficiently and off the land but of the timeless pleasure and simplicity of family life without all the trappings of modern technology. It's exactly the kind of book I needed to get me out of my lockdown reading slump. – Natalie Xenos
Tweet Cute by Emma Lord (Macmillan USA International)
For the ultimate YA contemporary feel-good read, look no further than the highly original, irresistible rom-com that is Emma Lord's Tweet Cute. Following chronic over-achiever Pepper and class clown Jack as they unknowingly launch into a Twitter war between their families' rival businesses right as they're starting to get to know each other in real life, Tweet Cute offers up a multi-layered, realistic and all-around uplifting story that sees a romance develop against a backdrop of retweet battles and sarcastic GIF responses.
The characters are real and the relationship development feels strong and organic – and there's nothing more heartwarming than falling in love with two characters who are awkwardly and unexpectedly falling head-over-heels in love with one another. As the book's blurb says: all's fair in love and cheese, and Tweet Cute definitely delivers on both. – Megan Davies
Heartstopper by Alice Oseman (Hodder Children's Books)
Many of the topics of Alice Oseman's webcomic aren't what one would consider "feel-good", as we delve into topics of mental illness, particularly depression, coming out and general teen growing pains. But the series is imbued with compassion and hope in spades. In fact, by Oseman's own admission, their story is uniquely suited to a format that allows the smaller, tender moments of adolescence to breathe in an episodic fashion, even if reading volume-by-volume rather than online, as each installment feels like checking in with dear friends.
This time, Nick and Charlie go on a school trip to Paris, and not only do we get to indulge in several adorable moments between the couple, but we also get closer looks into the lives of their friends, who are just as complex as our mains, not to mention many of them LGBT teens themselves. Though Oseman claims the series has no "overarching plot", a clear objective is to show life carrying on as normal, even if you're a queer teen. It's an uplifting message before a pandemic, and definitely one during and for when we reach the 'after'. – Melanie Kress
But Like Maybe Don't? by Arianna Margulis (Rodale Books)
'All the names and some descriptive details in this book have been modified to protect these men from an onslaught of vodka sodas thrown by angry women.' Sneak-attack dumped by her boyfriend whilst they were taking a stroll through Central Park one day, Arianna Margulis – creator of the Instagram sensation But Like Maybe – wiped away her tears and then grabbed a sharpie to document her hurt and heartbreak. Witty, candid and all-too relatable, But Like Maybe Don't? is an illustrated journey of Margulis' dating misadventures and search for love in this crazy modern world.
Less an actual guide and more of an anti-guide on 'what not to do when dating', this is a hilarious take on the struggles of millennial women and, more importantly, the journey to self-acceptance we all must travel down. Margulis' doodles really resonate, turning the universal pain of break-ups and feelings of inadequacy into relatable and entertaining anecdotes. You'll finish it feeling better about both yourself and life in general. – Natalie Xenos
If I Never Met You by Mhairi McFarlane (HarperCollins)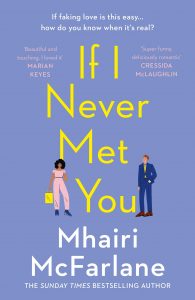 If you ask me, there is nothing more feel-good that a good romance story – and if that is what you're after then Mhairi McFarlane is the author you're looking for. After bursting onto the romance fiction scene with titles such as You Had Me At Hello and It's Not Me It's You, her latest novel If I Never Met You is a delightful book that showcases the genre at its very best, revitalising a few tired old tropes while it does so as recently-dumped Laurie sets out to move on from her decade-long relationship with the help of the office playboy. With Laurie aiming to give the office rumour mill something new to talk about and Jamie Carter wanting to impress the bosses by showing he's capable of a steady, respectable relationship, the duo hatch up a plan to launch an office fauxmance – complete with romantic Instagram photos, gushy Facebook statuses and maybe even a little hint of the real thing too.
In If I Never Met You, McFarlane balances tension and heartache with plenty of humour, swoon-worthy moments and a slow-burn romance that fizzles with chemistry, and it's a read that's guaranteed to leave you with a giddy smile on your face chapter after chapter. – Megan Davies
To Lahore, With Love by Hina Belitz (Headline)
Combining food, culture, love and family, Hina Belitz's To Lahore, With Love is the epitome of 'feel good fiction'. It centres on Addy Mayford – a woman who's spent her whole life struggling with her identity. Brought up by her Irish mother and her Pakistani Nana, Addy is torn between the two sides of her heritage. Yet she finds comfort and contentment in cooking – particularly the delicious recipes from her father's home city – and when she stumbles upon a secret that shatters her world, she's drawn to Lahore and a family she's never known.
You know those books that just warm your heart from the inside out? Well, this is one of them. It's a story of escape, acceptance and mouth-wateringly delicious culinary treats. We might not be able to travel further than the local park right now but through Addy we can take a wonderful trip to Lahore, with all the cultural delights and sights it has to offer. – Natalie Xenos