Book Review: Heiresses by Laura Thompson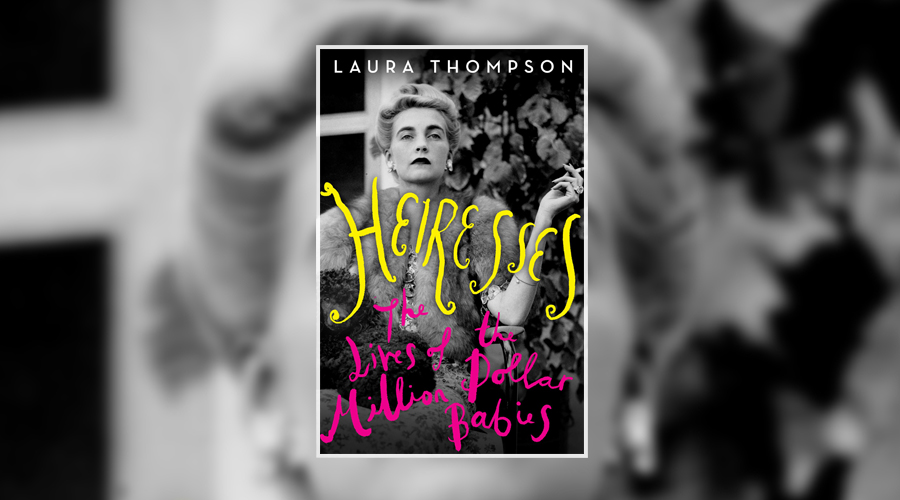 If the huge success of hit TV series like Gossip Girl, Elite and Succession have taught us anything, it's that many people enjoy watching rich people behaving badly. For most of us, the look at the excessive wealth, exclusive access and glamorous fashions we get in TV and film is a glimpse at a world we're unlikely to experience for ourselves, and each tantalising glimpse behind the door leaves us wanting more. When we hear the phrase "poor little rich girl", then, it's likely we process it with more than a twinge of sarcasm; these people have such incredible amounts of wealth, we think, how can their lives be anything but perfect?
That is something that Laura Thompson seeks to explore in her new book Heiresses: The Lives of the Million Dollar Babies, an expansive, fascinating look at the lives and worlds of some of the wealthiest heiresses from the seventeenth to the twenty-first centuries. Despite their vast amounts of money, most – if not all – of these women lacked power and opportunity, and their lives were shaped and controlled by politics, marriages and social attitudes that were often far beyond their control.
From 12-year-old Mary Davies – whose dowry was comprised of the land that today consists of Mayfair and Belgravia – and Consuelo Vanderbilt, whose fortune helped to sustain Blenheim Palace, to Winnaretta Singer's Parisian salons and Barbara Hutton's seven marriages, heiresses throughout history have been responsible for everything from building (or rebuilding) grand estates to showcasing work by the future greats of art, music and literature. These heiresses threw parties, married well and married often, and sought their freedoms in whatever ways they could, as well as indulging in more rebellious behaviour too. But through it all, very few of their stories are completely happy ones. In Heiresses, Thompson tells these women's stories in all of their fascinating, sad and scandalous details, and seeks to explore the phenomenon of the heiress in all of her many forms over the centuries.
To say that money does not bring happiness may be a consolation deployed liberally by storytellers. It may also be a truism. Quite often, however, it is the simple truth; one in which the heiresses themselves all too frequently believed, and which thereby became a self fulfilling prophecy."
In the same way that audiences enjoy titles like Downton Abbey, Dynasty and Revenge, there is something very entertaining about the content of Heiresses, which definitely has the potential to be read as some deliciously soapy material. Throughout this book, Thompson describes everything from kidnapping and elopements to men and women having affairs, throwing huge parties and entertaining everyone from royalty to Debussy to Hemingway. Like those TV shows and films that entertain us so brilliantly, this book is also packed full of plenty of drama and scandal, and the figures at the heart of many of these stories lived these lives long enough ago that a modern audience is coming at it from enough distance that, at times, they really do feel just like stories, and not real events that happened to real people.
Thankfully, Thompson tempers all of this with a keen acknowledgement that the women she is profiling here are all too real, accompanying each story with a breakdown of nearly all of the external factors at play in their lives too. The book spans centuries and Thompson takes her readers through the hundreds of years of social, familial, legal, political and economic changes that shaped each of these women's lives and their actions along the way. It's through their stories that Thompson explores the changes in law that have helped shaped life for all women today – like the Married Women's Property Acts in 1870 and 1882, which protected a woman's personal property from becoming her husband's after marriage – and examines shifts in social attitudes too.
Over the years, these heiresses have been unprotected, bartered and sold to the highest bidder, became the targets of fortune hunters, and were kidnapped and forced into unwanted marriages by men who sought their money and inheritance for themselves and their own gains. Thompson takes this history and crafts a story of wealth that takes readers from the ballrooms of Georgian England to New York's Upper East Side at the turn of the century, as well as to the salons held in and among Paris' Left Bank bohemian settlement, the Happy Valley set in Kenya in the early 21st century and beyond.
Historically and socially, Heiresses covers a lot of ground with enough depth and charm that most readers are sure to find a chapter, a time period or a topic that will interest them in this book. This work's biggest strength, however, is that Thompson never once loses sight of the people at its heart – and rightly so. There are heiresses in this book whose names many will no doubt recognise and many more you won't, but each woman's story is told with nuance, care and great empathy by Thompson as she explores why so many of these women's lives ended up falling far from the idea of the life a wealthy heiress should lead that many people hold in their minds.
With plenty of gossip, scandal and witty insights on every page, Heiresses is undoubtedly an entertaining read from start to finish, telling stories that range from sad and heartbreaking to outrageous, frustrating and spectacularly glamorous. Although it's fair to say that some women make more of an impact within these pages than others. Nevertheless, this is an intelligent, fascinating and infinitely readable book that's been structured well and offers such a wealth of brilliant material (not to mention an entirely new reading list to explore afterwards) that even the most casual of readers will not fail to be captivated by the lives of the Million Dollar Babies.
★★★★
Heiresses was published by Head of Zeus on 2 September 2021