Book Review: Family of Liars by E. Lockhart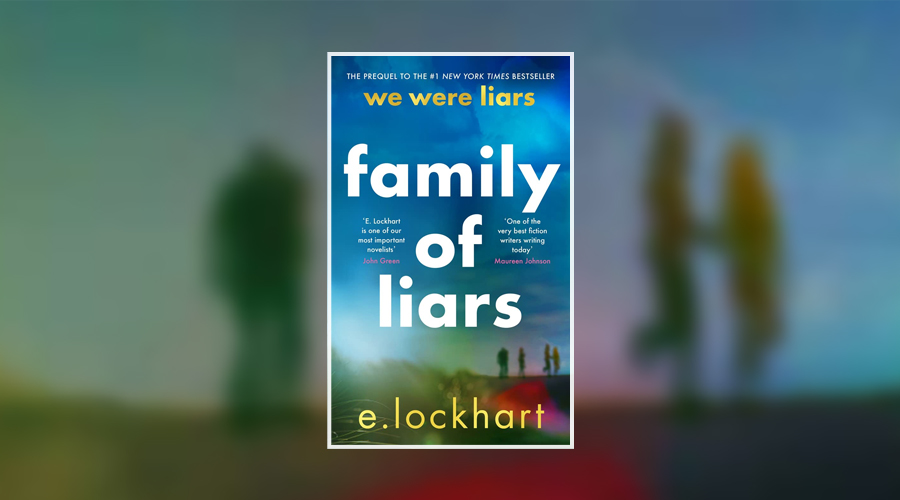 It's been eight years since We Were Liars by E. Lockhart was first published and, over those years, what was originally just an intriguing YA thriller about wealthy teens on a private island telling a story with a killer twist has grown to become both a TikTok sensation and a phenomenon in its own right, capturing the attention and interest of book lovers the world over.
The release of another book catching up with the Sinclair family on Beechwood Island was therefore, perhaps, inevitable, if not a bit of a daunting prospect too. But if the resulting prequel Family of Liars has proven anything, it's that there is absolutely no doubting the Sinclair family still has plenty of secrets left to uncover – and lots of stories left to tell.
Family of Liars takes readers back to another summer on the windswept private island off the coast of Massachusetts where another generation of the Sinclair family waits to tell their story. This time around it's 1987, and Carrie, Penny and Bess Sinclair are young, golden and doing their best to keep up appearances and not let the family down. As another summer on Beechwood rolls around, it looks like it's shaping up to be no different to any other, despite the old memories and sorrow that now seem to haunt every inch of their home away from home.
But this is also the summer that the boys arrive. This is the summer that a fiery, addicted heiress meets an irresistible, unpredictable boy, leading to first love, unforgivable betrayals and terrible mistakes. This is the summer that everything changes and, as quickly becomes clear, it's the summer that will come to define the Sinclair sisters, and continue to haunt the Sinclair family for generations to come.
We don't know the boys are coming then. We don't know how they will spin us around, rile us; change our conceptions of ourselves and upend our lives like drunken gods playing with the fates of mortals."
Like We Were Liars before it, a lot of the fun and the draw of Family of Liars is in its telling, encouraging readers to peel back the layers of what our unreliable narrator is saying and try to parse out the truth from the stories, pick up all the clues that have been woven in throughout and second guess what might still be to come or where the story could possibly go next. It all makes for an engrossing thriller and a quick read too, with an easy narrative style that will have you racing through the pages and finishing the book in one sitting without ever really meaning to. It does also mean, however, that this book is a difficult one to talk about without giving anything away.
Family of Liars is a story about family, yes, and the interplay of all of the fractured relationships that make up the messy whole, but dig a little bit deeper and it's also a thriller, a mystery, a romance (in parts) and a coming-of-age story all at once. All through the novel there's a growing sense of dread as events begin to play out and readers are left waiting for the twists and turns that we know will upset everything to reveal themselves, even as the story focuses on lighter things like carefree summer days, forging friendships and navigating a flirtation with a handsome boy. It makes for a tense and uneasy read, but also an exhilarating one, and it's a testament to Lockhart's expert craftsmanship that Family of Liars never feels unbalanced or, even worse, like a rehash of the novel that came before it.
Instead, Family of Liars is a novel that can – and should – stand on its own, and its greatest strength is that you don't need to have read We Were Liars to enjoy it (although, fair warning: there are big spoilers for We Were Liars on the very first page of Family of Liars, so if you are interested in reading both you should definitely pick up We Were Liars first). While there are, of course, characters that we've seen before here, this novel shows new and hidden sides to them, and it was a joy to see more of the sibling dynamic between Carrie, Bess and Penny in particular, especially as teens with emotions running high and with the identities that they become known for in adulthood just beginning to be forged.
As expected from an E. Lockhart novel, Family of Liars will leave readers desperate for answers and dizzy with anticipation at every page, weaving a delicate web of secrets, mysteries and revelations that will shape the Sinclair family and continue to reverberate through the years to follow, right up to the events of We Were Liars. As novels go, it's not pitch perfect – supporting characters feel underdeveloped, you're often left guessing at character motivations and the narrative style itself isn't for everyone – and while it works well as a prequel to expand the world and history of the Sinclair family, there is a slight lack of cohesion between the two stories that makes it clear We Were Liars was initially intended to be a standalone first and foremost.
As an easy, gripping summer read, however, you can't go far wrong with Family of Liars. This is a gorgeous, devastating novel that explores everything from grief, trauma, addiction, power, wealth, loss, identity, family and so much more. While you would perhaps like the novel to go just a little bit deeper in its exploration of some of these topics, it doesn't detract from the fact that this is a book that will once again grab your attention and keep it from start to finish, giving readers no choice but to go along for the ride and experience every new twist and turn for themselves.
★★★★
Family of Liars is published by Hot Key Books on 4 May 2022