Book Review: A Treacherous Curse by Deanna Raybourn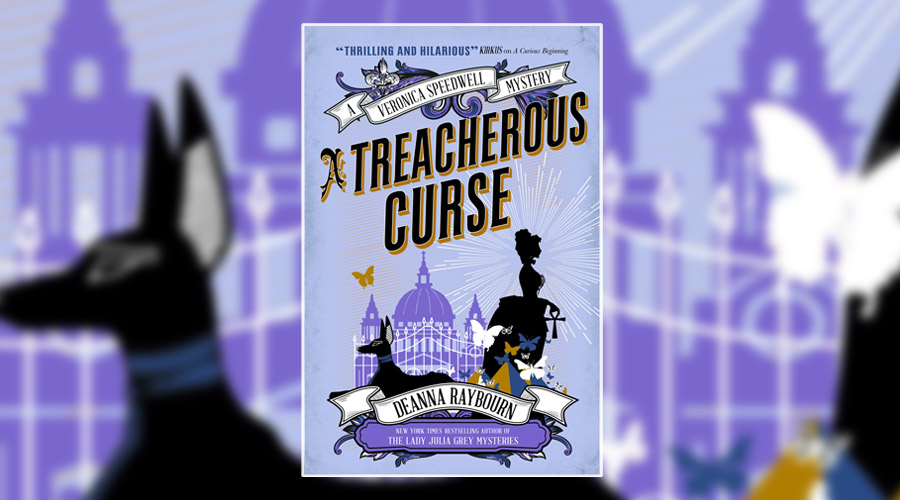 There are few on-going book series I enjoy more than Deanna Raybourn's Veronica Speedwell Mysteries. Entertaining, intelligent and brim-full of sparkling wit, it's Victoriana mystery fiction at its very best. So it comes as no surprise that the latest book in the series, A Treacherous Curse, is another fun and exciting adventure following the bold and daring eponymous heroine and her partner-in-crime Stoker.
This time around the spunky lepidopterist and her brooding taxidermist colleague find themselves at the centre of another exotic mystery, as Stoker's past comes back to haunt him. The disappearance of an archaeologist and the potential theft of a priceless diadem belonging to an Egyptian princess would be enough to draw Veronica and Stoker back to their amateur detective duties, but this case is personal. Not only is the missing man Stoker's former expedition partner and best friend, John de Morgan, but de Morgan's grief-stricken spouse is also the woman who destroyed both Stoker's heart and reputation: his ex-wife Caroline.
Adding to the mystery surrounding John's disappearance are a string of ill-fated events that have followed the archaeologists back to London, leading to rumours that a curse has been unleashed by the vengeful princess. When the enigmatic figure of Anubis himself starts stalking the city's streets, even level-headed Veronica is disconcerted. Amidst Stoker's personal struggles, a web of conspiracy and duplicity unfolds, and it's up to Veronica to not only help her dearest friend, but figure out what's fact and what's fiction when it comes to the – so called – treacherous curse.
Whilst the mystery of John's disappearance and the potential Egyptian jinx forms the backbone of this third book, it's Veronica and Stoker's unconventional partnership that's the main draw. Their impassioned bond has always been the most enjoyable part of Raybourn's series, as they wrangle, collaborate and sleuth their way across London, trampling traditional Victorian values and sensibilities as they go. Their will-they-won't-they relationship continues to propel the story forward, complicated by Caroline's arrival and the maddening effect she has on the men in her life, past and present.
The first two books frequently alluded to Caroline's betrayal and slander of Stoker, so finally getting to meet the woman who broke him feels like an early reward in a book that delivers plenty of them. Like Veronica, readers have had ample time to form an opinion of this vain, Helen of Troy like figure, and Raybourn delivers the beautiful, vindictive creature in spectacularly descriptive fashion. However, this is not a book for love-triangles. Where previous books saw Stoker licking the wounds inflicted by Caroline, A Treacherous Curse is all about him rising like a phoenix, with Veronica – his biggest supporter – triumphantly cheering by his side.
If you're unsure of what to expect from Raybourn's historical mystery series, the opening page of A Treacherous Curse is indicative of just how light and amusing the tone of these novels are, as Veronica and Stoker discuss what does and doesn't constitute as a phallus whilst unpacking a shipment of ancient artefacts. It's a hilarious exchange, highlighting Veronica's unabashed attitude to human anatomy and Stoker's charmingly bashful opposing stance. They're two sides of the same coin and an utter delight from start to finish.
Veronica is every bit the audacious heroine to rival Sherlock and it's always fun returning to her intrepid escapades. Perhaps the next book in the series will see Veronica and Stoker venturing overseas for foreign hijinks and far-flung mystery…
★★★★★
A Treacherous Curse was published by Titan Books on 9 January 2018