Book Review: A Danger to Herself and Others by Alyssa Sheinmel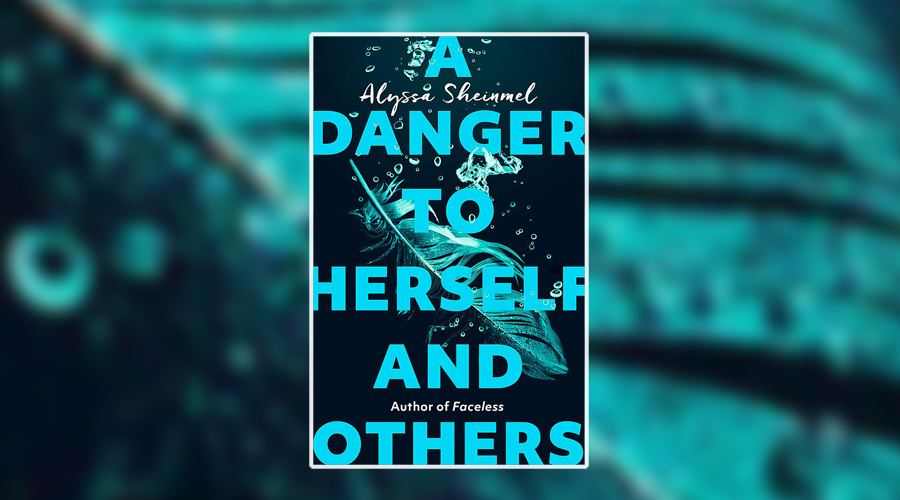 There aren't many narrators out there like Hannah Gold, and that's largely because there aren't many books out there like Alyssa Sheinmel's A Danger to Herself and Others. Rich, compelling, dark, thrilling… there aren't enough words to sum up the initial impact of this novel. Between its powerful narrative and its unreliable lead, A Danger to Herself and Others soon proves its worth as a hard-hitting, important and entirely gripping read.
Seventeen-year-old Hannah Gold has always functioned as a miniature adult, even when she was a child, which is why when she's first checked into a remote treatment facility she's confident that there's been a mistake, and she'll be home again soon. According to Hannah, what happened to her roommate was an accident and as soon as the judge and the doctors agree that she's not a danger to herself or others, she'll be able to get on with starting her senior year of high school like nothing ever happened.
In the meantime, though, Hannah determines to do what she can to convince the staff of her credentials and earn whatever privileges she can, and when Lucy arrives as her new roommate she's the perfect project to keep Hannah from getting too bored while she's waiting to be released. But while Lucy has her own reasons for being in the institution, she may also be the one person who can convince Hannah to confront the truth about the dangerous games that landed her in confinement in the first place.
"It's not like there's anything else to do here. I have all the time in the world (well, as long as they're keeping me here) to show the powers that be what a good friend I am. Incapable of hurting so much as a fly. Certainly not a danger to herself and others."
By this book's very nature, you're never sure how much you can trust Hannah – which is what makes her, and this book, so fascinating. Hannah is a wonderfully complex character to get stuck into; she's intelligent, unkind, witty, imperfect and she starts the novel believing she's so much smarter than everyone around her, certain that she's the heroine in a conspiracy thriller and the mystery will be solved any minute. The truth, of course, is not so romantic. As readers, we slowly realise the truth about why Hannah is where she is as Hannah does herself, which in turn leaves us puzzling over Hannah's memories, her own reliability and, yes, her own potential to harm herself and others too.
With everything being filtered through Hannah's own perceptions, this book's secondary characters do very much feel like they're on the periphery but it's difficult to say much else about this novel without taking away half of the book's impact. A lot of the power of reading this comes in realising certain truths right when Hannah learns of them herself too, and the development of those minor characters, like Lucy, and like the Doctor assigned to Hannah's case, is very much in line with Hannah's own understanding and development too. What can – and should – be noted, though, is that A Danger to Herself and Others is written wonderfully well. It feels both deeply personal and unflinchingly honest, from the start of the novel and its showcasing of Hannah's shameless feelings of superiority, right through to her beginning to come to terms with her new reality later on too.
Between books like A Danger to Herself and Others and Holly Bourne's Are We All Lemmings and Snowflakes?, mental health is a topic that's rightly becoming more widely featured in YA literature – and the genre is all the richer for it. While this novel is a quick read, it's not always an easy one (not least because Hannah can be a difficult character to sympathise with, particularly at the beginning) and there are times where A Danger to Herself and Others does feel like it's going nowhere, making it harder to commit to uncovering all the many different layers to Hannah's story. But, above all else, this is a brilliant, genre-bending novel that isn't easily forgotten about – and nor should it be.
★★★★
A Danger to Herself and Others is published by Atom on 5 February 2019