Battle of the Sexes Review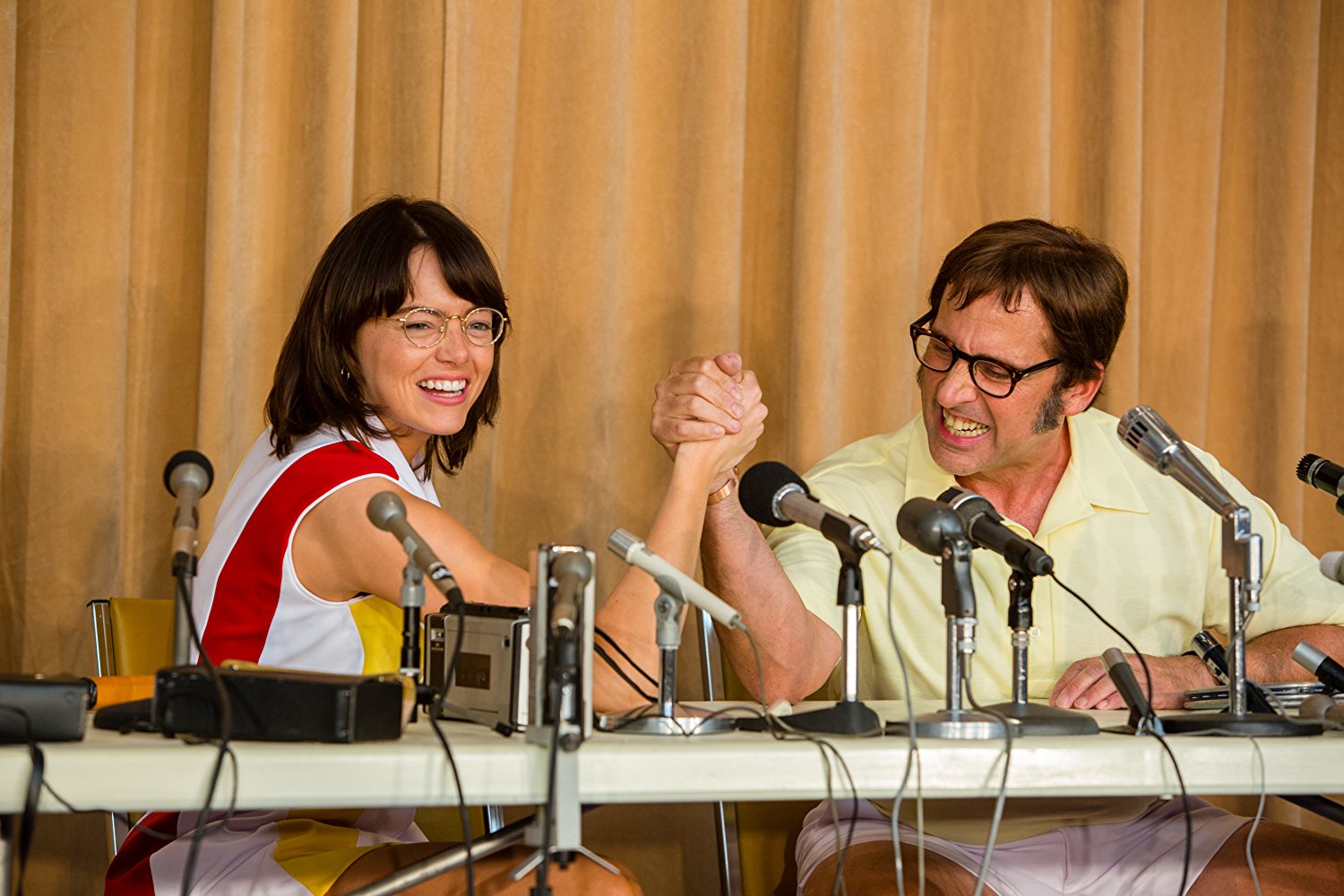 Genre: Biography, Comedy, Drama
Directed by: Jonathan Dayton & Valerie Faris
Starring: Emma Stone, Steve Carell, Andrea Riseborough, Natalie Morales, Bill Pullman, Alan Cumming
During Wimbledon 2017, Andy Murray corrected a male journalist who suggested Sam Querrey was the "first US player to reach a major semi-final since 2009". It was as if Serena Williams' 12 grand slam titles during that time meant nothing. With two words ("male player") the British number one called out the casual sexism, but the incident revealed the woman's game is still seemingly dismissed.
Battle of the Sexes uses this conflict to become a fierce feminist fable, a rousing sports movie so sincerely entertaining it becomes pure movie magic. It picks up after Billie Jean King (Emma Stone) has become the first woman to win $100,000 in one year even though the men disrespect her on grounds of "biology". King, wanting equal pay and respect, abandons the USTA and their misogynist leader, Jack Kramer (Bill Pullman), setting up her own league. The ruckus grabs former number one Bobby Riggs' (Steve Carell) attention. A self-proclaimed male chauvinist with a gambling problem, he challenges King to a match. The stage is set; the battle of the sexes is scheduled to begin.
Fortunately, directors Valerie Faris and Jonathan Dayton don't put the eponymous match on centre court. The game merely provides a skeleton for the filmmakers to discuss themes of equality and feminism. King is aware a loss, or declining to play, will damage the woman's movement. Simon Beaufoy's script sets King's dilemma up with the skill and grace of a serving ace: it feels like the work of someone who has spent years practicing their craft.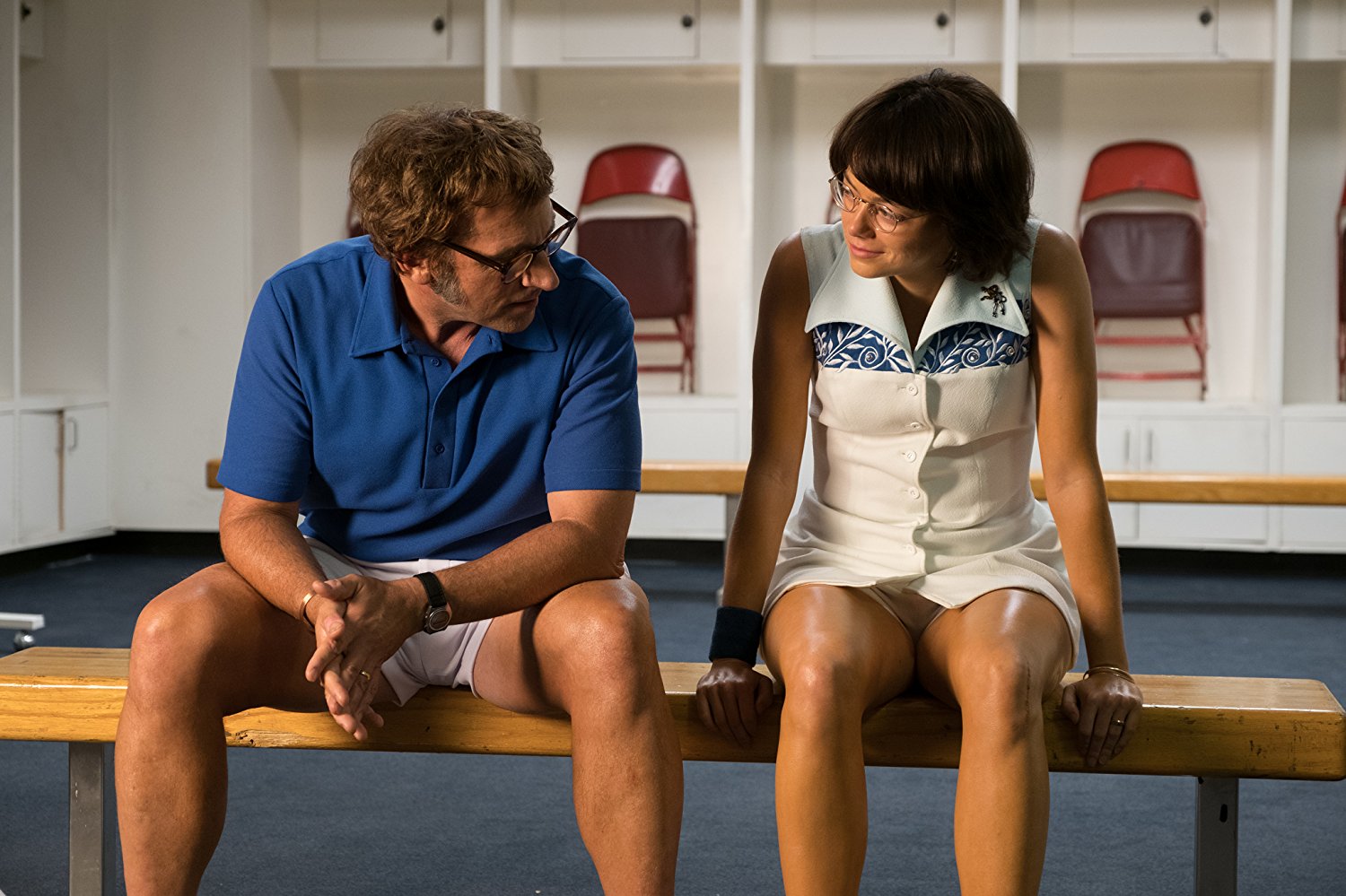 It doesn't take a rocket scientist to acknowledge gender equality is still an issue. A montage contrasting King preparing for the match and Riggs partying alludes to a certain election where a hard working woman faced a man who made a joke of the whole thing. The film doesn't have to pull a calf muscle to matter, and it happily fulfils its feminist agenda.
As Riggs poses for his photo ops, including lying naked on a sofa and taking advantage of a racquet's phallic shape, he almost stabs the film in the back. By the nature of the script he is the villain who cracks jokes about women belonging in the kitchen. But, the film, and Carell, assume we will laugh at Riggs, and it gives him an escape route as it ignores the insidiousness of his jokes and how men like Riggs believe the people are laughing with them.
Pullman's Kramer is a more effective foil. The actor is as odious here as he is inspirational in Independence Day. In a standout scene, King – who can see through Riggs' schtick – calls out Kramer's bullshit. She acknowledges he is a gentleman in the old-fashioned sense, before delivering the feminist truth: "It's when we want a little bit of what you've got, that's what you can't stand." In one swoop Battle of the Sexes reveals something chilling about institutionalised sexism. Men do love the women in their lives, they are disgusted by sexual predators as "a father of a daughter", but their misogyny rises when they have to share their privileges.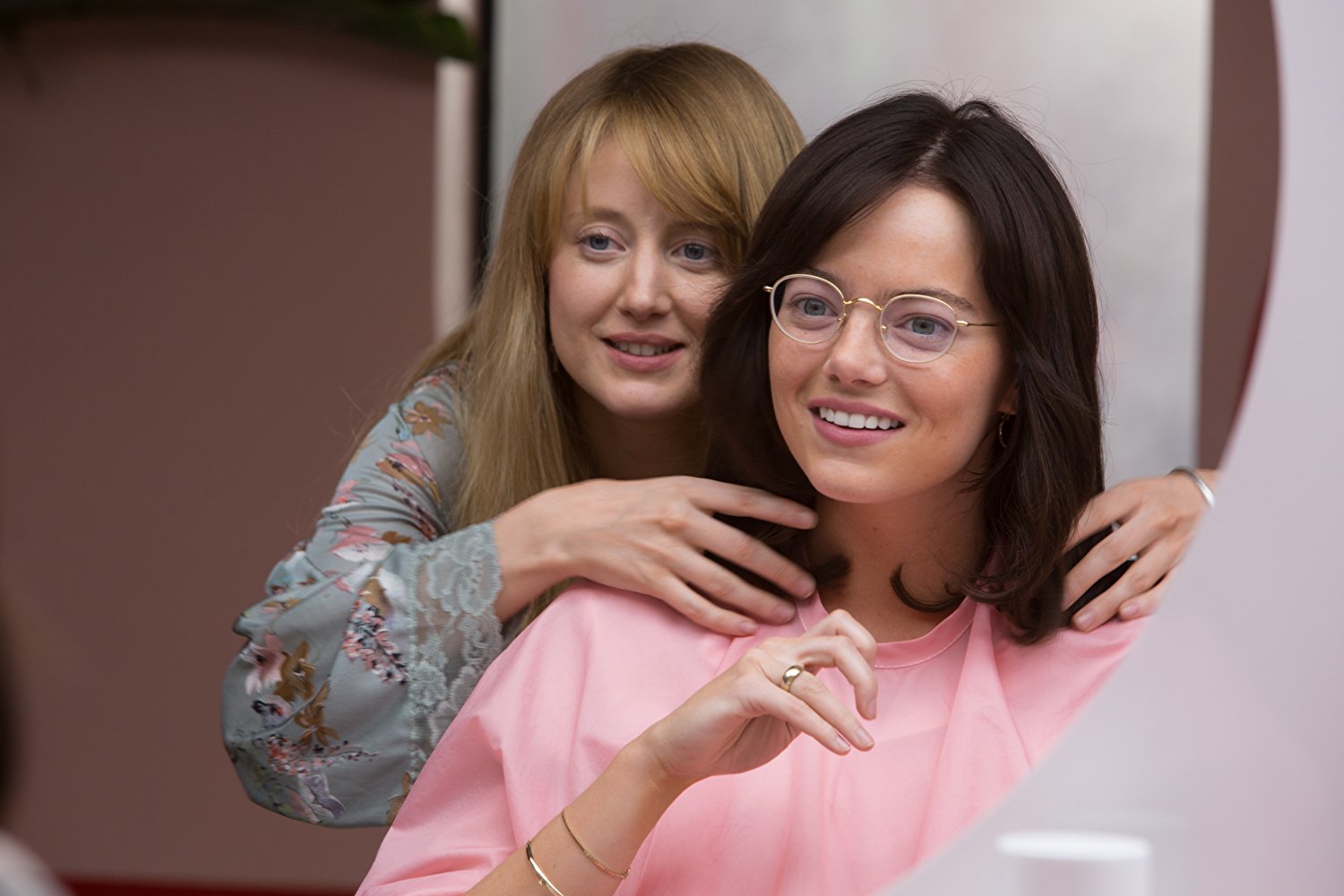 Stone gives a performance unlike any other she has given before. Her big eyes are hidden behind glasses, and the actor fully inhibits King, putting her dance training to good use. There are very little Stoneisms here and King should be as seismic a performance as Olive Penderghast. From now on she should be taken as a serious performer and more than the girl next door.
Her scenes with Andrea Riseborough, playing the hairdresser Marilyn Barnett, are soulful, layering more subtext onto the narrative. King can only win when she realises who she is and through her scenes with Riseborough, the filmmakers comment on the importance of intersectionality. While the villainous Margaret Court's (Jessica McNamee) characterisation may be too unsubtle, it actually appears to be a dialled down version of the real Margaret Court.
And then, as the credits role, the movie magic ends, and we are thrown out into the real world where Donald Trump is president and men like Harvey Weinstein exist. Battle of the Sexes is a great tonic for that realisation.
★★★★★