That Little Ol' Band from Texas – or ZZ Top as they're more commonly known – are 50 this year. To celebrate, they've embarked on a rare jaunt around those bits of the world that aren't in America, and tonight in London they deliver the kind of blazing performance that makes you wish desperately that they'd fly out more.
All ZZ Top need to spellbind us are three chords, two beards and the truth. From start to finish, this is an exercise in solid-gold class. With their eternal facial hair and impenetrable shades, Billy Gibbons and Dusty Hill are the consummate showmen, musical and humorous and as cool as fluffy cucumbers.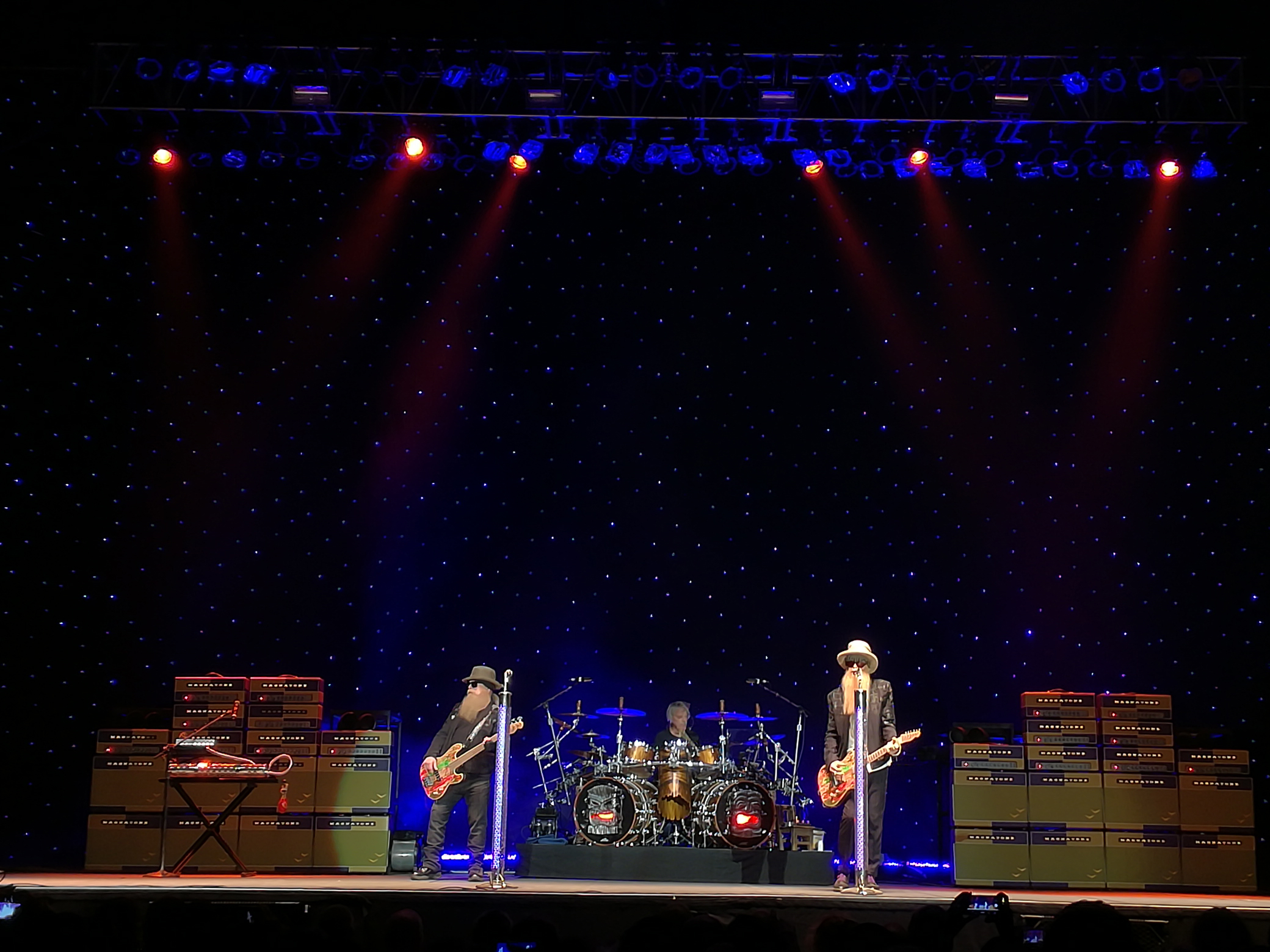 Every song in the setlist feels like a climax, from openers 'Got Me Under Pressure' and 'I Thank You' through mid-way hits 'Gimme All Your Lovin'' and 'Sharp Dressed Man' to closers 'La Grange' and 'Tush'. As each slinky, chunky riff blasts out of Gibbons' amp stacks, the crowd roars with recognition and every chorus is bellowed back to the stage.
It's hard to take in just how glacially cool ZZ Top are. When you get down to it, all this cattle shed of 12,000 people are watching is some old men playing the blues, but it doesn't feel like that. It feels like three living icons strutting their stuff, every flick of the wrist, point of the finger and boogie of the hips delivered to perfection.
In keeping with the other crowd-pleasing event happening in London this week, ZZ Top are the Roger Federers of rock'n'roll, if you will – all perfectly judged nuance and wry suavity. When Gibbons and Hill start sidestepping in unison, it's as far from dad dancing as it's possible to get. You might think an artist like Stormzy is cool, but next to the Top he'd look positively lukewarm. These are the original dudes. They're bad and they're nationwide.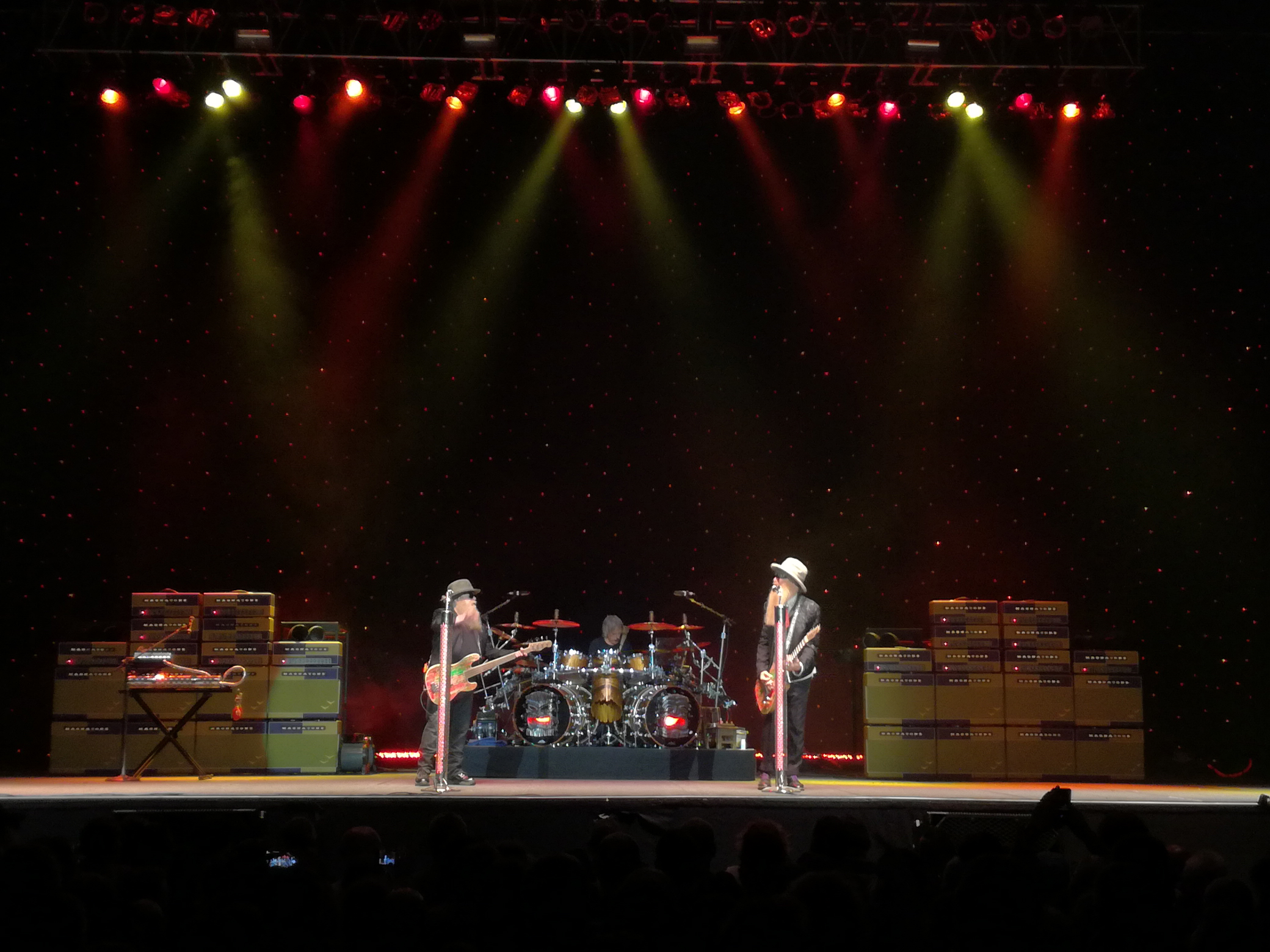 Not only that, but there's an all-pervasive, playful joy about everything ZZ Top do. From the well-rehearsed banter to the MTV-video knocking-knees move, there's never a sense that these guys take themselves too seriously. Leading into 'Just Got Paid', Gibbons fluffs his slide line and has the ease and grace to call it out, making a joke of his error.
It humanises the sharp-dressed vision before us and, perversely, makes us all the more relaxed. You just can't help grinning at the effortless, bone-deep charm Gibbons and Hill possess, the inclusive sense of celebration that rolls off the stage with every successive hit. I haven't felt so thoroughly happy at a gig in years.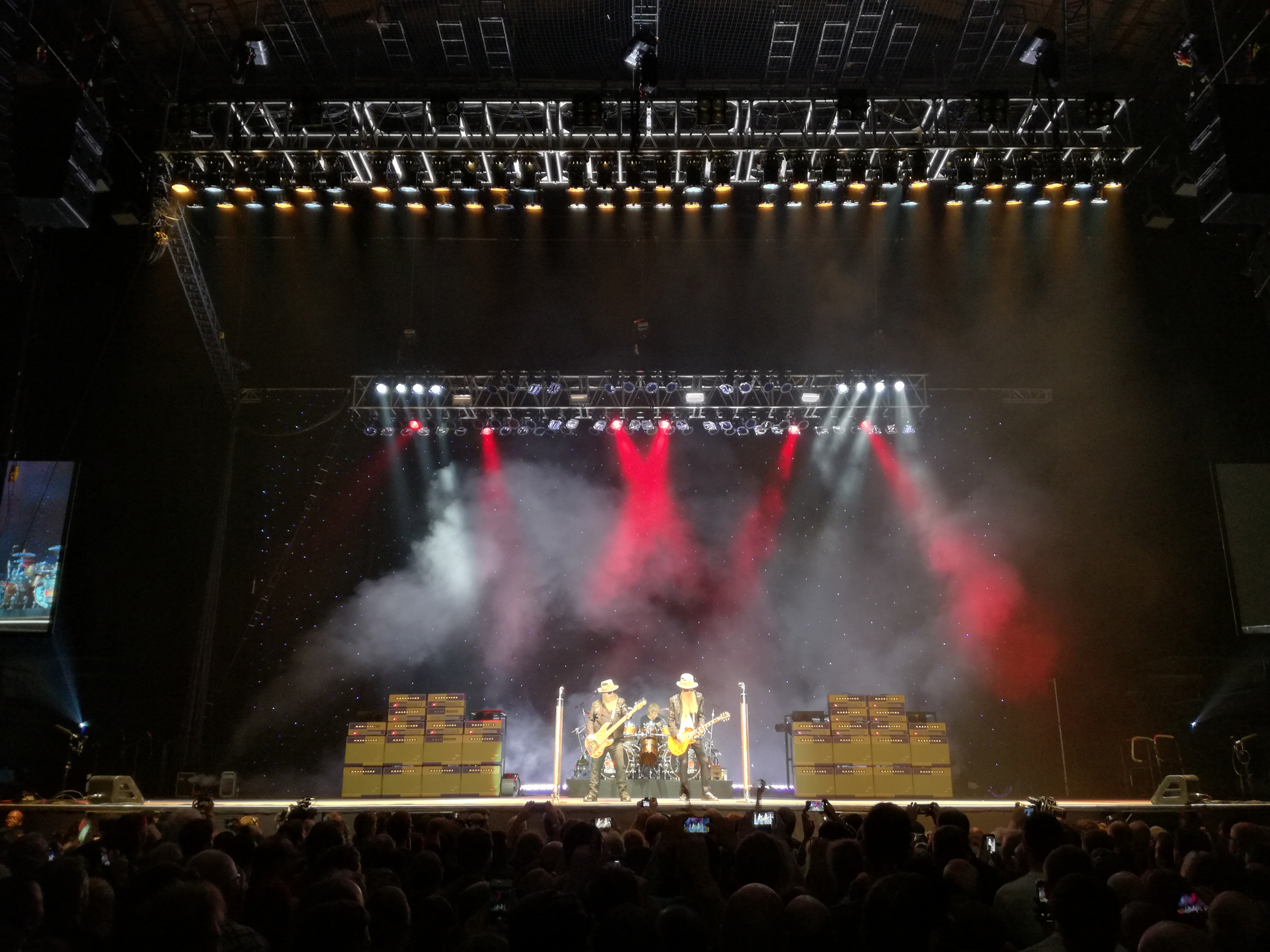 It's not just playful gimmickry that makes this a great show, though – they might be about to cross the rubicon into their seventies, but ZZ Top haven't lost a whit of their musical skill. The Revd Willy G's fingers are as nimble as ever, and his playing is a delight. This is the man to whom Jimi Hendrix looked up, and you can see why – every lick is just that little bit off-piste, bolder and more beautiful than the wannabes.
In the red corner, Hill's roaring voice is every bit as powerful as it was in the 80s, and his bass playing is thunderous. Guitar slung down by his knees, arm outstretched, fingers splayed, he charges each song like a musical rhino. Frank Beard – who has no beard – is, as ever, the understated genius, Malcolm to Gibbons' Angus.
Put simply, there wasn't a single thing wrong with this show. You can't stop the Top.