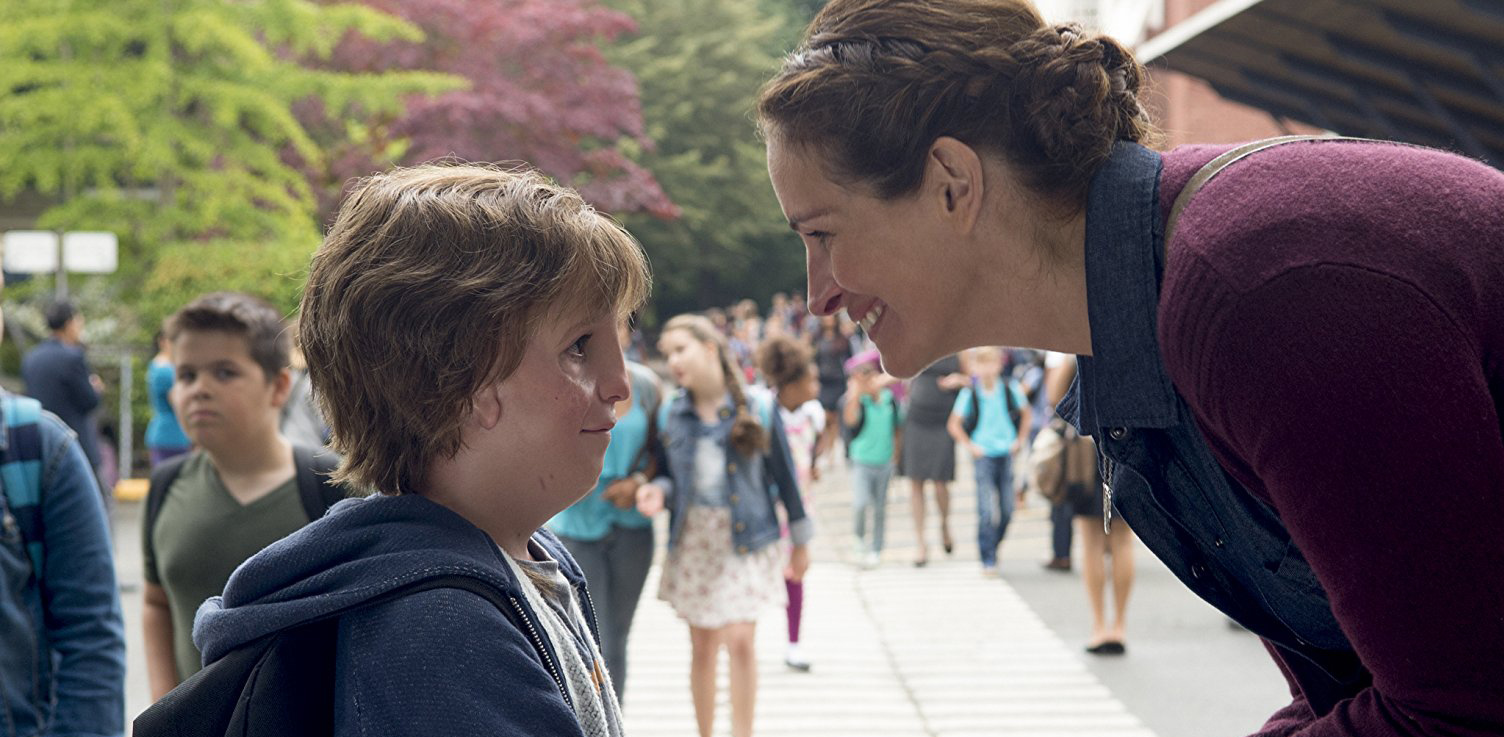 Based on RJ Palacio's 2012 smash-hit book, Wonder tells the story of Augie Pullman (Jacob Tremblay), a ten-year old boy with a severe facial deformity. After being educated at home by his mum (Julia Roberts) for years, the family decide that it's time for him to start real school. But having a face like Augie's makes starting school an even scarier prospect than it is for most kids.
As in Palacio's book, Wonder focuses not just on Augie, but the people surrounding him, chiefly his friend Jack Will (Noah Jupe), bully Julian (Bryce Ghiesar), sister Via (Izabela Vidovic), and her friend Miranda (Danielle Rose Russell). There's support from his parents (Roberts and Owen Wilson), and teachers (Mandy Patinkin and Daveed Diggs).
When the film was released last year, it was accompanied by a hashtag campaign, extorting everyone to #ChooseKind. Making Augie's world so full allows that message to be both specific and universal. Of course, Augie needs kindness; in a world that has been unfriendly to him, the slightest act of compassion means everything. But Wonder takes pains to show how we all need kindness, even if we don't have an extreme facial disfigurement to deal with. The film fleshes out most of its main characters, underlining the point that (to paraphrase one of many featured aphorisms) everyone is facing a tough battle, from Jack Will and his money troubles to Miranda and her difficult home life.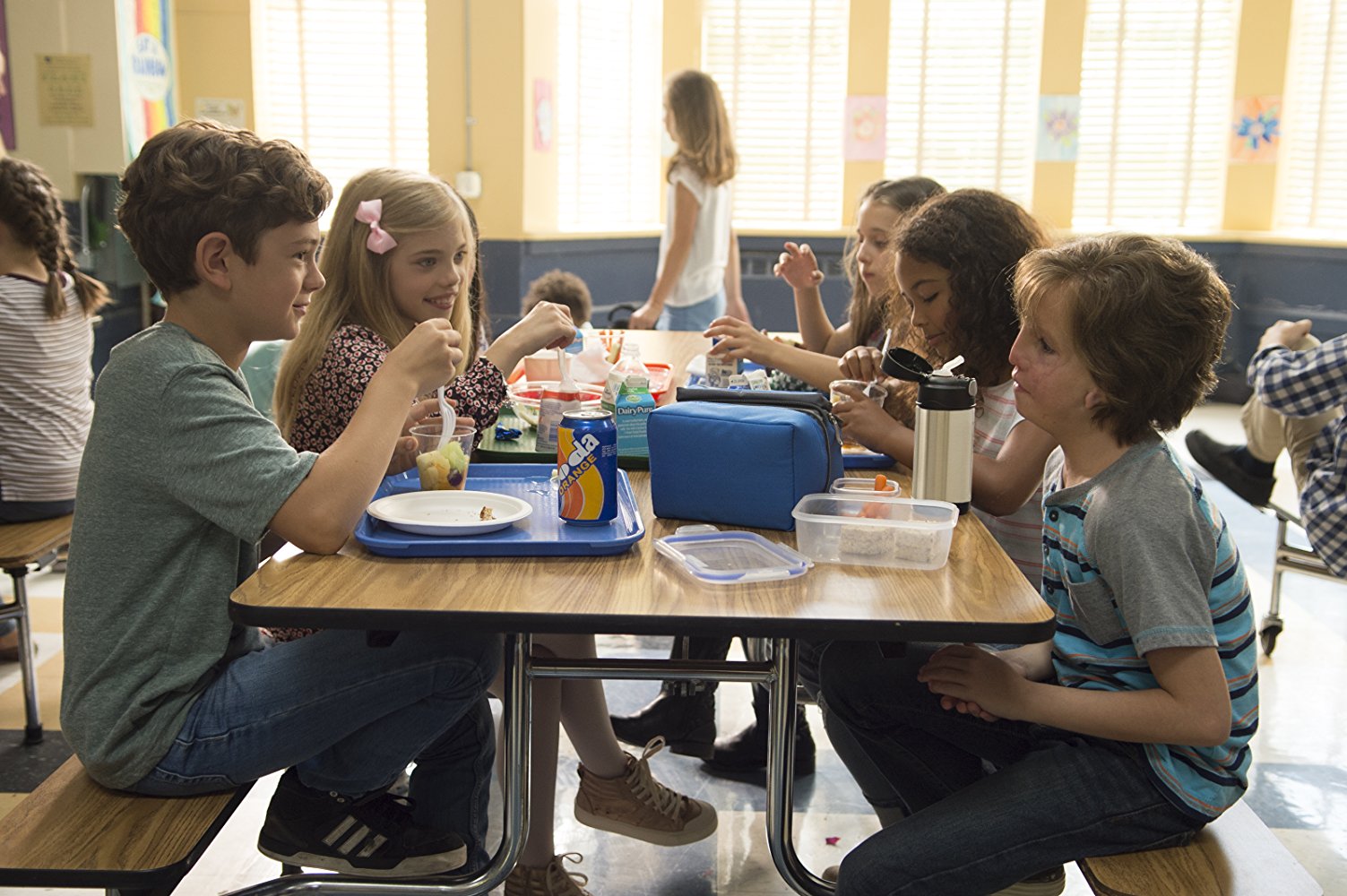 As is often the case with films like this, with such simple, family-friendly messages, Wonder does tip over into the obvious and schmaltzy on more than one occasion. On his first day of school, Via bends down and whispers in Augie's ear 'You can't blend in when you were born to stand out'- a nice enough tagline for a movie, but a little grandiose for advice shared between siblings. When Augie bonds with Jack Will, the song 'We're Going To Be Friends' starts to play (this actually happens again later on, when he makes a new group of friends). Of course, there's occasion for the whole school to stand up and applaud our young hero at the end. Director and screenwriter Stephen Chbosky never lets a chance go by to pull at the heartstrings, and he often pulls just a little bit too hard.
What helps the film from ever veering too much into the land of pure cheese is the cast, who all approach their roles with utter conviction. In a movie powered by tear-jerking moments, one of the most moving is Julia Robert's joyous face as Augie asks if he can bring a friend (his first friend!) home to play. Owen Wilson makes as charming a father figure as you'd imagine, and Mandy Patinkin an endearingly sage headteacher. Anyone who's seen Room will know that Jacob Tremblay is a star, and in Wonder he continues to ascend, even under many layers of prosthetics. Izabela Vidovic is also notable in her less showy role as Augie's overlooked older sister.
It's not without flaws, chief amongst them a tendency to be oversentimental. But Wonder is so relentlessly sweet and sincere, and so full of committed performances, that it's a hard film to resist. #ChooseKind indeed.
★★★★
Wonder hits Digital Download, 4K UHD, Blu-ray and DVD from 26 March, 2018, courtesy of Lionsgate Home Entertainment UK
SaveSave
SaveSave