Wild Indian – BFI London Film Festival Review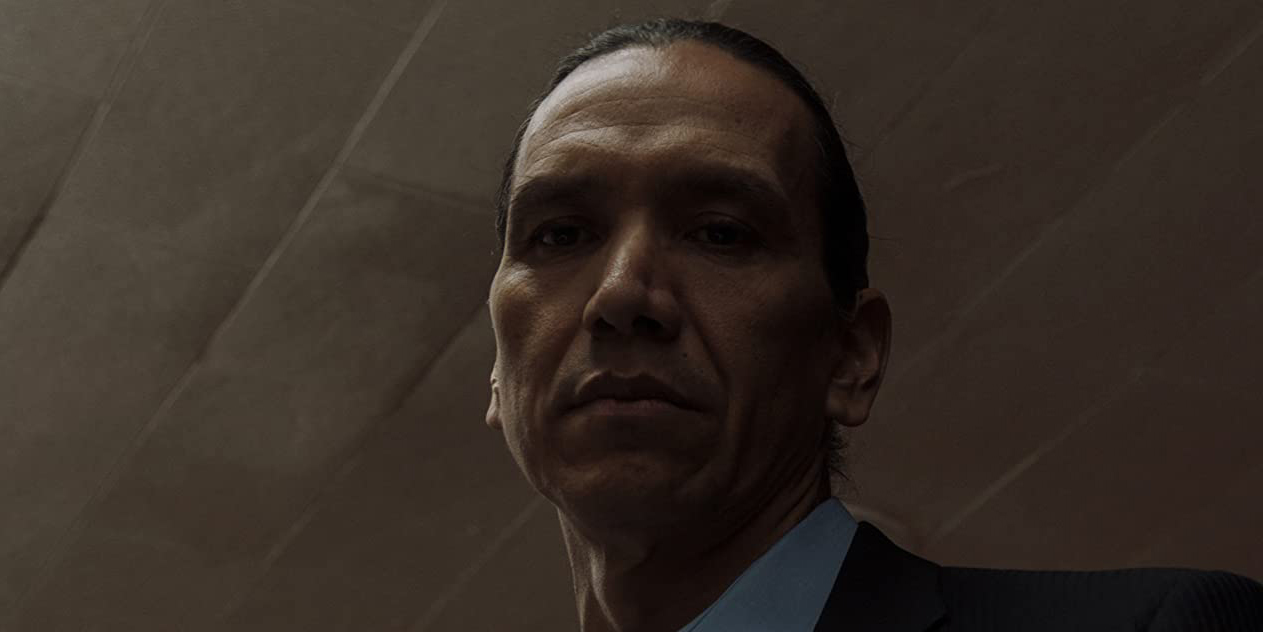 It's 1988, and Native American child Makwa (Phoenix Wilson) is bullied at home and bullied at school; his only friend in the world is Ted-O (Julian Gopal). One day, seemingly out of nowhere, Makwa kills one of his classmates, and persuades Ted-O – the sole witness to his crime – not to tell anyone. They bury the body, and get away with it.
Thirty years later, and the childhood friends have taken decidedly different paths: Makwa (played as an adult by Michael Greyeyes) is now a high-powered businessman, and Ted-O (Chaske Spencer) has been in and out of prison for drug-related charges. Released after his latest stint, he decides the time has come to own up for the crime he helped cover up. Makwa – desperately protective of the life he's worked so hard to build – has other ideas.
Wild Indian is the feature debut of Lyle Mitchell Corbine Jr., but you'd never know it from the assuredness of his direction and the economy of his storytelling. Minus the closing credits, the film clocks in at eighty-one minutes, and there's such a lot of ground covered within that short runtime – intergenerational trauma, the US government's neglectful attitude towards Native communities, the impossibility of escaping your past, the time-bomb danger of repressed violence… it feels epic, whilst still managing to retain a compelling sense of specificity.
And that's in large part thanks to the two men at the centre (although it's worth noting that the actors who play them as children, particularly Phoenix Wilson, give performances that are moving and powerful). Spencer's portrayal of Ted-O is haunting in its brokenness – from the moment we first meet his adult incarnation, he seems like a dead man walking. He wears his three decades of guilt like an anchor, and it's heart-breaking to watch as his determination to do the right thing takes him down a path of self-destruction.
It's the astonishing Michael Greyeyes who gives Wild Indian the bulk of its intense dramatic heft, however. The adult Makwa is a fascinating, difficult personality. He's an intimidating character, both physically and emotionally, and throughout the film he commits a host of inexcusable acts. And yet because the things he does comes from a place of desperate self-preservation, it's impossible to just straightforwardly villainise him. He may have technically gotten away with the crime he committed as a child, but it isn't like he walked away scot-free; Makwa is a wreck of a human being, ravaged by resentment and self-loathing, unable to forge a real connection with anyone else, including his pregnant wife (Kate Bosworth). His existence, despite his financial success, is miserable. Greyeyes doesn't exactly make him a sympathetic figure, but he lets us see the vulnerability and the trauma running underneath Makwa's cruelty, and he does it with mesmerising presence.
There is the odd strange choice scattered throughout the film, like the casting of Jesse Eisenberg (credited as an executive producer here) in a small role, which is distracting and unnecessary. For the most part though, Wild Indian is a striking debut from a director to watch.
★★★★