The Odd Job Men – BFI London Film Festival Review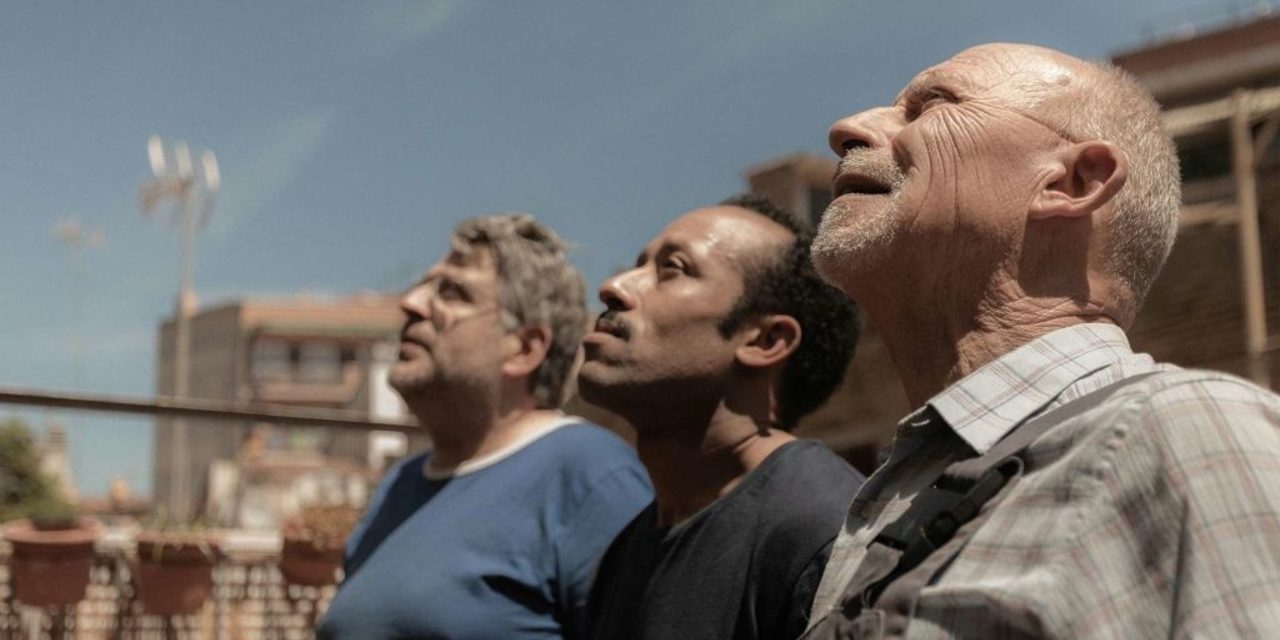 It's Moha's (Mohamed Mellali) first day working at a handyman company, and his new colleague Valero (Valero Escolar) takes an instant and unfair dislike to him.  If it weren't for his boss insisting that he at least get a week's probation, Valero would have sent Moha packing immediately, but with Pep (Pep Sarrà) on the cusp of retirement, the company is in dire need of another worker. The Odd-Job Men follows the events of that probationary week.
Spanish director Neus Ballús's film is a work of docufiction. What that means in practice is that the three leads are all non-professional actors who Ballús discovered at a school for plumbers and electricians. They worked with her over a course of several years, crafting the narrative through improvisation. Although the final movie is fictional, it's grounded in the reality of these three men's lives.
Each day of the probationary week brings the odd job men to a completely different environment – on the first, they meet a one hundred year-old man eager to pass on his health tips; on the second, they're pestered by a pair of twin girls who lock them on the balcony of the apartment; on the third, they find themselves in the middle of a fashion shoot. The Odd-Job Men views the opportunities of plumbers and electricians to experience these different windows on the world with an almost romantic eye, and that perspective – enhanced by Moha's poetic narration – is very appealing.
Because the film is small and understated, much of it rests on the three leads' charisma, and they are naturals in front of the camera. Mohamed Mellali is a particular standout. Many of his scenes just revolve around him silently taking abuse from Valero, and in each he brings a different layer of frustration or exhaustion to his microexpressions – he doesn't say anything, but he doesn't need to for us to know the precise nuances of what he's feeling. There's a deadpan quality to his demeanour that also makes him excel in the funnier scenes, as when a fashion photographer takes a liking to him when they visit her studio; that sequence would feel right at home in an Aki Kaurismäki feature.
Where it all comes apart is in Valero's treatment of Moha. Moha is a recent immigrant from Morocco, and there is a racist element to Valero's bullying; in their first encounter, he's already mocking his new colleague's Spanish-speaking ability. For a long time, the oppressive relentlessness of his harassment overwhelms the movie; whatever Moha does, however well he does it, Valero loudly deems him incompetent or lazy or stupid.
The Odd-Job Men never condones Valero's actions, but neither does it condemn them heartily enough; sometimes it skates perilously close to asking us to laugh at the demoralising acts of a workplace bully. It tries shooting for his atonement in the final act, showing us that Valero has insecurities about his weight and age, and that's why he's lashing out at Moha – but none of what we see comes close to excusing his actions. It's a frustrating component of a film that otherwise contains a great deal of genuine charm and humour.
★★★