Three Billboards Outside Ebbing, Missouri – BFI London Film Festival Review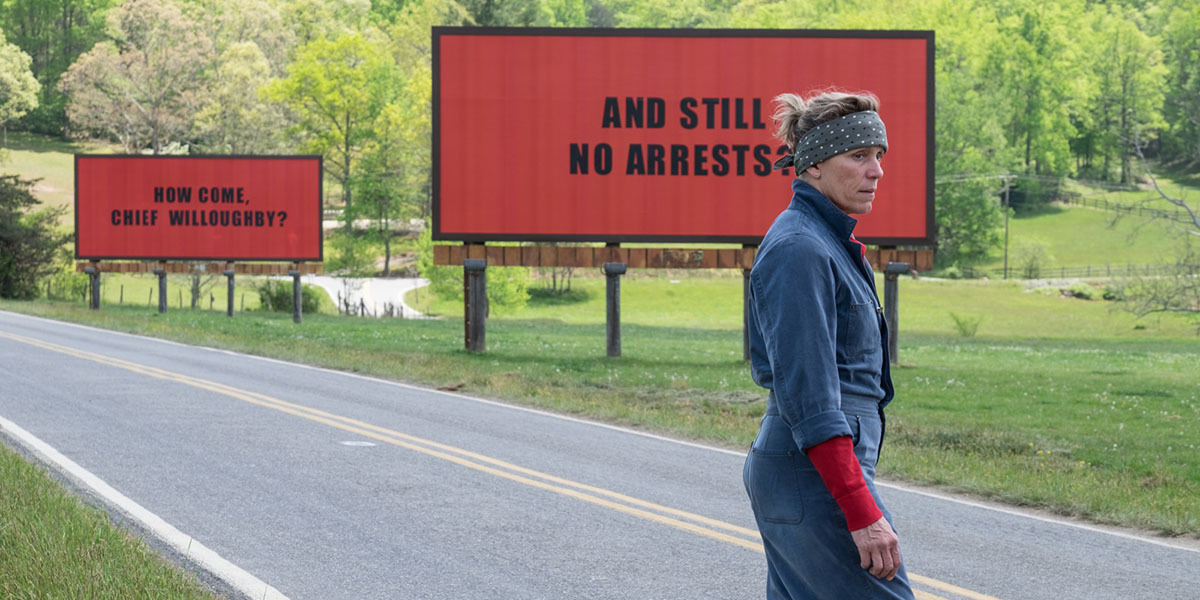 The site of decaying billboards is becoming the norm across the Western world. When the vast majority of advertising moves to online, and industrial towns lose their factories and the jobs within, vacant high streets and ad spaces become nothing new. Shop fronts are empty and "To Let", and inevitably little business requires little advertising. Billboards remain decrepit and empty, with old posters from years before peeking through the holes like a portal in time. Three Billboards Outside Ebbing, Missouri uses this as a starting point, telling a story that is equally personal as it is profound. This may be Coen brother's territory, with Carter Burwell's score and Frances McDormand among cops in a small off-the-road town. But director Martin McDonagh ensures that the events that play out are as destructive as the conflicts within America in 2017.
Mildred Hayes (McDormand) is a mother of a murdered daughter, Angela. Every day, just before she reaches home, she passes three billboards that haven't been updated since the 1980's. It is 7 months since she last heard from the police and, currently, no arrests have been made. Selling the family tractor, she pays for a single month of advertisements to run with a boldly typed, direct message to the police of Ebbing. A small town, Ebbing Police is led by Sheriff Bill Willoughby (Woody Harrelson) and his team includes loose cannon, Officer Dixon (Sam Rockwell), an alcoholic and aggressive cop with a history of abuse against suspects. Mildred is divorced from her abusive husband (John Hawkes), who left the family years before to chase 19-year-old women. Her son (Lucas Hedges) is the only person at home after a family of four has now been tragically destroyed to leave only the two of them behind. Suffice to say, the popular police department aren't too happy with the billboards and locals ensure that they stick their oar in, to support. But Mildred is a stubborn, hard-bitten woman and she won't be taking them down until justice is served.
Three Billboards Outside Ebbing, Missouri isn't about billboards, of course. Without mentioning His Orangeness, Martin McDonagh's reflective and snowballing script reveals the intricate and complicated challenges that devour the US of A within this delicate narrative. Understandably, after such a tragic experience, Mildred is angry. She would watch the world burn to find the culprit who destroyed her life. But nothing is clear cut and the depiction of the kind-hearted Willoughby is what balances her fury. Woody Harrelson's Sheriff is the only policeman named on the billboards and, according to Mildred, the buck has to stop somewhere and she sees him at the top of the pile. Willoughby, on the other hand, is a decent man with good intentions. He has fought hard and did everything in his power to find the man responsible for the death of Angela. There are no witnesses. There are no suspects. There are no DNA matches.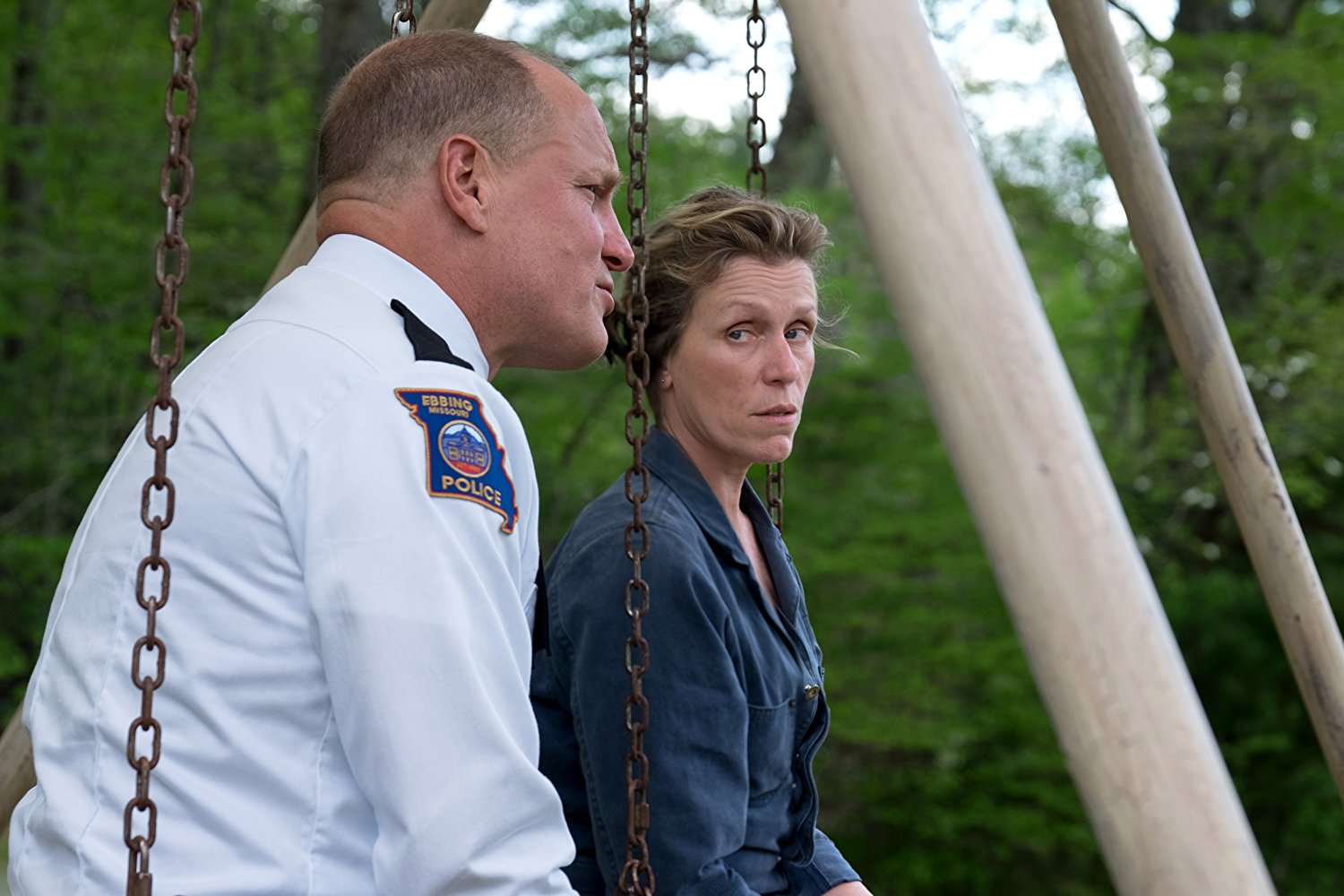 In the same manner as Twin Peaks, the murder of an innocent teenager reveals much more about the community than the victim or perpetrator. The sides that the local townspeople take highlight their true intentions. Carter Burwell's score encapsulates the small-town context and layers it with swelling strings and a scale that places the tale on a broad canvas. Yes, Three Billboards… is about anger and its consequences, but via Dixon, it also takes on the crisis of masculinity and the difficulty in adapting to a new order. If we don't change, then confrontation is inevitable; when you corner a dangerous animal, it bites back.
Mildred is strong, persistent and refuses to let it go. Her desire for justice is fuelled by anger; Dixon's lack of identity and the power that's slipping through his fingers, generates self-hatred and anger in his place in the world. There are many people who proudly let resentment, frustration and primitive rage dominate their living thoughts; it's an addiction for purpose. But when you reel out the consequences and lay it down, it always comes down to the same final spot. Three Billboards Outside Ebbing, Missouri takes us down the path. It confronts the monster that is eating away at towns that have been left behind and communities that have been shoved to the back of the line. Like Mildred, people together are tough enough to sit it out and they will not accept defeat. But when they don't have hope, they only hold anger.
A masterpiece of wit, intelligence and layered allegory, Three Billboards Outside Ebbing, Missouri will make waves this awards season and it has the potential to change hearts and minds in this fragile world.
★★★★★