Loving Vincent – BFI London Film Festival Review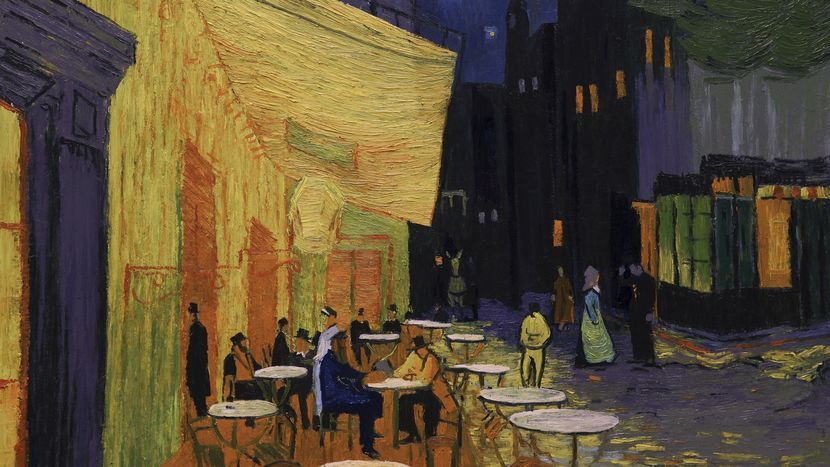 "Artists, their job is to see the world in a new way, that sometimes contradicts with the culture around them," director Hugh Welchman tells the press at the National Gallery UK premiere of his first full-length movie, Loving Vincent – a collaboration with director Dorota Kobiela. Less of a conventional movie experience and more of an all-encompassing sensory exploration, Loving Vincent certainly contradicts prevailing movie culture. The overall effect is dazzling and surprising. It's one of the most unusual films you'll see this year.
This stirring spectacle takes the viewer on a whistle-stop tour through the life and paintings of Dutch master Vincent Van Gogh. There's little emphasis on plot, narrative development or even characters – instead it's all about the visuals. The movie, years in the making, came to fruition thanks to the hard work of 125 artists, who painted over 62,450 frames of film to recreate the world of a Van Gogh painting.
"We had three weeks of training – because we're all artists, we weren't animators. So we had to lose our own style, in order to paint like each other and paint like Van Gogh," says painter Sarah Wimperis. It was a gamble – would an ambitious project like this work as a feature-length film?
On the most part the answer is yes. Go into Loving Vincent with an open mind, ready to surrender to the beauty of the visuals, and you'll be delighted. It's not necessary to be an art lover or an avid connoisseur of Van Gogh's oeuvre. His style is so instantly recognisable and his works – including 'Starry Night Over the Rhone' and 'Cafe Terrace at Night', both replicated here – are so iconic that the film's feat will be evident regardless. The swirling strokes and bold cinematography evoke the dream-like feeling of stepping through a canvas. The finished film is both a love letter to Van Gogh's work and to creativity itself, shining a light on the other side of the film-making process, beyond the star players.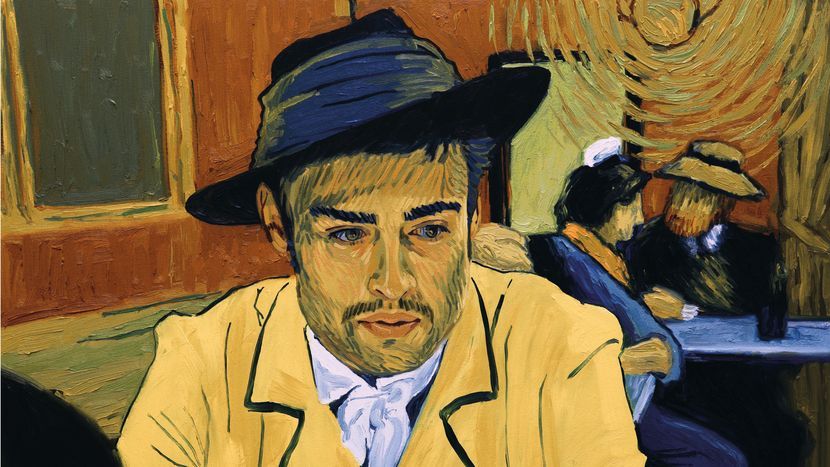 That's not to say that there isn't a great cast assembled to bring the story to life. Set one year after Van Gogh's death, audiences see unknown Polish actor Robert Gulaczyk's Vincent only in flashbacks. British actor Douglas Booth (Romeo and Juliet, Great Expectations) plays a tearaway young man in a bright yellow suit, Armand Roulin, the closest thing to the film's protagonist. His postman father (a thoughtful Chris O'Dowd) has entrusted his son to deliver a letter. Roulin's quest takes him to the beautiful Northern French towns of Arles and Auvers, which formed the backdrop for much of Van Gogh's work. Here, he quizzes Van Gogh's subjects on the life and death of the painter. His interactions with Eleanor Tomlinson's Adeline are particularly memorable, with the Poldark actor commanding the screen even in painted form.
Saoirse Ronan is also a stand-out. The Academy Award nominee gives a reflective performance as the daughter of Van Gogh's doctor, who Roulin thinks harboured feelings for the tortured artist. Other British stalwarts turn up in the film including Peaky Blinder's Helen McCrory and Poldark's Aidan Turner. To the director's credit, the realistic recreation of their features doesn't jar with the more abstract painted backdrop. More surprising is the array of regional accents; there's no consistency – but these quirks add to the film's overwhelmingly dreamlike tone.
Loving Vincent's exploration into whether Van Gogh committed suicide or was murdered never truly commands the viewer's attention, or seems worth exploring. Instead, the film works best as a series of a reflective vignettes, pondering on the notion of genius and artistic endeavour. "Vincent was definitely a revolutionary in terms of the way he was seeing the world, and sometimes it takes some time for the world to catch up," reflects Welchman. As a wistful escape into the oil-painted world of the 19th century painter, Loving Vincent is a must-see.
★★★★
SaveSave
SaveSave