Theatre Review: The Merchant of Venice at Drayton Arms Theatre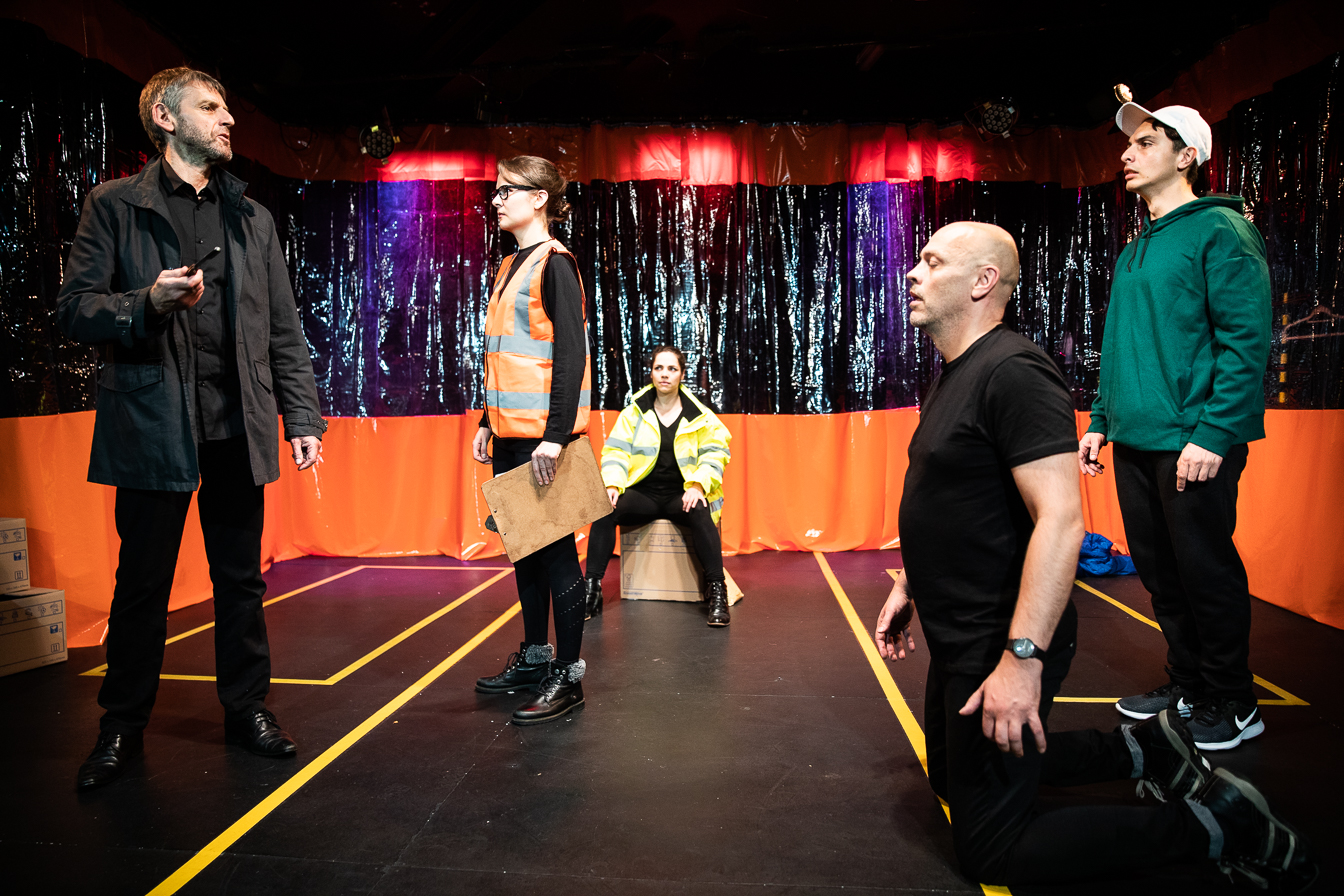 This is a lively and modern Venice stuffed with money, revenge and romance. Shakespeare's text has been judiciously cut to keep the story tight as a cast of six share characters and dial up the comedy in a thought provoking performance. Director Alex Pearson has bought the action bang up to date with modern music, smartphones and contemporary mannerisms while maintaining classical language and bringing focus to the key speeches. This is a difficult play to navigate, and the production shifts from the funny to the harassment in a gradual arc.
Ashley Gunstock is an isolated and bitter Shylock, older and blandly clad amongst the vibrant jackets of his tormentors. He moves smoothly from sharp villain to sympathetic victim. The conflict of faith is compellingly conveyed by Genie Kaminski as Jessica, caught between family and love, Judaism and Christianity. Michael Skellern primarily plays her Lorenzo steadily but also gets to have some fun embellishing the ridiculousness of the Prince of Morocco.
A firm and feisty friendship between Bassanio and Antonio is well constructed by Dan Burman and Kevin G Drury. The intervention of Portia into this bromance is timely; Zoe Lambrakis traverses the awkward line between romantic prize and legal eagle with humour and brains. Ultimately these three protagonists work together to push Shylock away from vengeance and into servitude. It's a tricky ending and the finale creates some interesting religious moments.
The staging is minimal with scattered boxes setting a mercantile scene and doubling up as the caskets. The backstage space is revealed through a transparent curtain, keeping the small team on their toes through quick changes and extending the stage space to allow bleak imagery as Shylock is convicted. Here is a carefully considered and brisk interpretation of The Merchant of Venice in an intimate space from a dynamic company.
★★★
The Merchant of Venice is on at Drayton Arms Theatre until 19 October 2019