Theatre Review: Flights at the Omnibus Theatre, Clapham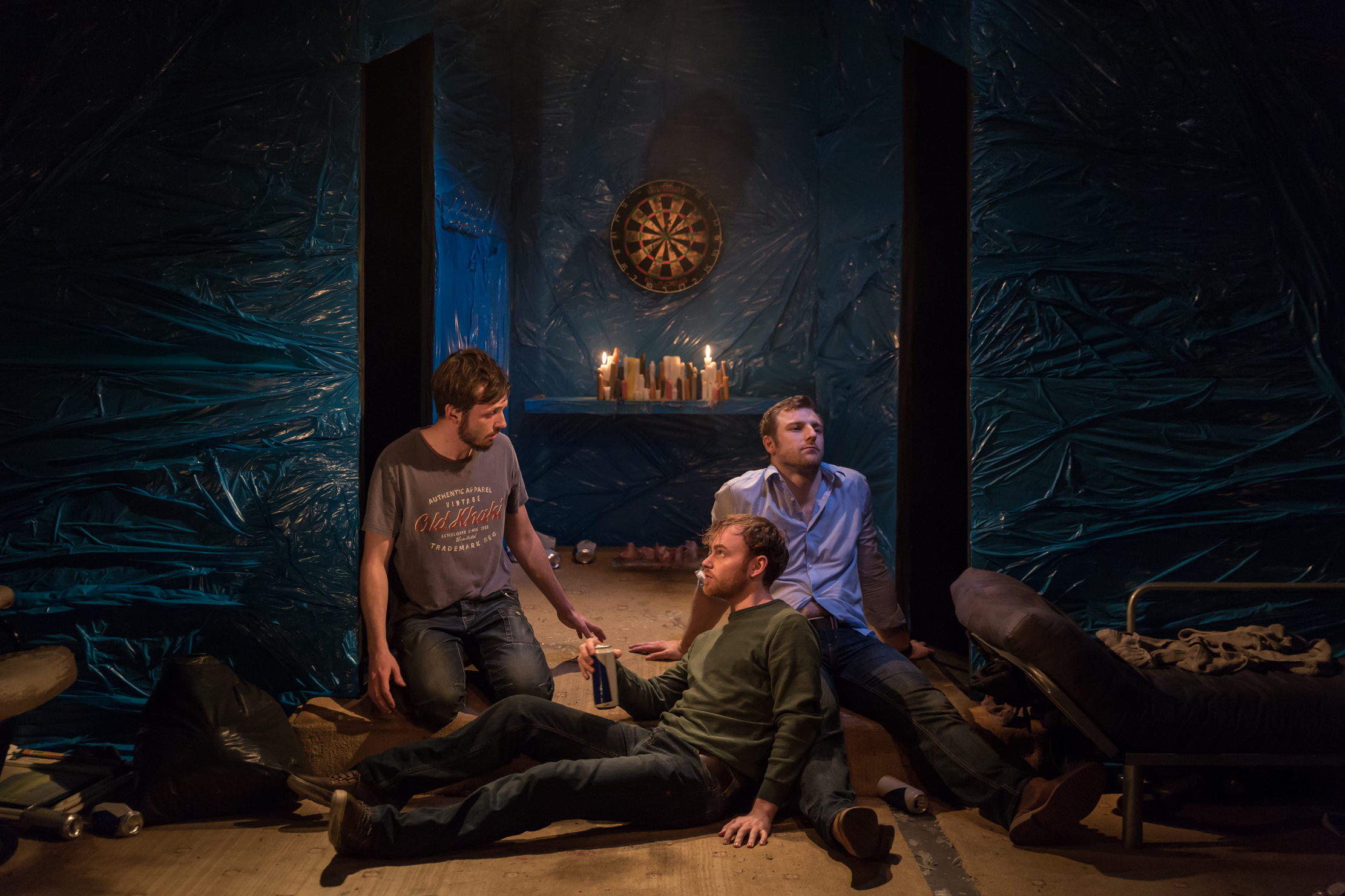 Three lads gather themselves together in a scrubby clubhouse on the outskirts of Ennis. They are here to mark the seventeenth anniversary of the death of Liam, a friend who died at 17. There are five slabs of beers to get through, darts to be played and drugs to kick the party on. The rain outside is relentless and the main light occasionally flickers. Cusack, Barry & Pa take their time, there is plenty to reflect on and an uncertain future to consider.
Buried grief pushes them in difficult directions. The banter starts sharp as they needle each other, competing to remember Liam the best and down cans the quickest. Other worries invade the space; Cusack has a baby at home, Barry is about to fly to London with his girlfriend and Pa has been evicted from his cheap flat. As they fill in the details of past exploits it becomes apparent that their relationships are built on some shaky foundations. In the second act the drink and drugs kick and the rage is dialled down. The chat becomes more convivial as the character of Liam is gradually revealed, poignantly binding them together.
Conor Madden plays the calming presence of Cusack, settled and mature and trying to keep everyone on even ground. Barry is stuck in the middle, Colin Campbell makes his indecision an absorbing part of the performance. The anger of Pa is well embodied by Rhys Dunlop who injects black humour into a dark setting. All three actors give heartfelt feeling to a script by John O'Donovan which ebbs and flows around discussions of happiness, grief and masculinity. References to the 2008 financial crash pull the audience into a recognisable bleak world. The stage feels grubby and lived in with pieces of old furniture and candles building an authentic man cave.
The reminiscing moves between funny and touching, these lads can find reasons to escape and ways to stay where they are. The colloquial chat delves into past drinking and sexual habits as they try to avoid getting sucked in to the aging process. A gentle piece set in rural Ireland exploring how friendships endure and change with no easy answers about what comes next.
★★★