Book Review: Of Curses and Kisses by Sandhya Menon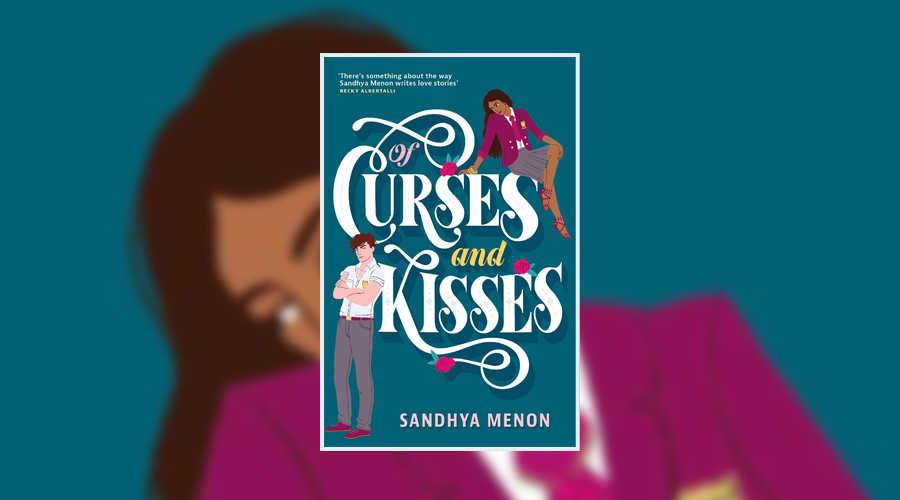 Sandhya Menon's previous novel, When Dimple Met Rishi¸ was a darling amongst those who keep up with the new releases in the YA genre. Sweet, cheeky and daring to deviate from the very white American norm of the literary landscape, it was destined to have a much-needed freshness.
In Of Curses and Kisses, Menon moves away from standard contemporary teen literature, to delve a bit more into the fantastical. This time we escape to the elite St. Rosetta's boarding school, with a Beauty and the Beast twist. Our enemies-to-lovers pair are Jaya and Grey, so there's some Romeo and Juliet weaved in for good measure. Jaya Rao is the heir and princess of Mysuru, India. She is the eldest of two sisters – pragmatic, diplomatic and dutiful. Above all her priority is her family and her legacy, and she is very protective of her wilder, more rebellious younger sister Isha, who is less comfortable with the gilded cage of royal responsibility.
The Rao family are centuries-old enemies of the Emersons, a British royal family. Following a scandal that breaks about Isha back home, the two sisters flee to the respected and – more importantly – secluded St. Rosetta's. Though following their wishes, what her family doesn't suspect is that Jaya is after more than just time away from the press and public – she's planning to exact revenge. That revenge being to find Grey Emerson at the school, seduce him, and break his heart for being involved in leaking the scandal. What Jaya isn't expecting is for Grey Emerson to be nothing like the plotting villain of her imagination – and that he has his own suspicions about her, and secrets of his own behind the gruff, elusive exterior, that relate to her own family's history.
Despite their different backgrounds – and being raised to loathe the other – through the alternating POV chapters we see why the two have as much to find comfort in the other as they have conflict. Of Curses and Kisses, in addition to love and magic and teen drama, also engages with themes of legacy and coming-of-age. It's less the glamorous, dangerous goings on of the rich kids of Gossip Girl and more concerned with the reality when the fabulous parties end and everyone is still a teenager, trying to find their way in the world.
The boarding school setting, once a genre unto itself, has been criminally under-utilised as of late, and so seeing it return is its own delight. There's nothing quite like a romance centred around the story beats of 'taking a trip to the local town', or 'clandestine meet ups on the school grounds after lights out'. Throwing in the magical, mystical elements (whether they are believed to be real or not) makes it all the more exciting. Like When Dimple Met Rishi before it, there's loving homage to so many genres, and if you lock into the meticulous melodrama, you'd speed through the 360 pages in one afternoon.
The structure and ensuing incidents of the story follow more or less what you can predict from reading the blurb, but for a young adult romance, this is more of a feature than a bug. Menon's voice for both Jaya and Grey as close-third person narrators manages to be distinctly their own, while both carrying the same level of good humour and tenderness.
While reading, it's even striking that it's a shame this rich setting and cast of characters is for one book only – which is where the delightful "St. Rosetta's Academy #1" comes in. It's a promising start to a new book series, which presumably will follow suit and offer more retellings of classic fairytales, that are sure to capture the imagination of young readers.
★★★
Of Curses and Kisses is published by Hodder and Stoughton on 18 February 2020