Theatre Review: Excluded at St. Saviour's Church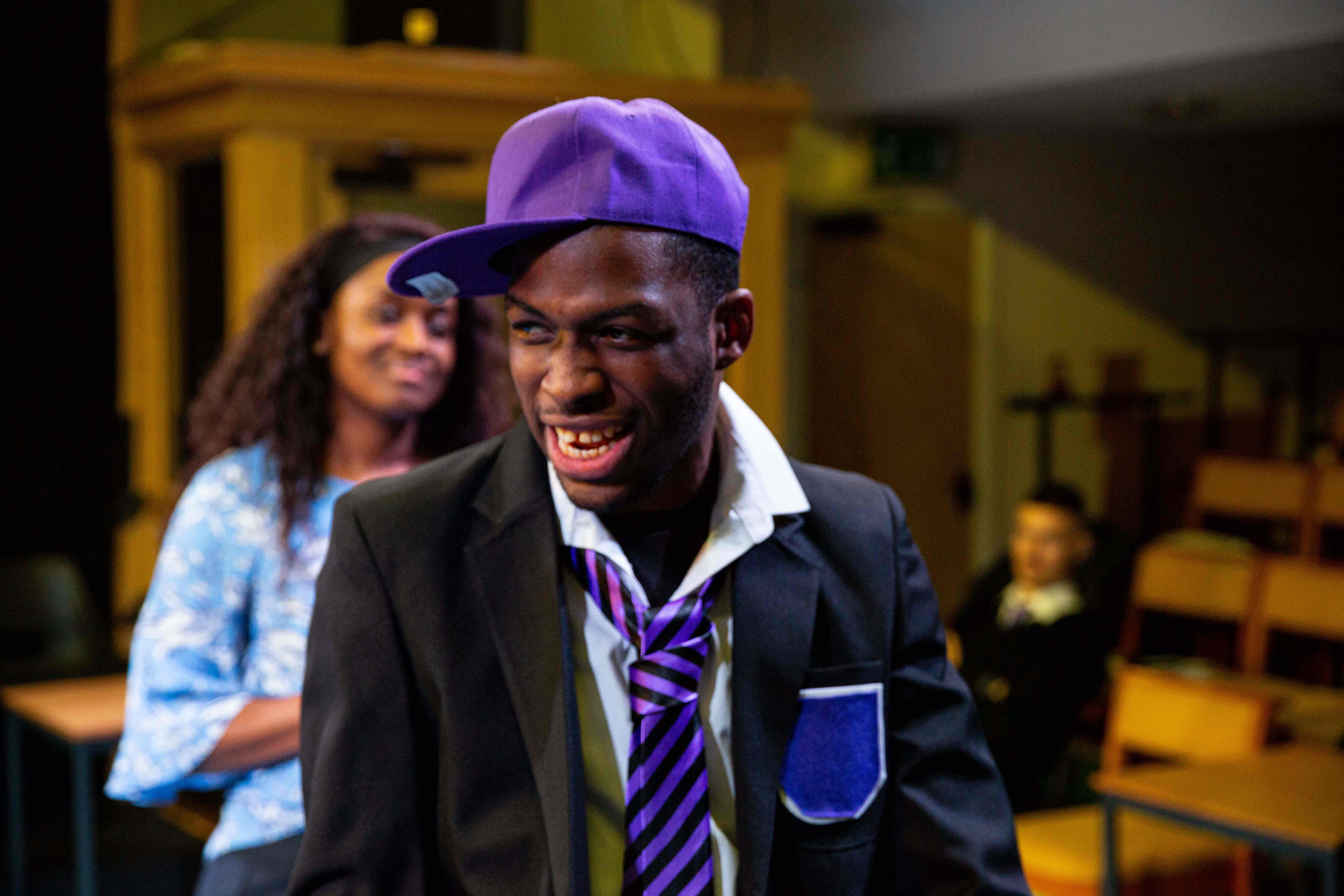 Intermission Youth Theatre have spent ten months workshopping Excluded, a lively Shakespearean mash-up featuring an array of the Bard's personalities and themes. These narratives collide in a contemporary London secondary school as the characters prepare for their GCSEs with dark and funny results. The language mixes modern patter with familiar iambic pentameter, the action shifting between chaotic banter in the classroom to more intimate depictions of life at home. The overall effect is compelling.
In a tight ninety minutes a medley of Shakespeare's plays mingle; Julius Caesar, Othello, Merchant of Venice and Macbeth featuring subplots from Much Ado About Nothing, Romeo & Juliet, Measure for Measure and Hamlet. Even a restless Bottom pops up to lighten the mood. The large cast play alternate parts on different nights, giving them chances to get to grips with new parts in the piece. It would be interesting to see how Kai Jerdioui moves from the sinister power of Macbeth into the slick wordplay of Romeo.
Shylock and Othello sound like unlikely partners in crime and on the Shakespeare Cast nights Mark Akintimehin and Andrew Senesie capture their common thread of composed anger to work together as part of the unholy alliance against Alexander 'X' Lobo Moreno's cocksure Caesar and his hype man Anthony, played by Ibrahim Konate. The bad feeling kicks off with a spicy rap battle in the playground but the unusual factions escalate things to a predictably tragic conclusion. In the middle of this toxic mix Crerar Antony pushes herself forward as a feisty Beatrice, full of feminist wit against encroaching sexism, including that of Oliver Knight's Hamlet, driven mad by his loneliness.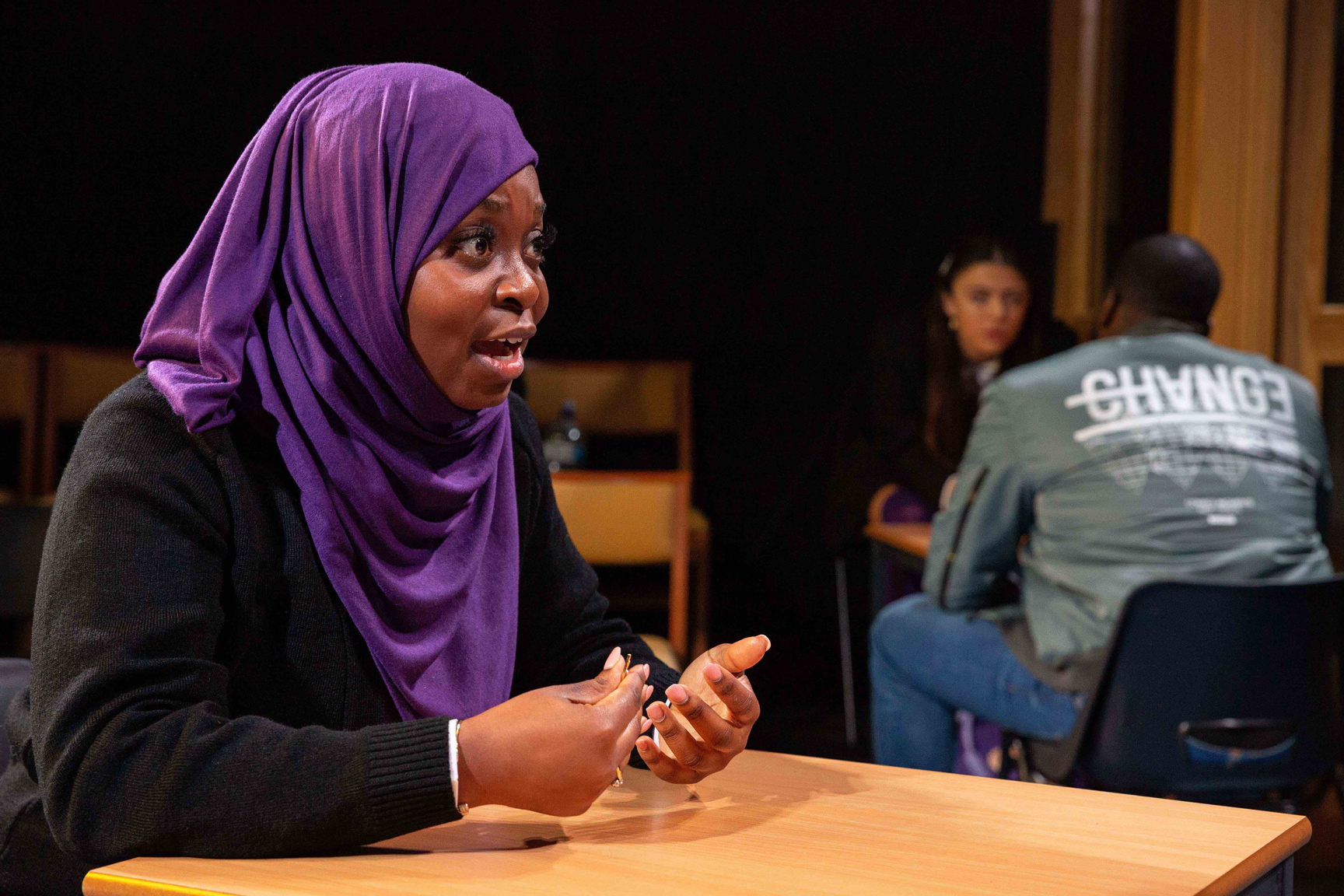 In a small square space with minimal staging the energetic performers work hard to create locations, from the classroom to behind the chicken shop. With plenty of interweaving threads there are references to enjoy for all fans of the Bard's words. The hopelessness of Isabel's choice is thoughtfully presented by Sharai-Raven Mae and Batanga Bokula vividly explores a difficult relationship with an addicted mother which lies behind her role as Cas pushing Brutus, a quietly focussed Elijah Brunt. The entire cast show exemplary confidence as they shift between the anxiety of introductory monologues to bouncing braggadocio when confronting each other with verve and violence.
Director Darren Raymond has worked with his young players to awaken a passion for Shakespeare, adapting classic plots to fit modern concerns including drugs and knife crime. Using personal experiences of the rising national rates of exclusion this company has found thought provoking ways to debate the purpose of education. These ideas have been discussed behind the scenes and emerge on stage in a whirlwind of updated recognisable moments. In their distinctive black and purple uniforms these kids show the state of Shakespeare is alright bruv.
★★★★
Excluded is on at St Saviour's Church until 30 November 2019