Theatre Review: A Super Happy Story (About Feeling Super Sad) at The Vaults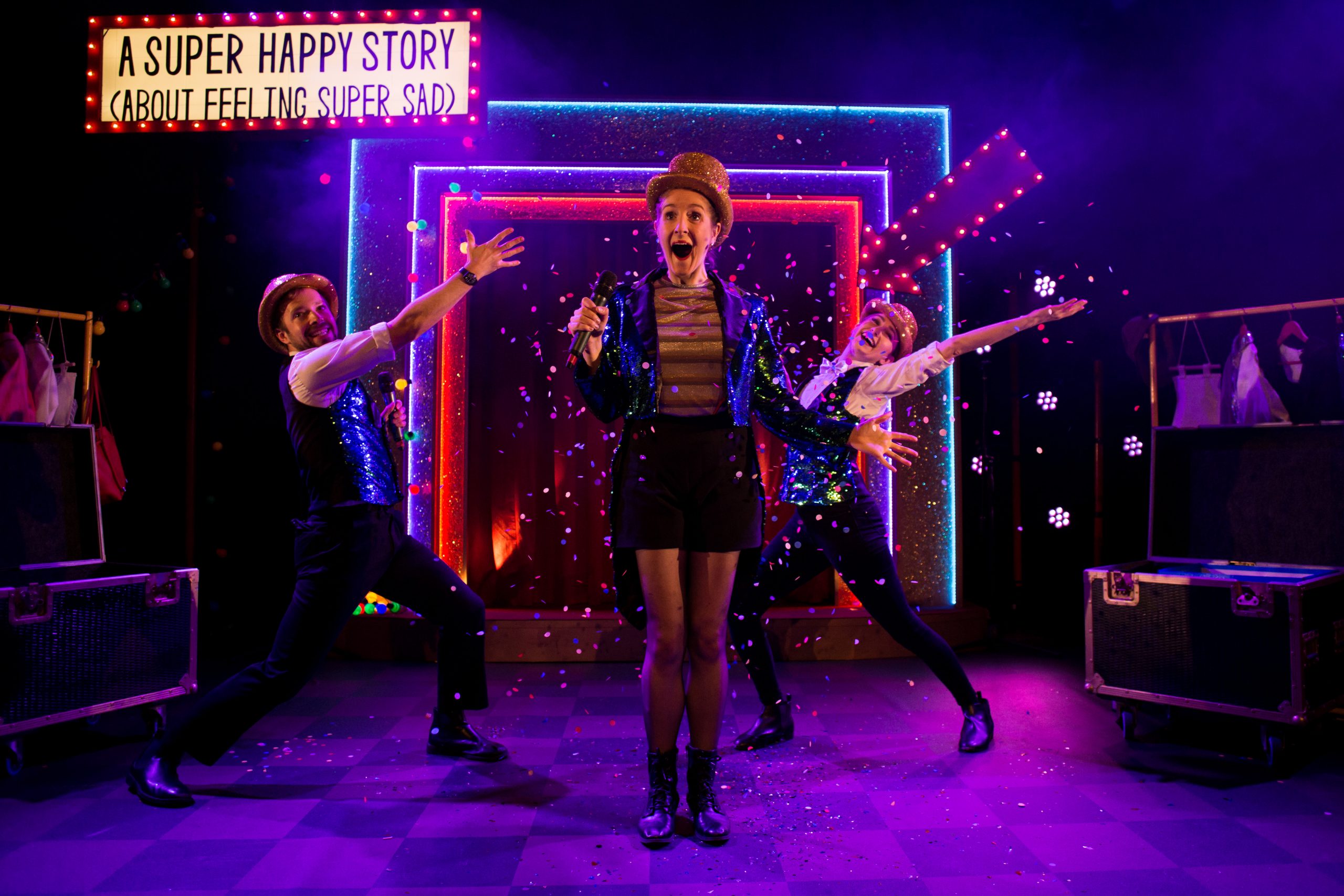 Here is a dynamic piece of theatre from Silent Uproar which fills a frantic hour with songs, dance, jokes and frank discussions of depression. It's a delicate balance of super happy and super sad moments and there is plenty to engage with on both sides of the spectrum.
It tells the story of Sally between the ages of 16 & 26 in several chapters, encompassing the best and worst nights of her life as well as a scattergun series of relationships that develop over the decade. After the opening jaunty musical number and exciting sixteenth birthday she slips towards depressive episodes and the tone becomes gradually more melancholy as she tries to figure out what's wrong and how to fix it. References to Breaking Bad, Disneyland and Meatloaf keep things light and contemporary, the overriding feeling is that it's okay not to be okay.
Madeleine MacMahon is the heart of the show as Sally, breezing on stage in sequins with a bit of audience interaction before slowing down to reveal some brutal truths. She performs all the cabaret elements with aplomb, taking an impressive journey from very high to very low. Various characters whizz back and forth into her life, usually with a funny one liner or quirky accessory to break the tension. Sophie Clay and Ed Yelland give these supporting voices humour and can switch on pathos when Sally's mental state requires detailed dialogue. The energy levels stay high on a small stage where even pianist Tom Penn can get involved with the banter.
In the concrete setting of The Vaults the set is dressed with reams of glitter which sparkles and changes colour under the bright array of lights. Jon Brittain has written a story that feels intimate and authentic, exaggerating characteristics to bring out comedy and always coming back to an ordinary person's sadness in the centre. In the end Sally learns it's fine to be not bad and the audience is left with a constructive message about mental health.
★★★★
A Super Happy Story (About Feeling Super Sad) is on at The Vaults until 3 May 2019