The Meyerowitz Stories – BFI London Film Festival Review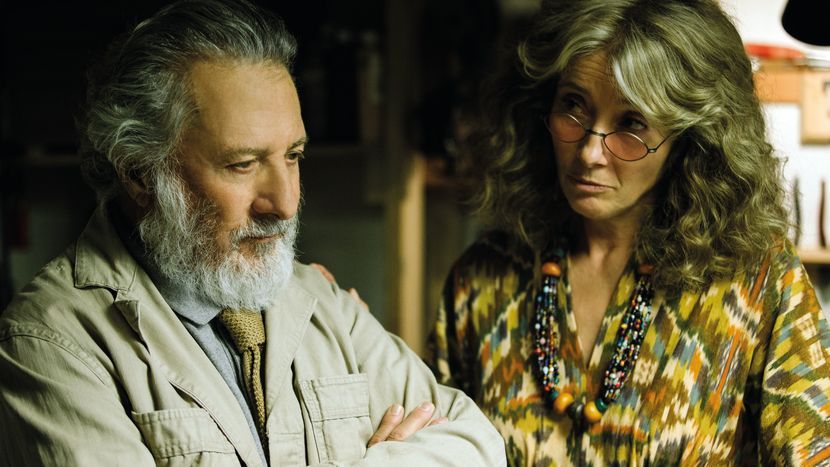 Families are difficult. The relationships Noah Baumbach introduces us to in The Meyerowitz Stories (New and Selected) are strained, at the very least. He rips through the polite dining room chatter and coffee meet-ups and reveals the brutal reality beneath the surface. Starring Adam Sandler, Ben Stiller, Dustin Hoffman, Elizabeth Marvel and Emma Thompson, The Meyerowitz Stories continues Baumbach's meteoric rise to sit among the great American filmmakers of the current era. His comedic charm, relatable relationships and witty editing remain expertly crafted. The family dynamic is akin to Wes Anderson but without the symmetry (he was co-writer with Anderson on The Life Aquatic with Steve Zissou and Fantastic Mr. Fox). The culturally-savvy tone and accessible upper-class New Yorker context is straight out of the Woody Allen playbook. Frances Ha and While We're Young were utterly delightful and The Meyerowitz Stories is certainly among his very best.
Danny (Adam Sandler) is driving his daughter, Eliza (Grace Van Patten), to her grandfather. They struggle to park and, convinced he'll find a parking space on the busy streets of Manhattan, Danny only becomes irate as the struggle becomes increasingly more difficult. His father, Harold Meyerowitz (Dustin Hoffman), is a retired art lecturer. A sculptor in his heyday, Harold was a contemporary of L.J. Shapiro (Judd Hirsch) and Paul Epstein, [fictional] artists who have become MOMA-famed legends in their field. Harold, on the other hand, never truly hit the big time and prides himself on the knowledge that The Whitney Museum of Modern Art has one of his famous pieces in their collection. His children, out-of-work Danny and permanently stoney-faced Jean (Elizabeth Marvel), did not enjoy the best childhood as their father married and remarried, leaving them behind. Matthew (Ben Stiller), Harold's third child with a later wife, is a successful accountant and rarely makes time to see the family. But he does make time to speak to Harold's current wife (Emma Thompson), with plans to sell the house and art pieces in an enormous sale that'll make a considerable sum for all.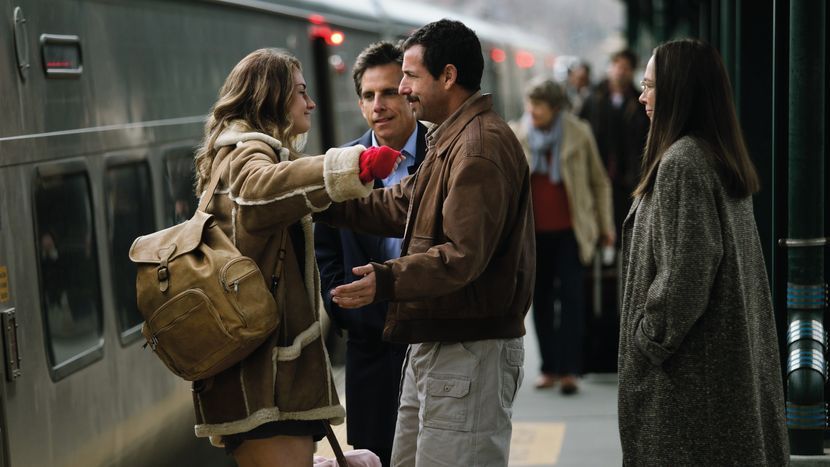 Family is often a key element to Baumbach's canon of dramadies. The Squid and the Whale tackled the effect of divorce on two teenage sons and, lurking in the background of The Meyerowitz Stories, both Danny and Matthew see divorce looming over their marriage. But, rather than merely use these experiences as background, these are a part of a broad canvas that asks larger, profound questions. Harold created Henry Moore-esque sculptures, and akin to Ben Stiller's character in While We're Young, his legacy is in the balance. It is unclear whether Harold is an unappreciated genius or an artist too late to the party, copying his predecessors and craving recognition. This exploration on art becomes reflective and nuanced. Art, and the desire to be remembered, spreads like a disease into all these pockets of his life: his children, for example, are deeply affected by their father's creative decisions to remain significant, active and feel young. His broken marriages are clearly consequences of his lifestyle.
With regards to the stellar cast assembled, every lead role is at the top of their game. Hoffman, the patriarch of the family, is charming, deftly handling his cynicism, disappointment and elderly dry wit. Elizabeth Marvel, as Jean, stands out as she shakes off the shackles of the stereotypical suited professional we've seen her portray in House of Cards and The Girl on the Train. She's awkward and quietly confident, with her own family history she has to carry. Adam Sandler, on the other hand, has a role that we can celebrate on a par with Punch Drunk Love and Funny People. A man who has devoted his life to raising his daughter, Danny is a complex figure but Sandler brings a tenderness and vulnerability that's wholly memorable. Finally, Ben Stiller as a pragmatic businessman and ungrateful son, comfortably navigates the arc he needs to travel to earn our sympathy.
But it is Baumbach's effortless structure and tone that weaves the film together. The casting of Stiller and Sandler is purposeful and you can be sure that their famous tantrums make an appearance. The Meyerowitz Stories feels more ambitious and firmly establishes Baumbach as an auteur, with a style and attitude that few can imitate. There's a nice nod to Citizen Kane as the film draws to a close. It's a sly wink to his audience but also drums home the thematic closure required to note how art is about passing on to the next generation. Aren't we the lucky ones to see this creation passed on to us?
★★★★★
SaveSave