Femi (Tai Golding) is living a happy life with his white foster mum Mary (Denise Black) in the countryside when his biological mother Yinka (Gbemisola Ikumelo) returns and moves with him to London. Missing Mary and his friends, and struggling to adjust to life in the city with the woman who abandoned him, Femi is miserable.
We catch up with Femi (now played by Samuel Adewunmi) and Yinka some years later, when he has entered his mid-teens. Relationships between the two are still cold, and Femi has fallen in with a dangerous crowd. Getting back on track, coming to terms with the resentments from his childhood, proves to be one hell of a mission.
There is a lot going on in The Last Tree. Too much, perhaps. Within the three distinct acts of the story (the third is set in Africa, as Femi meets his biological father for the first time), the film deals with his complicated maternal relationships, childhood trauma, stresses of city life, a romance, a teacher becoming a mentor figure, an induction into a drug-selling gang, the awkwardness of being stuck between two worlds, loneliness and violence. It's the kind of story that may have been better served as a mini-series.
Because there is so much plot here, many of the strands – in the limited time they are given – never evolve beyond tropes. The lack of screen time awarded to the mentor, and Femi's romance with a girl with blue hair, makes both storylines feel undercooked and half-hearted. All of the gang stuff has been done so many times before. It doesn't help that writer-director Shola Amoo's dialogue has a tendency towards cliché.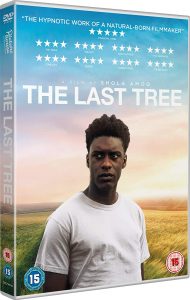 Despite all this, there is still plenty to like about The Last Tree. Amoo is a stronger director than he is a writer. He dedicates plenty of time to visually exploring Femi's interiority – in this he's helped by the unassailable acting of both Tai Golding and Samuel Adewunmi. He puts as much emphasis on the faces of his actors as he does on the words that they speak; expression carries the same weight as dialogue here. Though he overuses slo-mo, his instinct to spend plenty of time sitting with Femi as he quietly adjusts to the changes in the world around him is a good one. You're with him, rooting for him, even as he heads down some all-too familiar paths. You're always empathising with him. That goes for the rest of the characters too, particularly Yinka. With her rough parenting methods and childhood neglect, it would have been easy to cast her as the movie's villain, but Amoo – to his credit – opts for a more nuanced take.
It's that quest for empathy that means you have to consider The Last Tree a success, despite its flaws. Even during the more rote narrative turns, it's always honest. Never cynical. You can sense how much it means to Amoo and his talented cast – it's made with such love and real feeling. And when that's the case, you can forgive a bit of cliché.
★★★
The Last Tree is out on DVD, Blu-ray and Digital on 27 January 2020