'The life of a competitive figure skater is like a monk… there is no opportunity for friends and family…  you live, breathe, and die alone.'
The Ice King tells the story of John Curry, the extraordinary British figure skater, who captured the world's imagination with skating that combined athleticism and artistry to thrilling effect. Off the ice, his life ran far less smoothly, and the documentary captures his troubles with his sexuality, mood swings, and the loneliness that stayed with him until his death, at aged 44, from an AIDS-related illness.
Director James Erskine has compiled a wealth of material, letters, performance footage and archival interviews, and that allows John Curry to tell his own story. Though we do hear from his friends, family and colleagues, they are used as narrators, rather than talking heads. The predominant figure here, as it should be, is Curry.
The highlight of all this material is, unsurprisingly, Curry's routines, which Erskine wisely decides to let play long, unencumbered by a surfeit of editing or on-screen graphics. Chosen to display the range of Curry's talent, the routines vary from 'Tango Tango', to the reflective quietude of 'Moonskate', via 'Burn', an 80's electronica-style routine, danced to the music of Jean Michel Jarre. If you hadn't heard of John Curry before, watching these dances is an excellent primer on just how skilled he was, and the inventiveness of his choreography.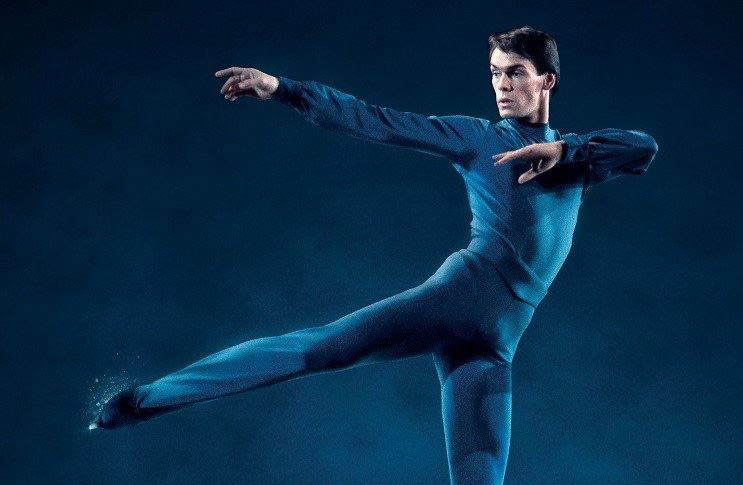 Curry was born in Birmingham and spent his whole childhood at odds with his father. In his youth, he talks of how he 'wanted to be a dancer' but was 'allowed to skate', as it was 'protected by the umbrella of sport.' The elegance of his movements was still disturbing to his father, and some of the other macho men around him; he was told time and again to not be so graceful. Thankfully, he didn't listen.
The Ice King is at times a little reticent when it comes to discussing his love life. We hear from Heinz, an early boyfriend, who describes their loving, long-distance relationship with evident fondness, as well as providing letters written to him by Curry (these are narrated by Freddie Fox). Many of the voices we hear dance around Ron, a later boyfriend who none of Curry's friends seemed to like very much. We never get to fully comprehend why, and that caginess is as intriguing as it is frustrating.
As Curry's life progressed into its later years, things started to go downhill. He achieved his dream of starting the John Curry Skating Company, with whom he got to skate at the Royal Albert Hall, but his fellow company members knew that he wasn't happy. He became an increasingly difficult character; moody, arrogant and sometimes cruel. Though he found some happiness in his final months, the film presents Curry as a tortured soul, only happy on the ice. That makes watching him dance all the more poignant.
Exhaustive and emotional, The Ice King is a finely-drawn portrait of a remarkable talent.
★★★★
The Ice King is out on DVD from 7 May 2018