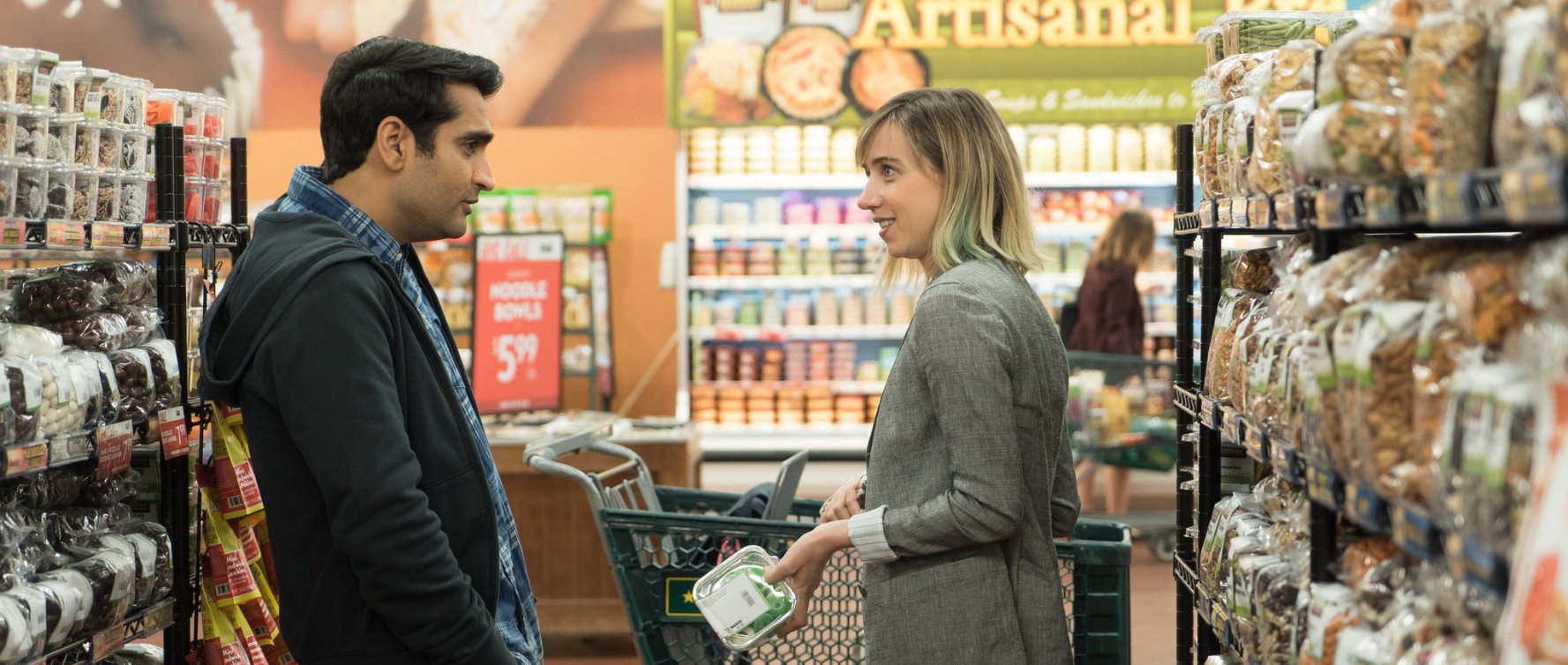 Genre: Comedy, Romance
Directed by: Michael Showalter
Starring: Kumail Nanjiani, Zoe Kazan, Holly Hunter, Ray Romano, Anupam Kher
The "death of the romcom" has been disputed over and over in recent years – in the fallout of the constant churning of movies starring Julia Roberts, Sandra Bullock and then Cameron Diaz. They used to not only be a staple of summer cinema, but of the industry in general, but they've seemed to trickle to one every few years, with a select few of those getting wide releases at all. Hence: The Death of the Romcom.
However, upon closer inspection this sentiment feels similar to the discussion around adult comedies. In a time where the landscape has been long saturated with superhero films, action franchises and revived beloved movies of old (which of course can have their own merit and place), standalone screenplays seem destined to be impossible to market, let alone get made at all. Your standard comedy fare falls under this assumption, but as we saw with Bridesmaids and the unsurprising sweeping success of Girls Trip, if you do a good job of it that's simply not the case. The public has not grown tired of these genres – even if perhaps studios have (or at least, believe the public has). Michael Showalter's The Big Sick is the poster-child for continued significance of the romantic comedy – if done right. In fact, its release outside of major U.S. cities, and across the pond to our screens, was in large part due to vocal demands across social media. Ask and ye shall receive, indeed.
The film is written by real-life married couple Kumail Nanjiani and Emily V. Gordon, and is based on an actual occurrence early on in their relationship. Those familiar with Nanjiani's stand-up in particular will know the story (and in fact, his stand-up is where their relationship began): months into dating, Gordon got an infection so severe that doctors were required to put her in a medically induced coma. It is this event that the film is based on. It's a While You Were Sleeping situation – perhaps somewhat in reverse.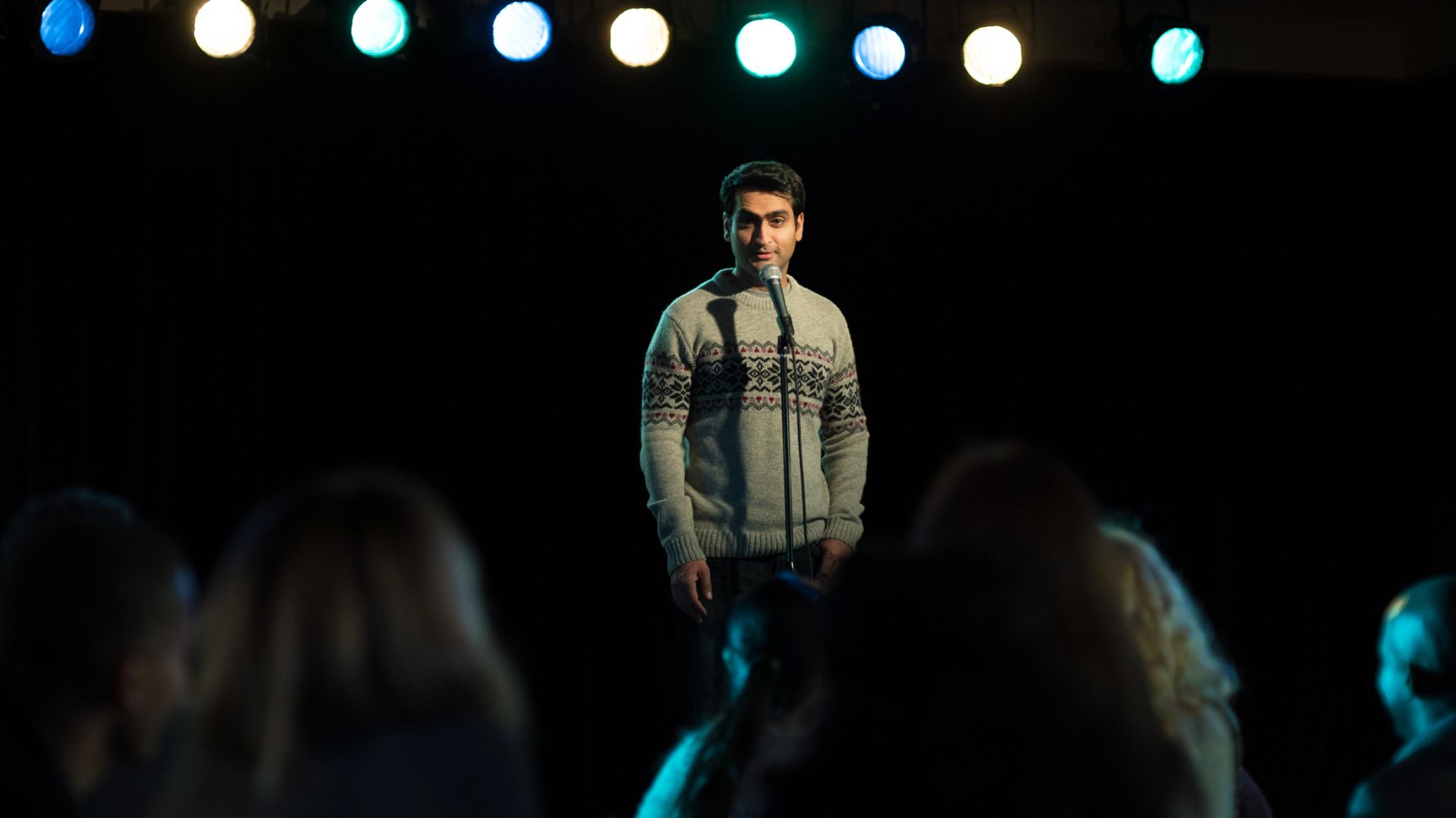 The film's Kumail shares his real-life career aspirations, penchant for The X-Files, and even his last name. While changing the last name, Emily Gardner still wants to be a therapist, and is still navigating the dating scene as a young divorcée. And though there have been changes to their origin story (for example, that Kumail in The Big Sick is an Uber driver – a service not yet technologically possible in the actual time the two met and dated) and no doubt embellishments to their story, its roots are in something organic and true. The most worthwhile element is the sincerity throughout. In the same way, the film benefits from having two writers for the balance it gives to the characters and their development and weight in the story.
Given Emily's state for (spoiler-not-spoiler) the majority of the film, the emotional core comes more from the blossoming relationship between Kumail and Emily's parents as they spent their days at the hospital, waiting for news, played here by Holly Hunter and Ray Romano. In any other scenario, a devout romantic comedy devourer such as myself would have felt miffed, if not slightly robbed, at how little screen-time of the couple we get. But the truth is, firstly: the early montage of their courtship is delightful – short, sweet, and all the while entirely compelling and believable. Secondly, the dynamic between the three of them is always engaging. Holly Hunter, in particular, is radiant in her feisty and bossy charm.
Star power was also recruited for Kumail's side of the family – legendary Bollywood actor Anupam Kher plays Kumail's father in what was in fact his 500th role in cinema. Speaking of his family, in particular his parents, a significant portion of the story is centred around the cultural differences between Kumail and Emily. An immigrant who came to America from Pakistan in his teens, it informs Kumail's stand-up, his one-man show (with more information about cricket than I've ever heard in my life), and his romantic relationship. There has been criticism regarding representation of Pakistani women in think-piece throughout the internet, and I won't dispute any of those feelings because it's not my place to. But this feels like a step in the right direction – that our romcoms no longer star beautiful white people in beautiful white apartments in New York City, and instead are beginning to reflect real people, real lives and real love. If we want romcoms to stay "alive", this is the way to do it.
★★★★
SaveSave