The best thriller, suspense and mystery books to read this autumn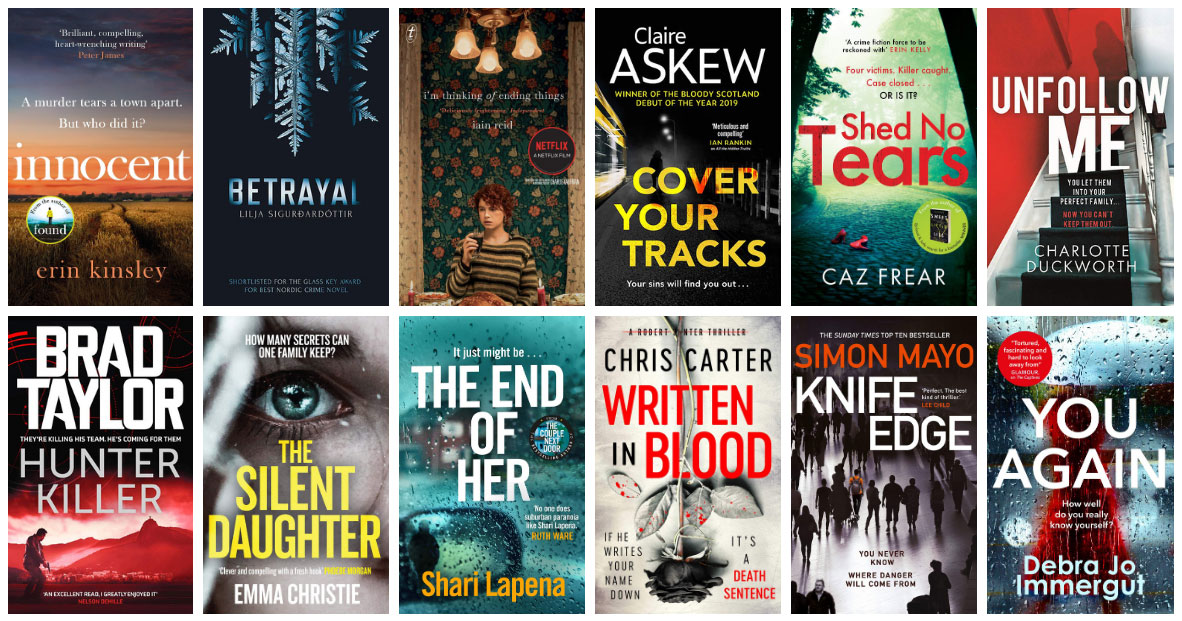 2020 has been a bad year on so many levels but, through it all, publishers big and small have soldiered on, delivering a consistently superb selection of new books to feed our imaginations. It's been a particularly excellent year for thrillers and suspense, with a constant stream of gripping, tense and twisty novels hitting shelves each month.
With so much to worry about, many of those books might have missed your bookish radar, which is why we're highlighting some of our favourites to keep your TBR pile full through autumn. Whether you enjoy gritty crime, eerie mysteries or edge-of-your seat action, these are the thrillers you should be reading right now.
Shed No Tears by Caz Frear
Christopher Masters, known as 'The Roommate Killer', murdered three women over a two-week period in 2012. When the remains of his fourth victim are found six years later, DC Cat Kinsella and her team are called in to investigate. With the case reopened and Masters now dead, there's no one to answer the discrepancies surrounding the woman's death. It's up to Cat and her team to examine every lead in their search for the truth, even if it puts them in jeopardy. If you enjoy watching tense crime dramas like ITV's Unforgotten, you'll love this latest book in Caz Frear's female-driven police procedural. (23 July, Zaffre)
The End Of Her by Shari Lapena
Stephanie and Patrick are recently married, with newborn twins. Despite Stephanie's sleep deprivation, life is good for the family – until a woman from Patrick's past arrives and accuses him of murdering his first wife. Patrick always claimed the death was an accident but just how well does Stephanie really know her husband? Domestic thrillers don't get much better than this, which will have you reading all through the night just to find out what happens in the end. (23 July, Bantam Press)
Written In Blood by Chris Carter
Chris Carter presents readers with a terrifying serial killer in his latest thriller. The killer in question has lost his most valuable possession, a bag that he must retrieve at any cost. Angela Wood is the LA pickpocket who stole the bag, but she could never have envisaged what she'd find when she opened it: the killer's journal. Which is where Robert Hunter and Carlos Garcia come in, as they try to catch the killer before it's too late. It always feels strange to bill a serial killer novel as 'enjoyable' but that's exactly what this book is. (23 July, Simon & Schuster)
You Again by Debra Jo Immergut
Abby first spots her from the back of a New York cab – a doppelganger of her 22-year-old artist self, wearing exactly the same clothes she remembers wearing. Now 46 and married with two kids and a corporate job, Abby is shaken by this inexplicable glimpse of her past self. Weeks go by and Abby continues to see her double. Soon she's following the lookalike, trying to unravel the mysteries of her past whilst her present life – including her marriage and her children – begins to slip from her control. You Again is an intriguing and suspense-filled thriller – the kind you want to read in a single sitting. (4 Aug, Titan Books)
Innocent by Erin Kinsley
Fans of emotional small-town crime dramas will be engrossed in this tale of a close-knit community torn apart by a shocking murder. When the body of a local celebrity is discovered at a lavish summer wedding, the ensuing police investigation causes a wave of fear and suspicion. As the locals' lives are turned upside down, Sterndale's facade as an idyllic market town starts to disintegrate under the intense scrutiny. Kinsley immerses readers in the murder mystery at the heart of her story, offering up plenty of potential suspects with reasons to kill. Prepare to be kept guessing. (20 Aug, Headline)
Cover Your Tracks by Claire Askew
The third book in the DI Birch series follows the titular detective inspector as she investigates a case involving a missing couple. When Robertson Bennet returns to Edinburgh after a 25-year absence, he finds both his parents and his inheritance have disappeared. It's up to Birch to unravel the mystery and the dark truth surrounding the husband and wife, all the while still trying to help her brother Charlie after an assault in prison. Assured writing and a superbly weaved story makes this another winner of a Scottish crime novel from Claire Askew. (20 Aug, Hodder & Stoughton)
Knife Edge by Simon Mayo
The debut contemporary thriller from radio presenter Simon Mayo takes place in London amidst the fallout of a series of coordinated attacks on seven people during rush hour. Journalist Famie Madden is confronted with the horror as she arrives for her morning shift. As everyone wonders what could have prompted such terrible attacks, Famie is pulled directly into the investigation, leading her to a terror plot she could never have anticipated. Suspenseful, chilling and disturbingly pertinent to modern times, Knife Edge packs a serious punch. More thrillers from Mayo please. (20 Aug, Doubleday)
I'm Thinking Of Ending Things by Iain Reid
If you prefer your thrillers with a literary slant, Iain Reid's I'm Thinking of Ending Things will have you hooked. This Netflix film tie-in edition is a creeping and twisting story that follows Jake and his new girlfriend – who's thinking of ending things – as they embark on a road trip to his parents' remote farm. After their strange family dinner, the couple are forced to take a detour due to a snowstorm, where things get even more disturbing. Fusing psychological thrills with unnerving horror, this book will stay with you long after you've finished reading it. (27 August, Text Publishing)
The Silent Daughter by Emma Christie
Emma Christie's Edinburgh-set debut centres on a family whose secrets unravel in the wake of an accident. With his wife in a coma after a serious fall, news reporter Chris' first instinct is to assemble his children to her bedside. The problem is, his daughter Ruth isn't responding to his repeated calls and emails, and his son Mikey is acting shiftily too. Worried for his daughter's wellbeing, Chris tries to piece together his family's movements leading up to Maria's accident. The more he digs, the more lies Chris uncovers and uncomfortable truths come to light. A clever and complex rollercoaster of a psychological thriller. (3 Sept, Welbeck Publishing)
Betrayal by Lilja Sigurdardóttir
Police corruption and misogyny are at the core of this standalone thriller from acclaimed Icelandic author Lilja Sigurdardottir. Having accepted a high-profile government role in the hope of making more of a difference, aid worker Úrsula meets a mother seeking justice for her daughter who has been sexually assaulted by a police officer. Úrsula promises to help but as she's drawn into dirty politics, the stakes are raised, leading to bigger and more harmful betrayals. Bolstered by its Nordic setting, this is a gritty, atmospheric and timely crime novel. (1 October, Orenda Books)
Hunter Killer by Brad Taylor
Hunter Killer follows Pike Logan as he and his taskforce are targeted whilst preparing for a counter-terrorist mission in the triple frontier area in South America. When he loses contact with his team, Pike heads to Brazil to investigate their disappearance, where he comes up against a crew of Russian assassins. This fast-paced and action-packed military thriller from former Special Forces Officer Brad Taylor reads like a mix of The Bourne Identity and Jack Reacher. A brilliant read with a hero you can really root for. (1 October, Head of Zeus)
Unfollow Me by Charlotte Duckworth
When journalist-turned-mummy-influencer Violet Young disappears from the online world she's carefully constructed, her million YouTube subscribers are understandably worried. There's no explanation as to why the vlogger's social media presence was erased overnight, and her fans are consumed with finding out what has happened to her. Their search quickly reveals a tangled web of lies that will have shocking consequences. In our social media obsessed world, this feels like such a relevant and realistic novel. It helps that it's a real page-turner too. (15 October, Quercus)