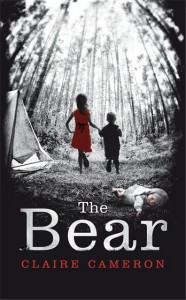 Released: February 2014
The Bear is a novel based on a true story and is told through the eyes and thoughts of a five-year old girl.
Little Anna is on holiday with her three year old brother Stick and their parents in Algonquin Park, in three thousand square miles of Canadian wilderness. During one terrible night, her mother and father are attacked by a bear, leaving Anna to fend for herself and look after Stick. Alone in the woods, Anna has to forage for food for them both whilst battling to keep them safe and alive day and night as they stumble around in a hostile environment. We share her frustrations and anger with her little brother, who quite naturally has his own self-centred three-year old needs of hunger and sleep.
The storytelling is superb, as it captures the innocent, bewildered thoughts and terrifying fears as seen through the small world of a child's thoughts and experiences. The author, Claire Cameron, succeeds in enabling the reader to truly feel the girl's simple, undemanding and enduring love for her family.
Particularly disturbing and eye-opening is when, in the aftermath of her awful ordeal, a child psychologist attempts to rid Anna of her demons and gets it all totally wrong.
This harrowing tale is superbly written from an unusual viewpoint, and I guarantee it will have you shedding the occasional tear as you journey through the story. An excellent read.
★★★★