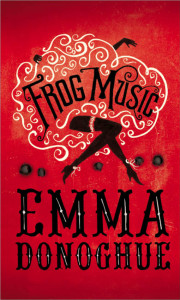 Released: March 2014
The year is 1876 and San Francisco is in the grip of a smallpox epidemic. The citizens feel the strain as they struggle with the stresses of daily life in an unprecedented heat wave. Against this backdrop of suffocating temperatures and pestilence, a murder story begins and the mysterious crime sends ripples of unrest through the community. It changes forever the lives of a few colourful – but flawed -residents who inhabit Number Eight Fifteen on Sacramento Street, a building owned by the novel's protagonist, situated in the very heart of the seedy melting pot that is Chinatown.
This is the setting for Frog Music, a skilfully woven crime novel of suspense and shenanigans which had me riveted until the final page. The plot is driven by the main character, Blanche, who is an exotic dancer in the House of Mirrors. Blanche, previously a star of the Parisian Circus, arrived on a boat from France accompanied by two Parisian men. Arthur, a self-proclaimed bohemian and trapeze star who is her lover, and Arthur's loyal trapeze partner and crony, Ernest. The three co-exist together in an apartment in the building Blanche owns and form an odd group of eccentrics.
Blanche is self-assured in her chosen work and, hugely popular with the gentlemen, she considers herself an unrivalled artist far beyond her riveting stage performance. Brainwashed by her lover and his (sometimes resentful towards Blanche) gofer, she sees herself through a veil of contrived flattery, invented by these cons who, in reality, lead a parasitical life whilst gambling their way through her hard earned cash.
As the plot line thickens and the murder investigation twists and turns, Blanche's fortunes change forever when an unexpected collision forces her into an encounter with an enigmatic and unconventional person, who enters her life and sends it spiralling in directions she would never have imagined. Gradually Blanche is forced to reassess her world and all that she stands for. We see her vulnerability and her growing distaste for how she is living her life, controlled and manipulated by the men who use her.
Frog Music is rich in historical detail, and spares nothing in vibrant descriptions, leaving me with a real sense of the harsh reality immigrants faced in San Francisco, together with a realistic portrayal of the gathering racial tensions that bubbled beneath the surface ready to explode.
If you are au fait with French the intermittent inclusions of asides and snippets of French songs, laments and odd phrases will add to the flavour of the characters, but Donoghue has also included a French glossary at the end which is useful, together with 'Song Notes' to add further insight. 'Afterword' explains how some of her characters developed and provides notes on historical references, working with known facts to make a 'crazy quilt of fact and fiction'. All this detail gave me a greater feeling of involvement and a real sense of the time and place where it all occurred.
To begin with, I wasn't sure that the constant switches back and forth in time were going to make for enjoyable reading, but I found that Emma Donoghue's skilful writing soon had me on the edge of my seat, unable to put the book down!
★★★★