Summer is almost upon us and it's time to start selecting some books for those much-anticipated sunny days. At the top of your May/June TBR pile should be Camille Perri's The Assistants, a smart, sassy and amusing novel for millennial women who feel they're overworked, underpaid and unappreciated.
Tina Fontana is one of these women. For six years she's been the assistant to one of the most powerful men in America, a billionaire who would pay for all his purchases "using gold bullion if only he could carry that much gold bullion in the vest pocket of his Armani suit jacket". Tina likes her boss, she really does, but she can only just afford the rent on her crummy New York apartment – complete with icky water bubble hanging from the ceiling – so watching him throw away wads of cash on fancy dinners, cars and private jets starts to sting after a while. As Tina herself says, "There is so much money".
When the opportunity to pay off her student debt arises due to an admin error with the company travel expenses, Tina grabs it with both hands. She knows it's wrong, that she should give back the money, but the temptation is too much. With just a couple of mouse clicks, she's pilfered almost twenty thousand dollars from her boss and nobody seems to have noticed. Except they have, or more specifically the assistant to the travel & entertainment director has. "All important men have assistants", but not all of them are so brazen and money grabbing as Emily Johnson, who has her own hefty debt to settle.
Before she knows it, Tina is embroiled in a super risky embezzlement scheme that all the company's assistants want in on. They have the access, they have the gall, but how long can their unofficial money-laundering organisation go on for? It's never a question of will they be caught, but when…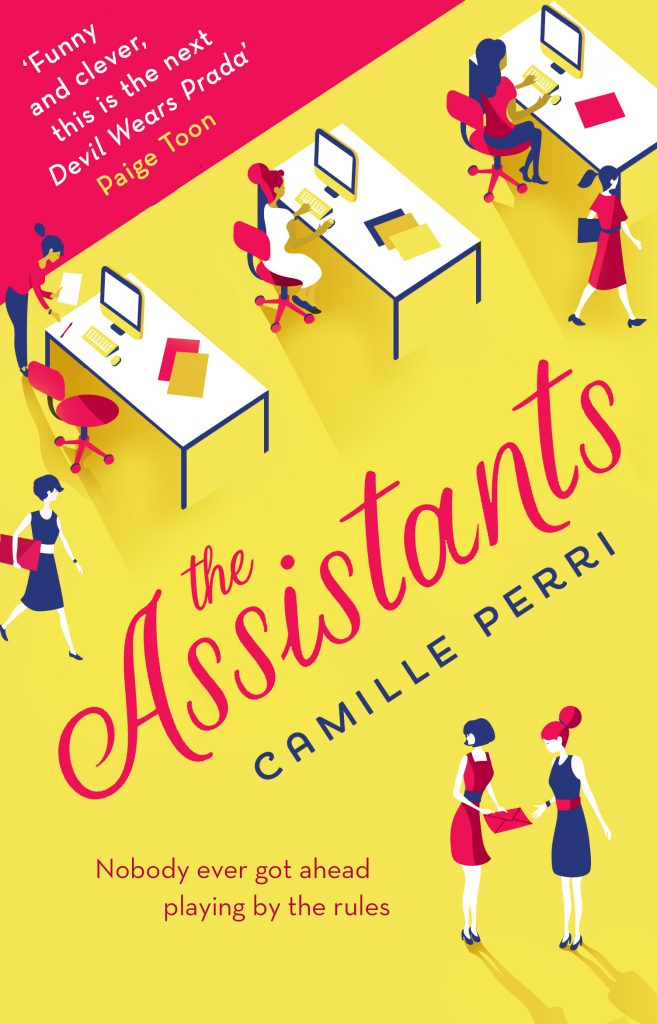 What struck me about Camille Perri's debut book from the start was just how relatable and relevant it is. Tina is every woman who works her butt off for minimal reward and never complains about it. She's also every woman who knows she amounts to being more than just an assistant, but won't take that flying leap into the unknown in search of something better. There's never any doubt that Tina is doing something horribly illegal, and yet you hope that she gets away with it. She deserves a break and her bosses have money to burn.
From what she thinks of her co-workers, to her opinion of herself, Tina's inner-thoughts are hilarious. She's a feminist without really realising it and that makes her a character truly worth rooting for. The other women in her 'pay off your debt courtesy of your clueless employer' fund are equally as interesting as they put a positive spin on their criminal activities. I wanted to be a part of their little gang – minus the stealing, of course.
The Assistants is a wry, light and entertaining read, perfect for summer days lounging by the pool. It might even inspire you to give up that poorly paid day job…just don't let it inspire you to turn into an economic vigilante!
★★★★
The Assistants was published by Corgi on 21 April 2016.