Spotlight on Mountain Bike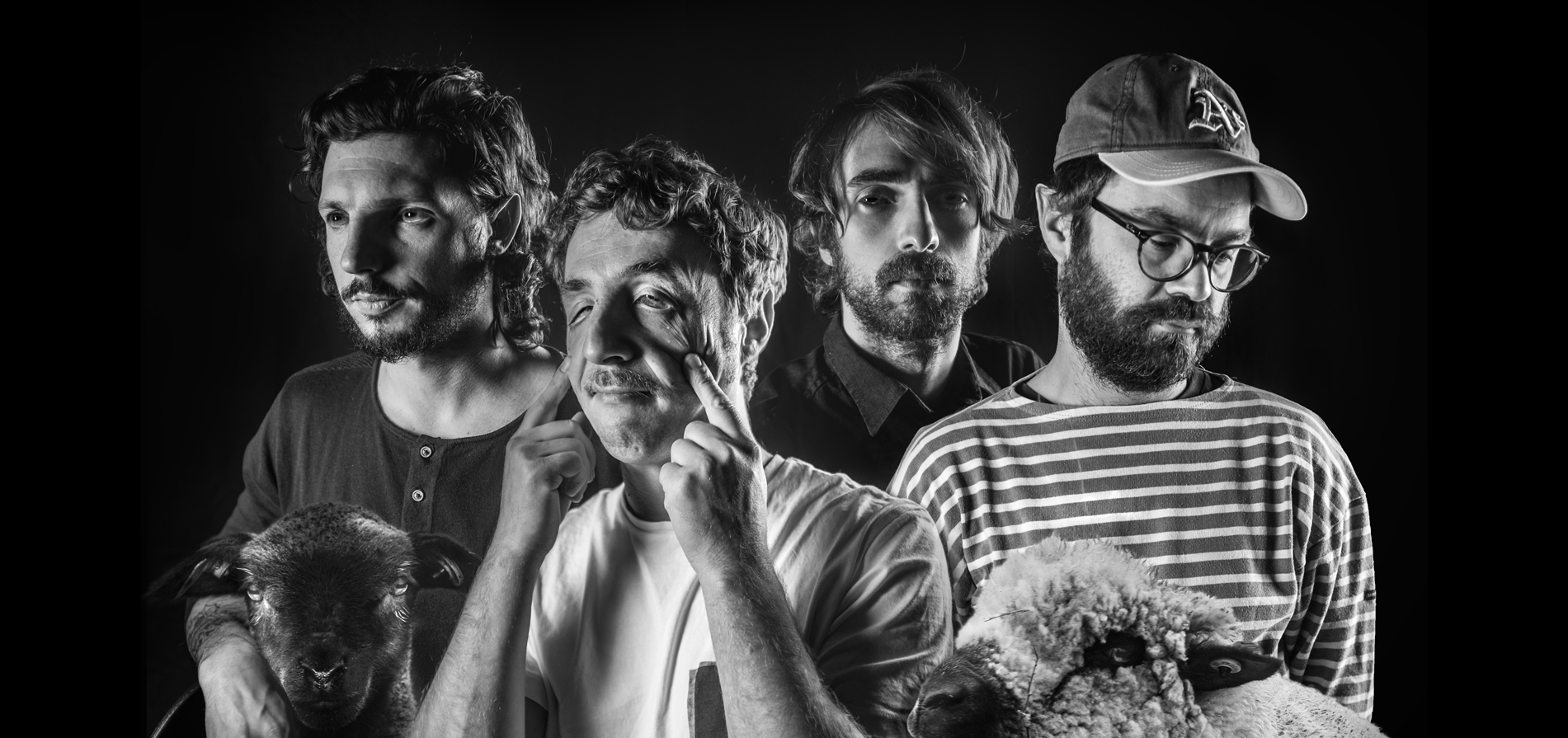 Belgian garage-rock band Mountain Bike took a moment out of a hectic schedule of touring and recording to talk about their latest release.
Recorded in a barn between bouts of non-stop gigging, their new album About Too Sorry For Any Sorrow (released on 3 March) is all the right mix of catchy bass lines and sunny guitar notes. Imagine a fuller sounding Mac Demarco or the less fuzzy King Gizzard songs.
You've been together a few years now and you're on your second album, but I understand this was originally a side project for you? 
Yes totally, we all had other bands back then and beyond forming a new band, we just wanted to play stuff that we couldn't do in our own projects. Taking more of a pop approach was what we all had in common, we are very influenced by people like Beck, Grandaddy, Deerhunter, Woods, Eels, etc…
What is the garage music scene like in Belgium?
Well it's pretty active… Belgium is a strange country you know! It's actually divided in two – the French speaking and the Flemish speaking part, there is a border that can be hard to cross. Luckily for us, we played in the north of the country very easily and met shit loads of great bands there. It's funny because Belgium is tiny but people from the south don't know those bands from the north. The situation is getting better though and it's a little bit more blended now, which is great.
How did you come together?
We all arrived in Brussels at the same time except Aurelien. Stefano and Etienne came straight up from the south of France and Charlie from Tournai (a small town by the French border), and the first thing we did was try to find a job. We all ended up working in bars, that's how we met. Then we shared bills in Brussels with our bands and started to DJ together.
Are you all living in Belgium now?
Yes, for about 8 years now. Charlie and Aurélien are natives though.
When did Mountain Bike make the jump to full-time project?
Simply because at a certain point, we got a lot more opportunities with Mountain Bike than with our other bands. Mountain Bike has been lucky from the start; we recorded super lo-fi demos that reached quite a few people through the internet. This was after a couple of months or so, and then we started to play more and more gigs. Labels here got interested and we've been asked to open for bigger bands in bigger venues like Ty Segall, Mac Demarco and Unknown Mortal Orchestra.
And I'm sure you've been asked this hundreds of times already, but where does the name Mountain Bike come from?
Silly story… we couldn't find a proper name, as the band wasn't really more than a joke. Stefano showed up with an 80's mountain biking t-shirt and that was it! Then we realised months later that it was impossible to find us on Google, all you get are biking videos… well done!
You've been on the road for two years since your first album. How did it feel to get back in the studio?
We try to record while we tour, whenever we have a bit of time. It's easier for us, we record a few tracks and then we can leave them behind and they remain fresh until the time has come to put them out. We record about two or three times a year so it's more of a long-term process…
I can't really ignore that you recorded the new record in a barn. How, and why, did you end up recording there?
Charlie's parents live in this old farm in the countryside and they let us record there anytime we want. It's a perfect place to work, no pressure at all. We usually go there with all the microphones and recording equipment and stay a whole week. Once again, we're quite lucky because it's Aurélien (the guitarist) who does the recording. He knows exactly how we want to sound. So we can say that it's a very relaxed DIY/family thing.
What affect did recording there have on the final sound of the album?
Well the room we record in is quite big so there's a very nice natural reverberation on all instruments. Sometimes we do the drums in Charlie's bedroom because it can get too roomy in the barn living room.
We usually record drums and bass guitar live and then we lay down guitars, voices and extra instruments if needed. When we started the band, one of the things that we all agreed on was to try every idea, so if we feel like a piano or trumpet would fit the track we try it out.
Also, as we do everything ourselves, we are obviously limited by the equipment we have, but we like it! Making the most out of limited resources is always challenging, we have to come up with tricks during the recording process to make it sound the way we want. But we like the result and we're proud of it.
Between the new record sounding so organic and relaxed, and your music videos being so entertaining, it looks like you guys have a lot of fun. Does that fun transfer into your writing or is it all serious business in the barn? 
Yes we do! Mostly we just go with the flow, but the band got a bit more serious over the past two years. It takes a lot of energy to play a lot and that can take its toll, but we're very good friends so we make it work. We always try to remember that we are lucky enough to do what we love for the most part, it's priceless. The writing has been quite simple so far – Etienne comes up with an idea and it's turned into a song in no time.
We really think that the key point is the band spirit, we try to listen and respect everyone's opinion and move on from there. If one of us doesn't like a track, either we work a little more on it or we just go for another idea. As we try to be very instinctive with the writing, it can happen that after a while we don't like a track anymore… but never the less we hope that we can keep that up.
Same thing for the videos, we try to work with close friends. We just need a fun concept and we go for it.
How much of the album was written on the road? 
Almost all of it. Not really on the road but every time we have a bit of time in between gigs. As I said, we don't need much time to write songs. We already had a few tracks ready when our first album came out. We try to keep the momentum up, otherwise it gets boring for us.
Finally, you performed at both Eurosonic and The Great Escape festivals in 2015. Are there any other festivals or special gigs you'd love to do in the future?
Well, it'd be nice to go across the Atlantic and play shows there. England is of course very attractive and we hope to play there as much as we can.