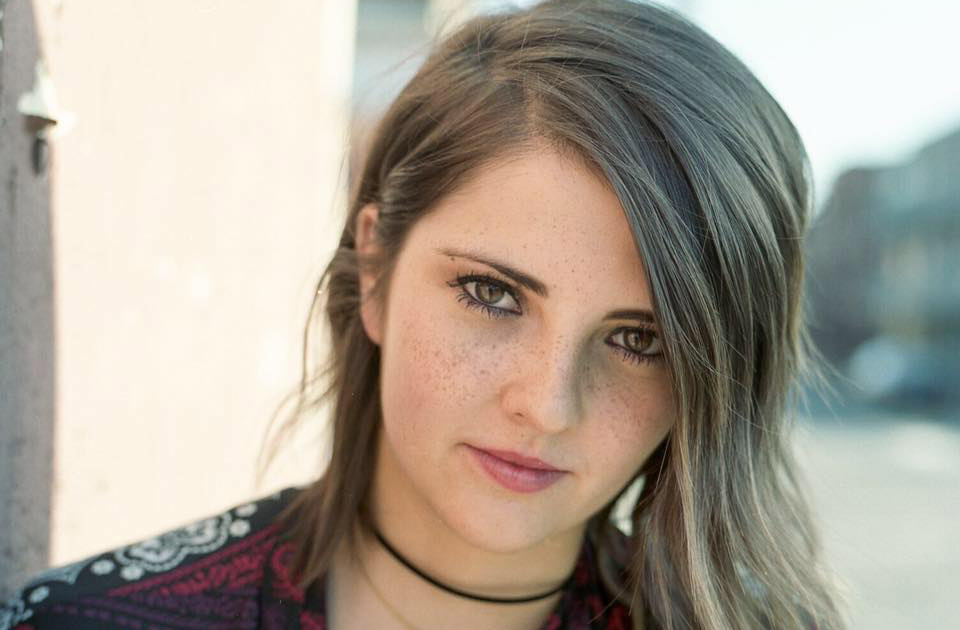 Ahead of her single launch party at the Sanctum Hotel, London, we put the spotlight on rising pop vocalist, songwriter and musician Emily Burns to talk about the new track and her musical inspirations.
You released your first single, 'HomeWrecker', independently and a lot of your early success so far has been attributed to the blog buzz surrounding that track. Do you think it's important for emerging artists to take a more organic, online route when first starting out?
The blog support for 'Homewrecker' was incredible! I think, particularly for me, the online, organic route has been very important. It was actually as the result of a cool blog, Breaking More Waves, posting about 'Homewrecker' that my manager found me. Now, with him, I feel in the strongest position I've ever been in. I think it's cool to share your progression and development as an artist and take people on the journey with you. Online platforms are a great way of doing this.
The new track, 'Take It Or Leave It', explores a friendship turned-romance that ends up at a stalemate. Is this influenced by your own life? 
I wrote 'Take It Or Leave It' when I was going through exactly that – a friendship in which neither of us were sure if we could make it something more. I always like to write honest lyrics that talk about real things that I'm experiencing. That way, I'd like to think, people can listen and relate and that my songs will make them feel something.
The single is a pop record but it has shades of tropical house and R&B. How would you describe your sound?
I listened to a lot of R&B growing up! 'Confessions' by Usher was one of those albums I just could not stop listening to. So I think you could definitely say my sound is influenced by records like this and has elements of R&B in it.
Your songwriting and vocals have been compared to the likes of Robyn and Alessia Cara – are they some of your musical inspirations? Which other artists had an impact on you growing up?
I love and have a lot of respect for both of those artists. I remember when 'Call Your Girlfriend' by Robyn came out and 'Here' by Alessia Cara… those were singles I couldn't get out of my head. They write really great pop songs and have both inspired me in ways yes. Growing up, I listened to a lot of R&B and soul – Lauryn Hill, TLC, Corinne Bailey Rae… I loved these artists and still do now. I'm also hugely inspired by artists like Stevie Wonder and Etta James. The raw honesty and emotion in their songwriting is hugely inspirational to me.
If you could collaborate with any current singer-songwriter or band, who would it be and why?
I would love to work with Frank Ocean. I think the way he writes and records music is so creative and innovative…  I'm sure a session with him would be an incredible experience. It'd be awesome to see the way he works!
You performed at Brighton's Great Escape Festival this year but what's your dream UK venue or festival?
It'd be an absolute dream to play at Glastonbury. I've never actually had the chance to go and I've only ever heard rave reviews! It looks like a really special festival. So that's a definite goal for me. I'd also really love to play at Koko in Camden. I've seen a few gigs there… it's a beautiful room and there's always such a great vibe. Playing at Koko would be a dream come true.
You've had an incredible year – what does 2017 have in store for you? Any more gigs lined up for the New Year? 
Thank you! 2017 is hugely exciting since I put 'Take It Or Leave It' out, as it's been so well received. I'll be releasing another single in January which I can't wait for people to hear. Following that, I'd love to start working towards an album and releasing something physical at some point too. 2016 also saw me playing with my band for the first time, which has completely transformed my live show. So I'm excited to get out on the road in 2017 and play to lots of new people with them.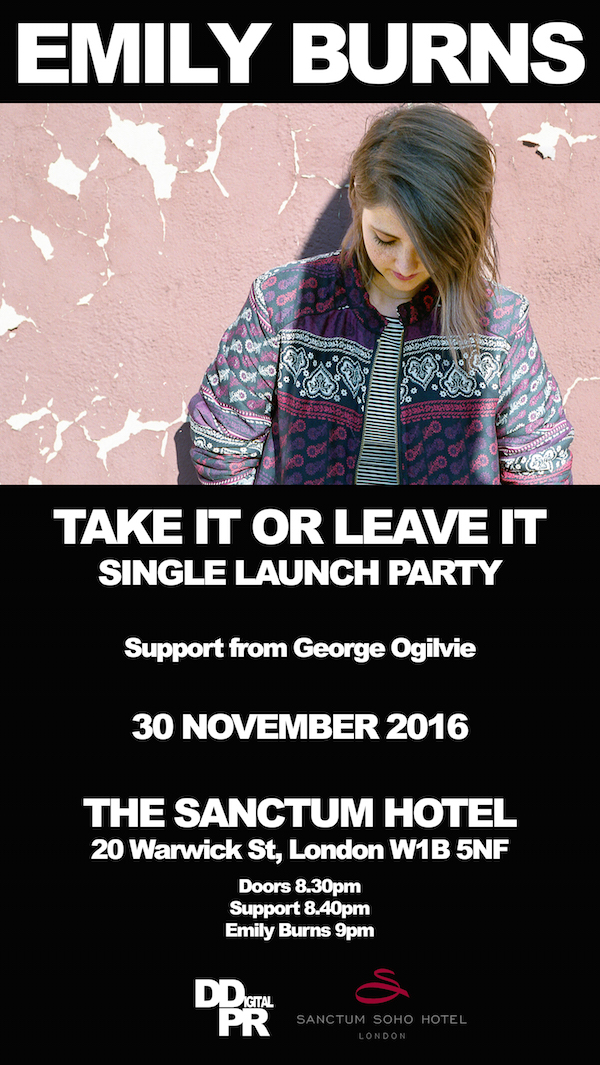 Emily Burns' 'Take It Or Leave It' is out now and she plays the Sanctum Hotel, London this evening (30 Nov).