Sid & Judy – BFI London Film Festival Review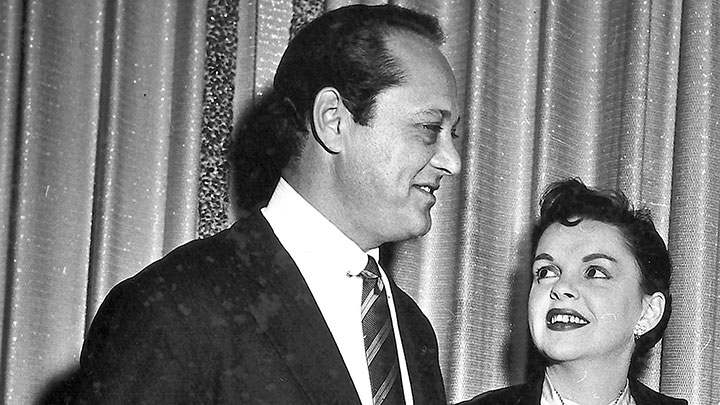 Although she had only 47 years on the planet, Judy Garland packed a lot of life into them. From child star to adult star, she was beloved by audiences all over the world, appearing in legendary movies like The Wizard Of Oz, Meet Me In St Louis, Summer Stock and Easter Parade.
Her career would be the envy of any budding Hollywood actor, but her life behind the scenes was altogether less enviable. The studio got her hooked on drugs from an early age to help her power through some punishingly long shoots, and her addictions grew worse as she grew older. She suffered from weight issues and depression, leading to more than one suicide attempt. She had five marriages, each more tumultuous than the last.
Sid & Judy follows Garland through the thirteen years of her third marriage – her longest – to ex-boxer Sid Luft. It finds her in a tough spot. Her unreliable behaviour led to her firing by MGM, and thanks to that behaviour there were no other studios eager to step in and sign her up. To tide her over and make some money, she embarked on a wildly successful stage tour of the UK and Ireland. These shows were so popular she was invited back to America, where she'd eventually perform an iconic concert at Carnegie Hall.
The documentary also sees her make a return to the silver screen in A Star Is Born, for which she was Oscar-nominated. At first adored by critics and audiences alike, after exhibitors demanded the run-time be almost halved so they could fit in more shows a day, the film's reputation took a huge beating. It didn't make its money back. Seven more years would pass before she made another movie appearance.
Considering that it is based on Luft's memoirs – which are narrated by the silky-voiced Jon Hamm – Sid & Judy is commendably even-handed when it comes to detailing the relationship between the tempestuous titular couple. Luft admits that he handled persuading Garland to get an abortion 'like a clod'. He admits to enabling her prescription drug problem. He didn't find it easy living with her when she was at her most erratic, but he never paints himself as a victim. Whilst there was bitterness between them, especially towards the end of the marriage, this isn't a bitter documentary. It's a loving one.
As is usually the case with documentaries like this one, there are some questionable decisions made about which parts of the subject's life and legacy to include, and which parts to leave out. The exclusion of two of Garland's best films made in this time period – Judgement At Nuremberg and I Could Go On Singing – seems like an oversight. And there's just a fleeting moment dedicated to Garland's importance to the LGBT community.
Still, when you're covering a life as rich and varied as Judy Garland's, it would be impossible to squeeze everything in. For the most part, Sid & Judy does an impressive job of exploring the vibrancy, tragedy and complexity of its leading lady.
★★★★